WOODLAWN — After coronavirus made for an unexpected final year for seniors across Chicago, maybe it's only fitting Mount Carmel High School's graduation ceremony was held in the pouring rain.
Besides that setback, administrators' best efforts to adapt to the coronavirus pandemic were successful, as the 124 graduates of Mount Carmel's class of 2020 marked the end of their high school careers with a drive-in celebration Sunday.
One car was allowed for each graduate, who listened in on their car radios as senior awards and speeches were broadcast over an FM transmitter. The graduates stayed in the car for the entire ceremony save for one moment — when they tossed their caps in the air.
Mount Carmel staff "made the best" of a bad situation, said Jason Thompson, a linebacker on Mount Carmel's football team, which went undefeated on its way to the Class 7A state title this year.
Thompson will study computer science at Carthage College next year while playing football and baseball. The budding music producer was sad he couldn't take group photos with his friends, but beyond that, the ceremony was "memorable," he said.
Though the pandemic made for a crazy senior year, Thompson appreciated the extra time to work out and prepare for his future. He pulled away from the ceremony inspired by his teachers and reflective of his time at Mount Carmel.
"When my parents wanted me to take a picture with the [school's] sign, I refused to — but I had to realize, this was the last time I could refuse to take a picture," Thompson said. "I took a picture anyways. That was kind of fun."
Faculty at the South Side Catholic high school "hit the ball out of the park" with the ceremony, said Thompson's mother, Geralyn.
"Even with the rain it was like — I hope this doesn't sound corny — angels were crying with joy because these boys were still able to come together and have a ceremony," she said. "Of course you'd love to see your son walk across the stage, but I'm okay with that."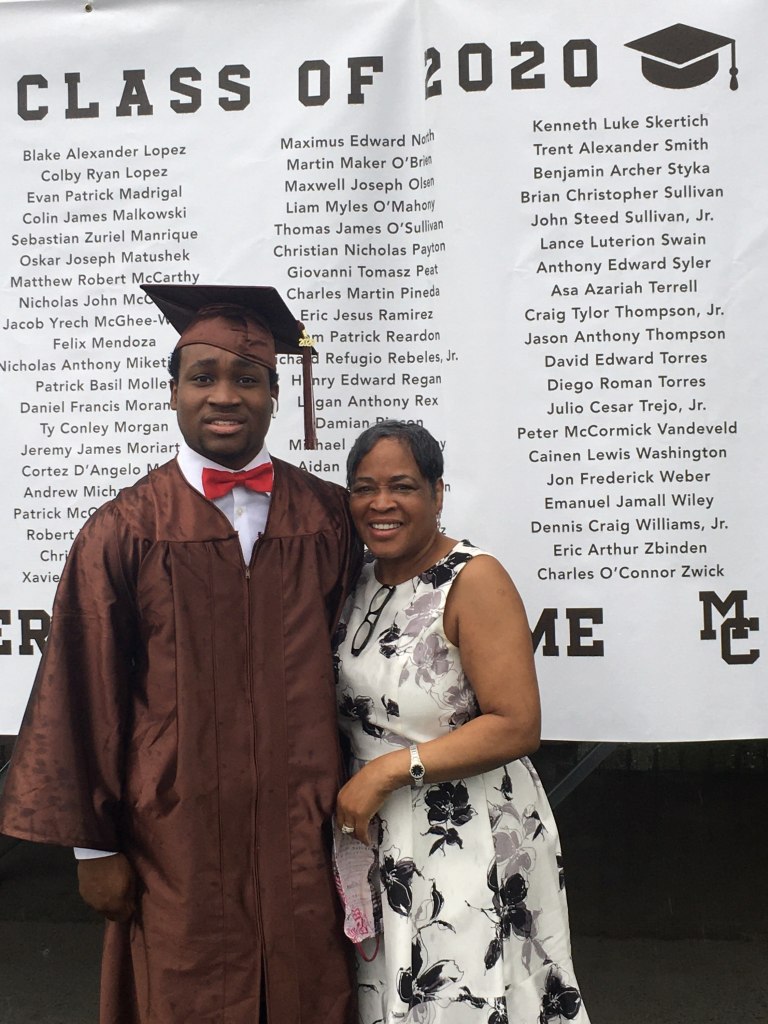 Some schools have held car parades to celebrate graduation, and Oprah Winfrey will host a virtual ceremony for all Chicago Public Schools grads in June. But very few have planned drive-ins with full ceremonies, said Tony DiFillip, Mount Carmel's vice president of marketing and strategy.
"Our intention was to make this graduation ceremony as memorable as we could for our graduates," Mount Carmel President Ned Hughes said in a statement. "Today proved to be the right decision."
The seniors' last day of school was Friday, and before coronavirus hit, a graduation ceremony was planned for Tuesday at the University of Chicago's Rockefeller Memorial Chapel.
Other schools have also delayed graduation, but it was important to students and faculty to hold the ceremony now, DiFilippo said.
"The later you get in the summer, it's harder to bring the group together as they start college and get on with their lives," DiFilippo said.
Though the rain prevented faculty from capturing the moment on drone footage — and DiFilippo and others got soaked — the celebration was "so worth it," he said.
"It was the perfect way to end an imperfect senior year," DiFilippo said. "It was a nice ceremony, and in a strange way, kind of felt normal."
Block Club Chicago's coronavirus coverage is free for all readers. Block Club is an independent, 501(c)(3), journalist-run newsroom.
Subscribe to Block Club Chicago. Every dime we make funds reporting from Chicago's neighborhoods.
Already subscribe? Click here to support Block Club with a tax-deductible donation.