CHICAGO — After West Loop Ald. Walter Burnett told weed companies they should have a Black partner if they wanted to open in his ward, one dispensary hoping to open in the booming neighborhood has taken his advice.
At a virtual meeting on Zoom Monday with West Loop neighbors, Dispensary33 introduced its new equity partner — Gené Moreno, a managing director at the Turner Group. Moreno, who is Black and of Haitian descent, said she will work with the Andersonville dispensary to build on its "collective impact" as they work to open a second location at 1152 W. Randolph St.
If Dispensary33 is able to change its ownership structure to include minority partners like Moreno, other companies who want to open dispensaries in the West Loop should follow suit, said Burnett (27th).
Burnett said other weed dispensaries seeking to locate in his ward have rented space from people of color "or hired them in some capacity." But Dispensary 33 has a founding partner who is Asian and "they are the first to actually make someone [Black] their partner."
Dispensary33 needs a special-use permit from the Zoning Board of Appeals to open a dispensary, one of three being planned on Randolph's restaurant row. Owners plan to convert a nearly 5,000-square-foot restaurant space into a recreational weed dispensary just across Racine Avenue from City Winery.
The Committee on Zoning approved a zoning change for the dispensary Tuesday. It will next be considered by the full City Council.
In December, it was revealed that the 11 firms permitted to sell weed on Jan. 1 in Chicago — all of which were given priority because they operated medical dispensaries — were primarily owned by white men. In response, Burnett said he'd only support dispensaries aiming to open in the 27th Ward if they partnered with a Black firm or operator.
"We don't want to have folks be sharecroppers in this business," he said at the time.
The Black Caucus, upset with the lack of minority participation in Illinois' nascent weed industry, tried to delay recreational weed sales until July 1 during a raucous council meeting in December. The push ultimately failed after Burnett and other members voted against the bill they had sponsored.
While Burnett praised Dispensary33 Monday, he also suggested Moreno's hiring might be motivated by the company needing a zoning change from City Council. That zoning change was approved Tuesday.
Dispensary 33 partner Brian Zises disputed that assertion.
"This is truly who we are and truly nothing would change even if we were zoned correctly," he said. "We would still hire African-American businesses, [Moreno] would still be a part of our team, we would still be hiring majority minority staff and we're excited to tell that story to your colleagues on the City Council."
Under the company's plans, the storefront will allow up to 50 people on the sales floor at a time, but the company also showed plans for fewer customers in the store — spaced out at a six-foot distance — to comply with social distancing guidelines to curb the spread of coronavirus. A four-car garage on site would be reserved for employee parking and weed deliveries, and a waiting area for rideshare pickup was included in the plans.
The proposal received little pushback from others on the Zoom call, but David Frey, a building owner next door stressed that the company meet personally with his retail tenants Art + Science Salon, a request Zises said he would accommodate.
Dan Conroe, marketing director at City Winery, said he would welcome Dispensary 33 as a neighbor and looked forward to creating "interesting partnerships."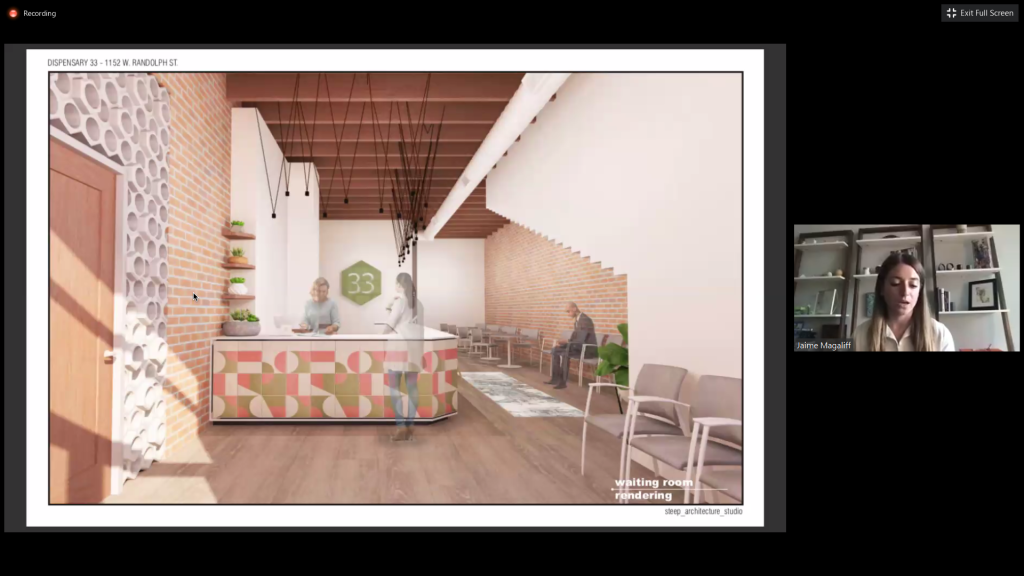 Earlier in May, NuMed held a meeting for a potential dispensary across the street at 1141 W. Randolph St. after abandoning another location on Restaurant Row after pushback from its would-be neighbor, The Haymarket Center, a drug treatment facility.
State law does not allow dispensaries to open within 1,500 feet of an existing pot shop, but in an unexpected decision, state regulators granted licenses to two dispensaries in River North despite being within the boundary. The state ruled that because the licenses were granted at the same time, no existing dispensary was present to block the other from receiving a license.
Another meeting is scheduled for June 2 to satisfy the zoning board's requirement that companies hold an in-ward community meeting.
Zises said the June 2 meeting will be held from 4-7 p.m. at 1152 W. Randolph St. as an open house to allow neighbors to learn about the plans while complying with social distancing guidelines. A virtual meeting will be held for those who don't wish to attend in person.
Block Club Chicago's coronavirus coverage is free for all readers. Block Club is an independent, 501(c)(3), journalist-run newsroom.
Subscribe to Block Club Chicago. Every dime we make funds reporting from Chicago's neighborhoods.
Already subscribe? Click here to support Block Club with a tax-deductible donation.