NOBLE SQUARE — After five years of planning and two years of construction, Hyatt Place was expected to open this Saturday in Noble Square — but the opening has been postponed.
The hotel has not yet received its certificate of occupancy, delaying the planned opening, Kurt Furlong, chief revenue officer of Genuine Hospitality, LLC, said.
"We are very excited to join the Wicker Park community," Furlong said by email. "We are almost across the finish line. Initially we thought we would be open later this week but learned we have not received the certificate of occupancy and still need to complete a few items to be in compliance. We are working diligently to satisfy these required items."
Located at 1551 W. North Ave. at the intersection of North and Ashland avenues, the hotel borders Wicker Park and is in Noble Square.
Its 99 rooms include two large suites, nine "king" corners, 28 double queens and 60 standard kings. Nightly rates will vary by season, Hyatt Place director of sales Tania Ramirez Rodriguez said. Once the hotel is open guests can book online.
Hotels were allowed to remain open under Gov. JB Pritzker's stay at home order.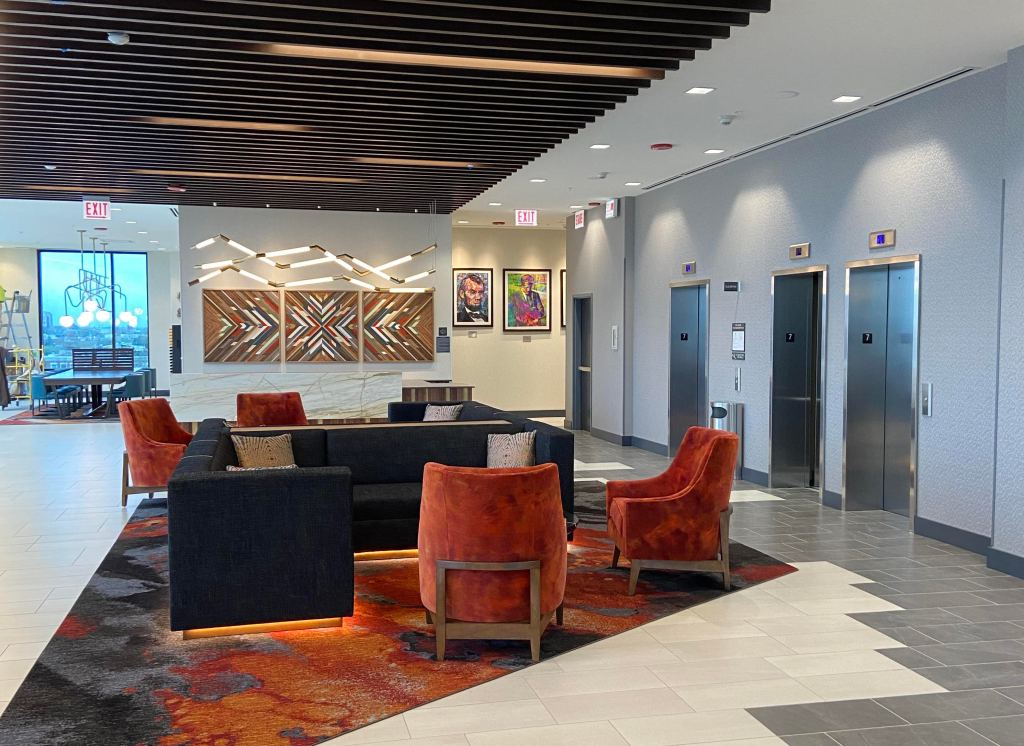 While bars, restaurants and gatherings of 10 or more people are still banned, the Hyatt hopes to eventually open its amenities to the public, including non-guests.
For example, the Hyatt Place's Kennedy Rooftop Lounge, a bar and restaurant with skyline views, will be open to the public when allowed. Boardrooms and a larger meeting area are available for public use, as well.
Inside the hotel, neighbors may recognize the work of Helendora Samuels Picture Framing, a Wicker Park business located at 1736. W. North Ave. Helendora was contracted to do the hotel's framing work Ramirez Rodriguez said.
Neighborhood businesses can get 15 percent-off discounts, Ramirez Rodriguez said.
The hotel's eventual opening will mark the end of a five-year journey.
The plan was first introduced in August 2015 by property owner George Nediyakalayil. After the Plan Commission approved the project, Ald. Brian Hopkins (2nd) asked for a different design after getting negative feedback from residents.
At a community meeting in 2016 hosted by Hopkins, some residents panned the initial design. "It's like an office building in Schaumburg!" one man shouted.
Hopkins agreed with residents that the planned hotel looked "too suburban."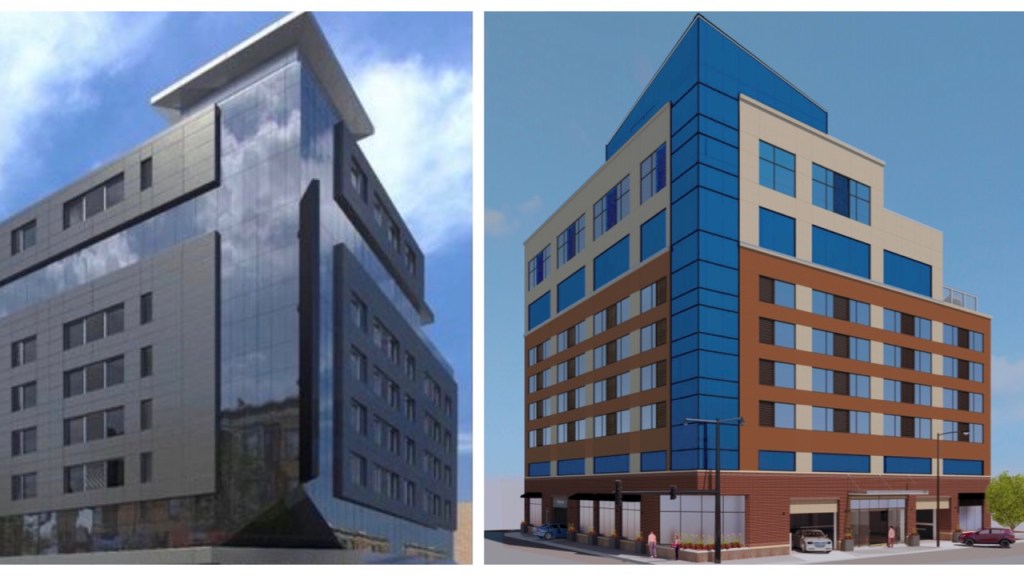 A new architect was hired. The Shell gas station previously at the site was demolished in April 2018. Construction began in May 2018.
Last year Nediyakalayil told neighbors he anticipated a late 2019 or early 2020 opening.
RELATED: Wicker Park Hyatt Plan Changed To Look Less Like Schaumburg, Could Open By Late 2019, Early 2020
The hotel is a few blocks south of Walsh Park, at the eastern end of the 2.7-mile Bloomingdale Trail that extends west to Bucktown, Logan Square and Humboldt Park.
Hyatt Place is also about a half-mile east of Wicker Park's main hub, where The Robey, a boutique hotel, offers 89 rooms. A locally-owned nine-room bed-and-breakfast, Wicker Park Inn, is located nearby at 1331 N. Milwaukee Ave.
As businesses shutter across Chicago, the timing of Hyatt Place's opening during COVID-19 is somewhat unusual.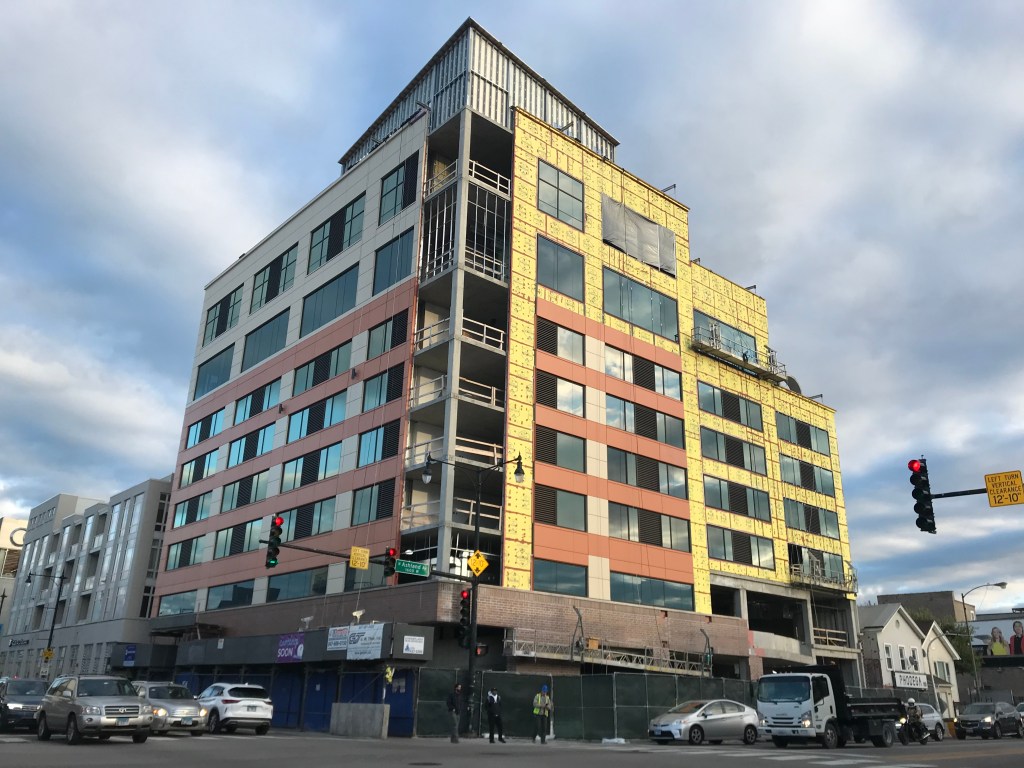 Rep. Mike Quigley told Wicker Park neighbors during a Zoom meeting last week that members of Chicago's hospitality industry told him they predict 50 percent of hotels will not reopen after the shutdown. 
Wicker Park Inn owner Laura Yepez recently told Block Club she fears the hospitality industry will be long impacted by a summer without graduations, festivals and concerts.
"We don't know when anyone will be out of the woods," she said.
RELATED: Rep. Quigley To Wicker Park Neighbors: Come To Me With Your Small Business Concerns
Know of a business opening or closing in Wicker Park, Bucktown or West Town? Let us know by emailing hannah@blockclubchi.org 
Subscribe to Block Club Chicago. Every dime we make funds reporting from Chicago's neighborhoods.
Already subscribe? Click here to support Block Club with a tax-deductible donation.