WEST LOOP — Dr. Theresa Schwab works in the emergency room at Advocate Christ Medical Center in Oak Lawn, saving lives on the front lines of the coronavirus pandemic.
Despite the long hours she's logging, she's also launched an effort to keep a network of personal trainers afloat, building a coalition of independent trainers and attracting at-home subscribers to fund it.
The cooperative, called the Chicago Trainers Cooperative, offers exercise classes via Zoom. For $30 per month, subscribers get unlimited access to online training sessions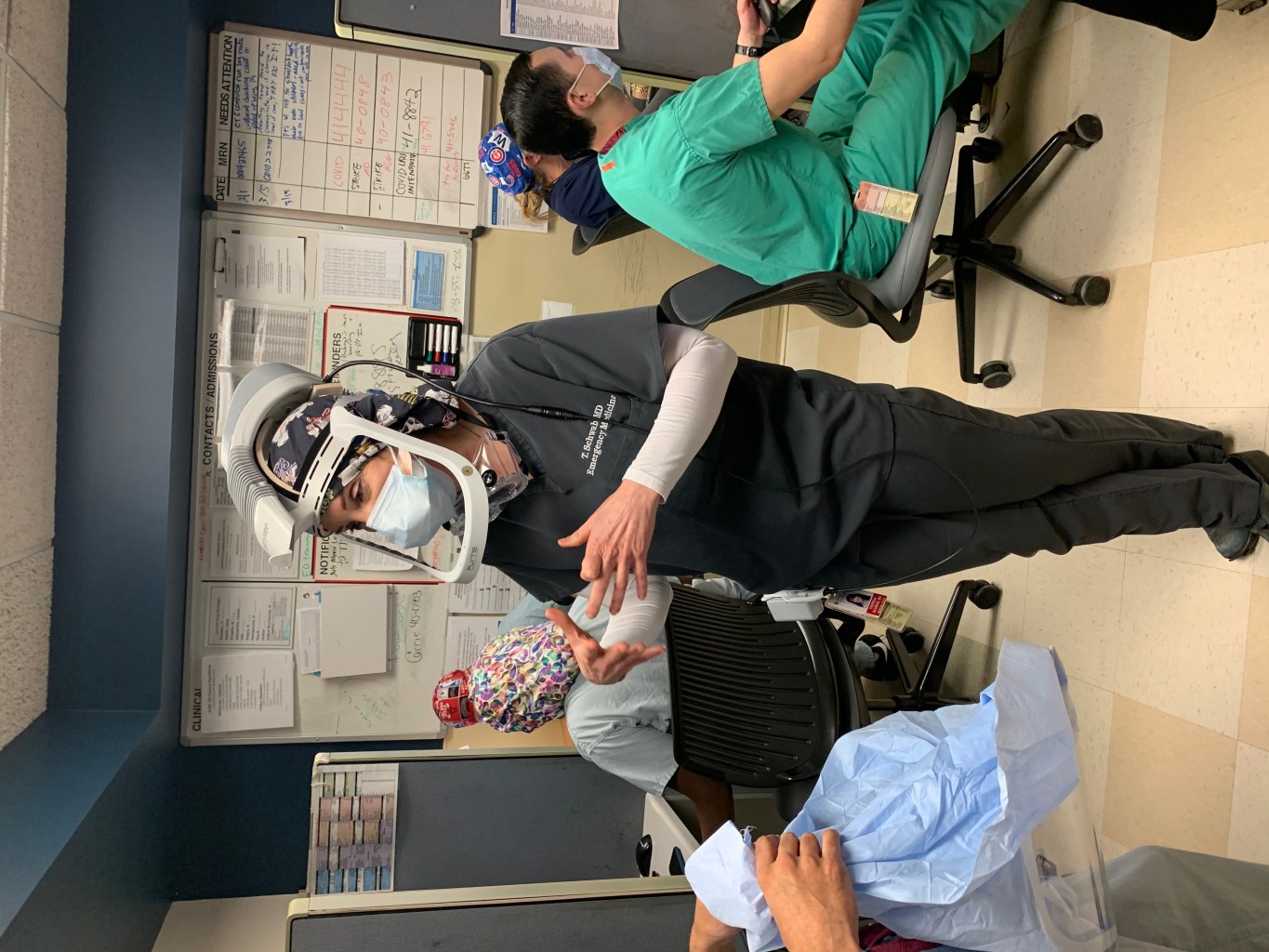 "I'm in a recession-proof, pandemic-proof speciality. Emergency medicine never goes out of business," said Schwab, who also co-owns a West Loop gym.
"I just feel bad for everybody. I feel bad for the people who are sick and dying, I feel bad for the people who are dying alone, and I feel bad that people are out of work. Sometimes you just get this idea and you're like, 'You know what, let's just try it.'"
The cooperative started with 10 trainers and is planning to expand as more subscribers jump on board.
Trainers split the pot based on the number of classes they do, Schwab said; for example, if the coalition did 50 classes in one week and a trainer did five of them, the trainer would get 10 percent of that week's money.
Right now the cooperative has about 65 subscribers, meaning the trainers are only getting paid about $12 per hour, but that will increase as more join, Schwab said.
"The minute we hit 150 subscribers they're making $20-$25 an hour, so it's more than pocket money," Schwab said. "Then we can bring more trainers in."
Trainers are also given the opportunity to make more money if they get subscribers who want to sign up for private online workouts. 
"A 30-minute private costs $45 and an hour costs $75. Forty percent is given to the trainer and the other 60 percent is spread among the other trainers," Schwab said.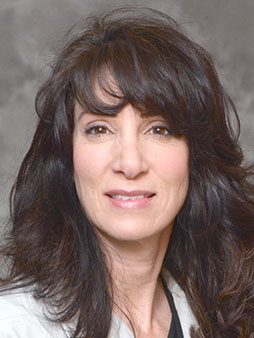 Schwab said her goal is to hire 100 trainers within the first 100 days.
Schawb is keenly aware of the challenges personal trainers are facing right now because she invested in a West Loop gym in December after it closed.
"Two of the younger trainers who worked there I absolutely adored, they are wonderful people," she said. "They lost their jobs and I knew they were trying to start up something. So I called and said if you need help, I'll help you. So, they contacted me and asked if I'd be interested in being a partner. I was like, well, OK."
Schwab partnered with Robin Sanchez and Amy Homma and opened All In Motion at 112 S. Sangamon St. But like so many businesses, it closed its doors in March following the state's stay at home order. 
"We quickly transitioned to all this virtual stuff and we've been hanging in, but all of these out-of-work trainers who are mostly paid as independent contractors from these various gyms that are closed everywhere started reaching out to us, asking if they could work for us. We had no money to hire anybody else because we don't have any income," Schwab said.
Schwab is worried that even when the economy reopens, people won't want to return to the gym — which means there will be a "huge segment" of independent contractor trainers who are facing a severe loss of income.
Hoping to help, Schwab connected with the owners of  Precision Human Performance in the West Loop and created the cooperative.
For Michelle Amore, who has co-owned Precision Human Performance with Johnny Cooke for 10 years, the choice to team up with Schwab was an easy one. The two women did not know each other but were both part of the West Central Association Chamber of Commerce.
"She reached out to us and it sounded like a fantastic opportunity to help out the trainers with everything going on right now. … It was a no-brainer. Anything to help the community and especially when it has to do fitness, me and Johnny are in," Amore said.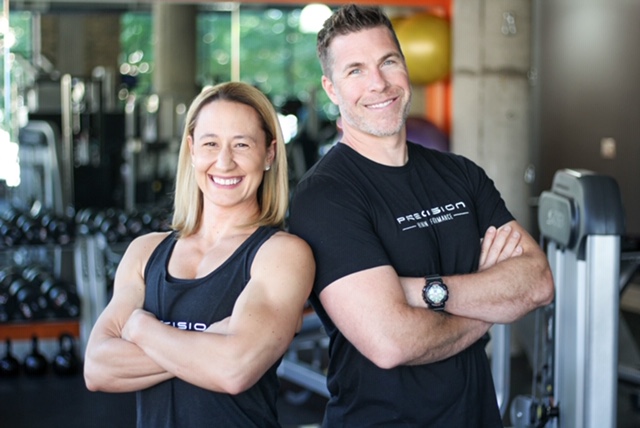 Scwab said once Amore agreed to team up, they had something online six days later — starting on April 20.
One personal trainer who jumped at the chance to join was Chad Koch, who was feeling the effects of the shutdown and has led seven classes a week so far for the cooperative.
"I've lost like 80 percent of my income. It's been rough," Koch said. He added that he's been trying to spread the word and thinks the cooperative is a great value.
"I'm telling all my friends and relatives if you know anyone who needs anything like this, please let them know because this is ridiculously cheap for what they are getting. You get access to all these classes, as many as you want," Koch said.
Trainer Angelo Miranda, who also is part of the cooperative, said for him it is helping him expand his client base — something he desperately needs to do during the shutdown.
"If I'm going to make it out of this I need to have an audience that's larger than the ceiling of my traditional occupation. Just working one on one I had reached the ceiling," Miranda said.
For subscriber Dimetra Skondra, a retina surgeon who lives in River North and has participated in two to three classes per week, the cooperative has been great.
"It helps people to stay afloat until the gyms open again and even when they open again, it won't be full capacity like it was before," Skondra said.. "Honestly, I don't know if I want to go to the gym again if I can do it in my living room. So, I don't think this will be just for COVID. I think post-COVID it will be good to have that option.
"It gives me something to look forward to. It's a group of people who are all in this together and it's a great thing to do to support the trainers and it's good for the people to have an affordable way to exercise."
Amore of Precision Human Performance calls Schwab "an angel."
"She is on top of everything. I don't think the woman sleeps. She's in the ER but at the same time, anytime I have a question about something that's going on she's right there to respond," Amore said. "She's just really driving everything and it's really nice to see."
To find more information about the Chicago Trainers Cooperative, go to https://chicagotrainerscoop.com.
Block Club Chicago's coronavirus coverage is free for all readers. Block Club is an independent, 501(c)(3), journalist-run newsroom.
Subscribe to Block Club Chicago. Every dime we make funds reporting from Chicago's neighborhoods.
Already subscribe? Click here to support Block Club with a tax-deductible donation.