WICKER PARK — During a Zoom meeting with Wicker Park neighbors on Wednesday, U.S. Rep. Mike Quigley addressed pitfalls with federal aid packages for small businesses and encouraged business owners to reach out to him to discuss their needs during the coronavirus crisis.
Quigley, whose jurisdiction stretches from Hinsdale to the Gold Coast, specifically addressed the Paycheck Protection Program, commonly referred to as the PPP loan.
The program was one piece of the $2 trillion federal stimulus package aimed at helping small businesses weather the coronavirus crisis.
Congressional leaders are working on ways to keep the program replenished with ongoing funds, he said. His office is also listening to small business owners who have ideas for how to reform the program to make it more applicable to them.
"There are so many different circumstances," he said. "Folks tend to have questions [specific] to their business."
While it received widespread bipartisan support, Quigley said PPP was designed in only nine days and has had its share of shortcomings.
Small business owners across Chicago were quickly shut out of the nearly $350 billion program, which ran dry last month after some funds went to corporations. Some companies returned the money and the federal government added another $322 billion to the coffers. 
RELATED: Chicago Small Businesses Shut Out Of Federal Government's Loan Program: 'We Don't Matter To Them'
The PPP loan views businesses equally — whether they are music venues, restaurants, retail shops, hair salons or trucking companies. Every recipient gets a lump sum of cash they are required to spend within two months. 
Business owners are penalized if they do not put the money toward workers; if less than 75 percent of the funds is spent on payroll, the grant becomes a loan with interest.
Quigley invited small business owners to reach out directly by calling his office at 773-267-2926 or by email.
The congressman gave an example of a helpful call: Chicago restaurant owner and Ald. Tom Tunney (44th) recently reached out to explain how the PPP money is difficult for businesses that employ tipped workers.
Quigley said he learned through the call that some tipped workers earn higher wages via unemployment than they would via PPP. These businesses will be among the last to fully reopen, per Gov. JB Pritzker's plan.
"It's the kind of nuance that helps us … understand the problems," he said.
The National Independent Venue League — a coalition that includes more than 20 Chicago venues — wrote a letter to Congress asking for changes to PPP that would meet the needs of the entertainment industry.
RELATED: First To Close, Last To Open: Will Chicago's Independent Music Venues Survive The Coronavirus?
Quigley said on Wednesday he has read the letter and that his office is working on a response.
Read the group's full letter to Congress outlining proposed changes to the Paycheck Protection Program and other resources here.
Zoom calls with industry leaders have been a theme of the past month, Quigley added. He recently spoke with members of Chicago's hospitality industry, who predict 50 percent of hotels will not reopen after the shutdown.
"We recognize wild gaps in [the program]," he said. "My concern is it's going to get tougher and tougher to pass these bills."
Also on Wednesday's Zoom call were Wicker Park business owners and PPP loan recipients Rebecca George and Laura Yepez.
Yepez owns Wicker Park Inn, a boutique nine-room bed and breakfast at 1331 N. Wicker Park Ave. She worried about the longevity of her PPP money, given that the hospitality industry has been hit hard by travel restrictions and event cancelations.
"We hope to reopen when it's safe, when people are traveling and when there's a need," she said.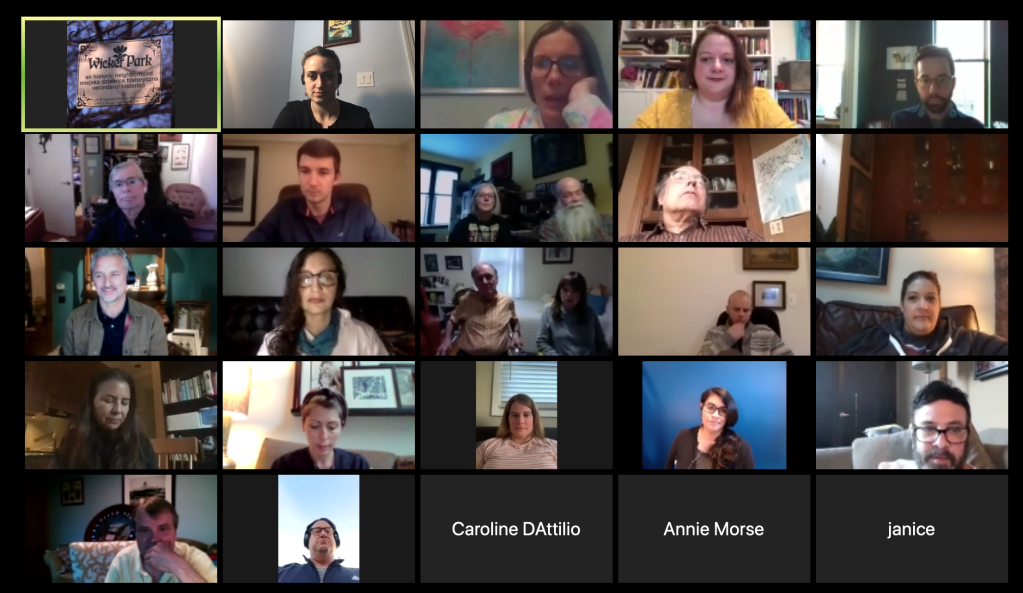 George co-owns Volumes Bookcafe, 1474 N. Milwaukee Ave. She's glad she can use PPP to bring back staff she's had to furlough. Like Yepez, she was concerned about what happens "after those eight weeks."
Though customers have embraced online book and puzzle ordering, without sales from the cafe, revenue is still down 50 percent, George said.
And her landlord, who is based in New York, has no intentions of budging on their rent.
"Another worry for all businesses is, once we open, that fixed cost isn't changing, but our ability to function as a business is," she said, noting events like intimate book talks are likely a ways away.
Neighbors mentioned the recent closures of various neighborhood businesses, from Futurgarb to Links Taproom.
"It feels like everyday there's another one," George said. "You'll see a lot more business take the option to leave [when their lease is up]. That's the sad reality of that."
Know of a business closing in Wicker Park, Bucktown or West Town? Let us know by emailing hannah@blockclubchi.org 
Block Club Chicago's coronavirus coverage is free for all readers. Block Club is an independent, 501(c)(3), journalist-run newsroom.
Subscribe to Block Club Chicago. Every dime we make funds reporting from Chicago's neighborhoods.
Already subscribe? Click here to support Block Club with a tax-deductible donation.