WICKER PARK — As the coronavirus pandemic threatens to destroy small theaters and venues across the country, Chicago's independent music venue owners are joining a national effort to lobby Congress for more resources — and they need help.
Venues including The Hideout, The Vic, Thalia Hall and Subterranean are part of a coalition asking Congress for changes to the Paycheck Protection Program, tax relief, mortgage and rent forbearance and other assistance.
In Chicago, help can't come fast enough, said Katie Tuten, the co-chair of the Chicago Independent Venue League. The group, also called CIVL, has teamed up with the National Independent Venue Association during the pandemic in hopes of keeping Chicago's venues afloat.
"We're gonna need help from the city, the county, the state, the feds," Tuten said. "We are the first to close, the last to open."
Gov. JB Pritzker's plan for reopening Illinois, unveiled Tuesday, says the Chicago area won't be able to reopen theaters, bars and similar businesses until the area enters "Phase 4" — which is only possible if the city and suburbs see a continued decline in new coronavirus cases and if hospitals in the area have space.
But even then, gatherings will still be limited to 50 people or fewer, and businesses that reopen would have capacity limits.
Large gatherings, including concerts, won't be permitted until "Phase 5," which won't happen until there's a vaccine, widespread treatment for COVID-19 or no new cases at all — which experts predict is months off.
Venues are worried about how long it'll take before they can reopen, especially given what they've already lost.
During the six-week period from March 15-April 30, CIVL members collectively lost:
1,219 events
297,815 audience members
$7,176,253 in revenue
206 full-time jobs
$1,336,698 in full-time wages
1,702 part-time jobs
$2,119,810 in part-time wages
Supporters of indie venues can help by calling or e-mailing their aldermen and contacting their elected officials in Washington, D.C.
Venues are asking supporters to take to social media, too, using the phrase "Save our Stages" (#saveourstages) in posts.
Whether it's in a phone call to a senator or in a post in a neighborhood Facebook group, Tuten said people should emphasize venues are invaluable economic drivers and cultural institutions.
"We're all neighborhood-based," she said. "We know that we're economic drivers in our neighborhoods … The people we employ, the sound engineers, record labels … artists, sound equipment … liquor companies, the guy that drives the beer to our bar — we're a part of a web."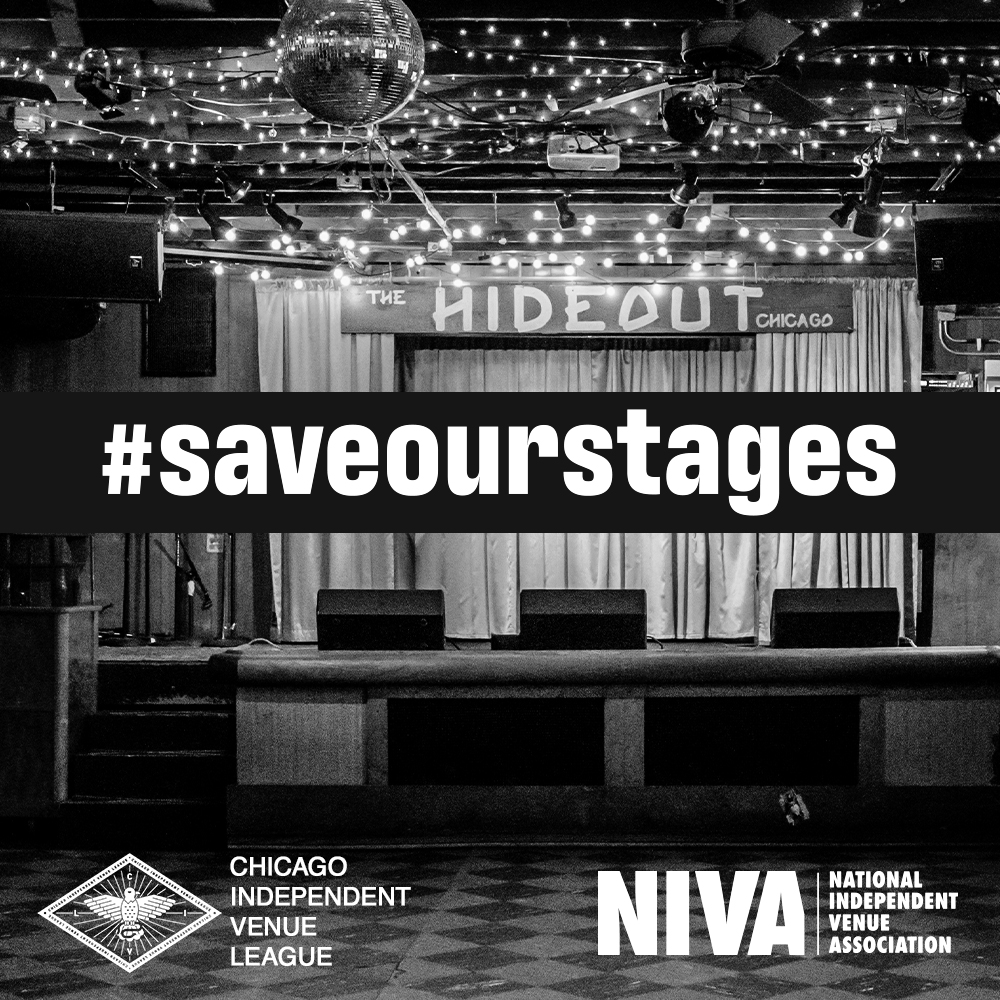 'They Didn't Have Us In Mind'
The Small Business Administration's Paycheck Protection Program, commonly referred to as the PPP loan, was launched in March as part of the $2 trillion federal stimulus package to help small businesses weather the coronavirus crisis.
But small business owners across Chicago were quickly shut out of the nearly $350 billion program, which ran dry last month after some funds went to corporations like Potbelly and the Los Angeles Lakers. Following swift backlash from small business owners around the country, some companies returned the money and the federal government added another $322 billion to the coffers.
About half of the CIVL members received loans from the program, Tuten said. But getting the money itself isn't the only issue. The program's restrictions can be counterproductive for independent venues, said Robert Gomez, CIVL co-chair and the owner of Subterranean in Wicker Park and Beat Kitchen in Roscoe Village.
The PPP loan views businesses equally — whether they are independent venues, restaurants, retail shops, hair salons or trucking companies. Every recipient gets a lump sum of cash they are required to spend within two months.
Business owners are penalized if they do not put the money toward workers; if less than 75 percent of the funds is spent on payroll, the grant becomes a loan with interest.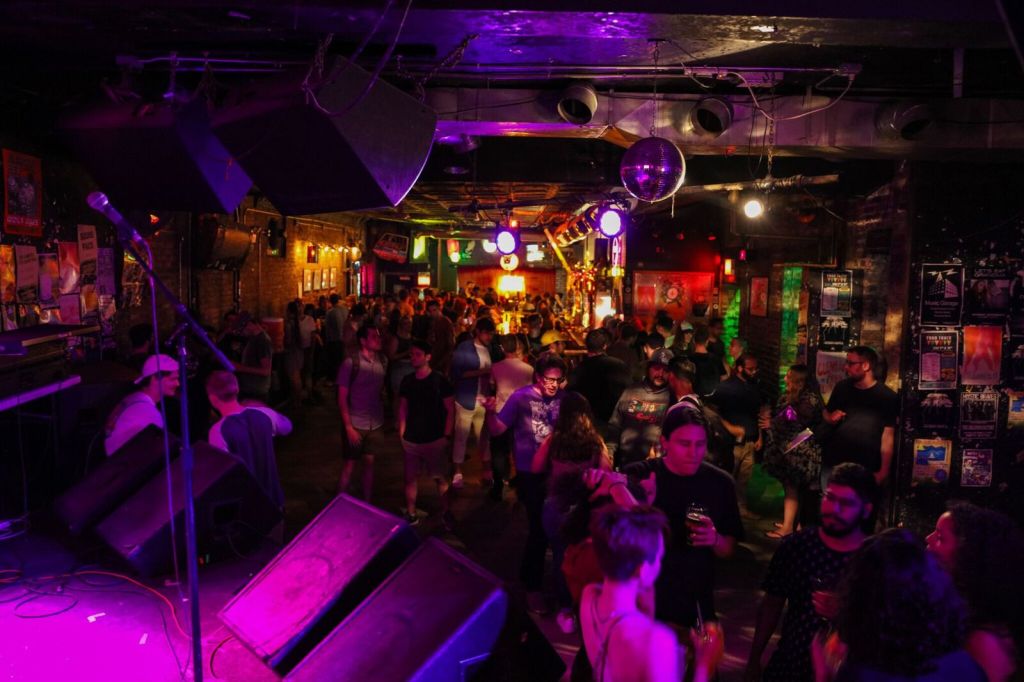 That's a problem for small venues that likely will not reopen by the time they are required to spend the money. Unable to open their businesses, the immediate financial concern is no longer paying employees — it's staying afloat.
And since many of the venues' employees earn tips from shows rather than salaries, it is not easy for owners to determine paycheck figures and not feasible to spend at least 75 percent of the loan money on payroll, Gomez said.
"Our biggest challenge is tipped employees," he said. "They didn't have us in mind. That's a problem with a lot of this. They didn't have us in mind. … We're gonna be the last to reopen. … We're trying to get the federal government to see that."
In an effort to make the program more immediately useful for venues, the National Independent Venue Association asked Congress to amend several elements, like extending the program until businesses can reopen, creating options for loan forgiveness and allowing for more flexibility in spending the money on expenses such as ticket refunds, insurance and rent.
These changes will make the program more malleable, likely benefitting industries beyond entertainment, Gomez said.
Read the group's full letter to Congress outlining proposed changes to the Paycheck Protection Program and other resources here.
While the program was "good in theory," it needs to make the changes outlined by the National Independent Venue Association, said Joe Carsello, the talent buyer for Metro, Smartbar and GMan Tavern in Wrigleyville.
"We're already seeing a lot of restaurants that have been decimated calling it a day," Carsello said. "The finances of our industry are much different than the restaurant world. We understand we're the last of the communities that are gonna be viewed as essential. … We will need some other bailout moving forward."
'I'm Genuinely Scared'
Even if venues survive the shutdown, the financial toll of canceled shows will linger.
Gomez said he's canceled 193 shows between his two venues through July. If the stay at home order is extended, 275 shows across both venues could be canceled through September.
"I'm genuinely scared," he said. "We didn't get into this with tons of money. … Even when we get the green light [to reopen], will we have the capital to buy the inventory needed to open?"
Brent Heyl books shows for Thalia Hall in Pilsen and for Empty Bottle in Ukrainian Village. He helps the latter book lineups for summer music festivals like Do Division, which are canceled as a result of the pandemic.
Concerts that had been on the books for years are being postponed into the fall, Heyl said. Some artists have given up on 2020 altogether and are booking for January or later.
The closures hurt more than the pockets of venue owners, Heyl said.
Artists who design merchandise and posters, companies that print those posters, the nearby bars and restaurants trafficked by concert-goers — and the Uber or Lyft drivers who bring them there — all will lose money this year.
"I'm just hopeful that in 2021, once we figure out how to navigate this new world … once we're comfortable again being in a large space with a lot of people, that the response will be outstanding," Heyl said. "I have to assume all these things are coming back."
Some venues have in-house bars, and it's possible they could reopen their bars to make money even if they can't hold shows due to crowd limitations.
That may help some owners, but every business is different, Gomez said. He doesn't expect a bar-only model to work at a club like Subterranean, where it's music that brings in customers — not the booze.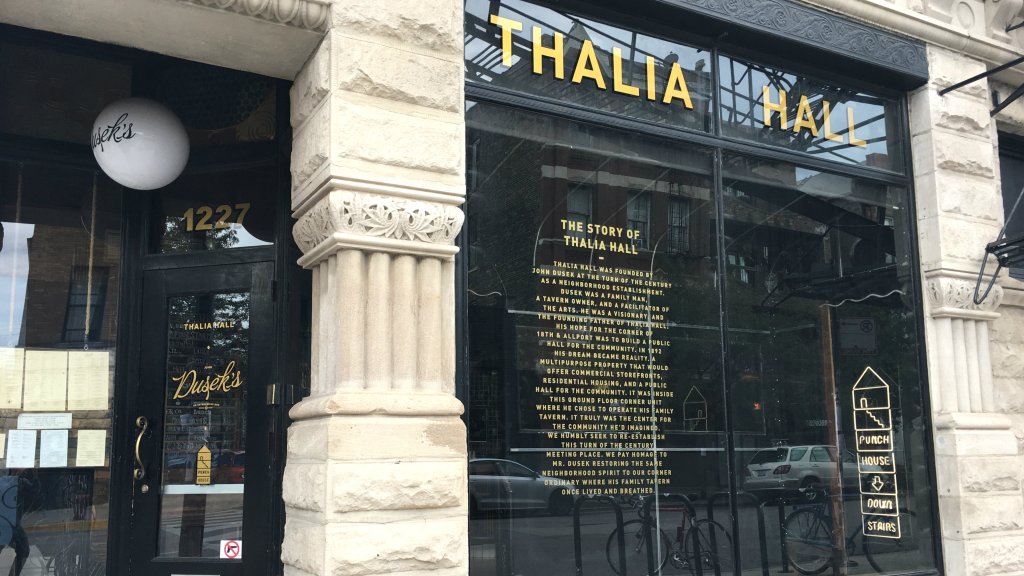 In addition to financial help, venues are asking Congress for clear guidance on how to safely reopen when the time comes.
Venue owners can mandate safeguards such as checking temperatures at the door, capping occupancy at 50 percent and requiring masks.
But how can crowd control and social distancing be enforced when 400 people try to rush the stage at the same time?
"I don't think we could regulate people standing 6 feet apart," Heyl said. "Hopefully there's a clearer answer soon."
Additional CIVL members include Avondale Music Hall, Café Mustache, Cole's Bar, Dorian's, Lincoln Hall, Martyrs', Park West, Patio Theater, The Promontory, Reggies, The Riviera Theatre, Schubas, The Silver Room, Sleeping Village, Smartbar, Tonic Room, The Vic and The Whistler.
RELATED: Chicago's Indie Music Venues Need Your Help. Here's A List Of Fundraisers
Organizing during a crisis is nothing new for Chicago's indie venue owners.
Tuten and Gomez co-founded CIVL in 2018 as a way to protect venues against Live Nation's projected entertainment megaplex in the Lincoln Yards development, which is across the street from The Hideout at the apex of Bucktown and Lincoln Yards.
The group was successful and the idea was abandoned.
An eerily similar threat could loom should venues close.
Tuten predicts large corporations such as Live Nation will attempt to cash in on the pandemic by "poaching," or purchasing, venues from their independent owners.
"Not only are we fighting a pandemic," she said. "We also simultaneously will be fighting for our survival."
Learn more about CIVL and its members here. Donate to your favorite neighborhood venue here.
Block Club Chicago's coronavirus coverage is free for all readers. Block Club is an independent, 501(c)(3), journalist-run newsroom.
Subscribe to Block Club Chicago. Every dime we make funds reporting from Chicago's neighborhoods.
Already subscribe? Click here to support Block Club with a tax-deductible donation.