CHICAGO — Those desperate for answers as to when life can get back to normal in Illinois got a little clarity Tuesday from Gov. JB Pritzker, who unveiled a five-stage plan for opening everything from salons to restaurants in the state.
The timeline, however, depends on the spread of coronavirus, which has still not reached its peak.
"We have to figure out how to live with COVID-19 until it can be vanquished – and to do so in a way that best supports our residents' health and our health care systems and saves the most lives," Pritzker said. 
"'Restore Illinois' is a public health plan to safely reintroduce the parts of our lives that have been put on hold in our fight against COVID-19. This is also a data-driven plan that operates on a region-by-region basis, a recognition that reality on the ground looks different in different areas of our state."
The plan divides the state into four regions: Northeast Illinois, North-Central Illinois, Central Illinois and Southern Illinois. The Illinois Department of Public Health will monitor each region and move that region to the next phase when it meets defined public health goals.
Life won't return to "normal" until Phase 5, when there's a vaccine or widespread, effective treatment for COVID-19, Pritzker said. Experts have said either of those things is likely months away.
Until then, large gatherings are canceled and most people are required to wear face coverings when unable to social distance, Pritzker said. Schools could reopen if a region is in Stage 4 by this fall, but they'll have "strict" guidelines from the Illinois Department of Public Health.
"It brings me no joy to say this, but based on what the experts tell us and everything we know about this virus and how easily it spreads in a crowd, large conventions, festivals and other major events" are canceled until Phase 5, Pritzker said.
But there will be progress and, with that, the lifting of restrictions in the months ahead: Phase 3 is the next step for Illinois, when workplaces such as barbershops and offices will reopen.
Schools, restaurants and bars can reopen in Phase 4. Gatherings of 50 or fewer people also will be allowed again.
Phase 4 is when Illinoisans will be "rebuilding what school and work will look like" until a vaccine or treatment is developed, Pritzker said.
If a region sees an uptick in cases, though, it could mean reverting to the restrictions of an earlier phase.
"Moving backward is honestly the last thing anyone wants to do," Pritzker said. "But if the virus begins to attack more people or if the health care systems are headed toward being overwhelmed in any region, swift action will need to be taken."
Officials don't want to use police to enforce social distancing, though officers will monitor for violations of the stay at home order, Pritzker said.
"Our first and best option is to rely on Illinoisans working together …," Pritzker said.
And the plan could change depending on what officials learn about COVID-19 and how things change in Illinois, Pritzker said.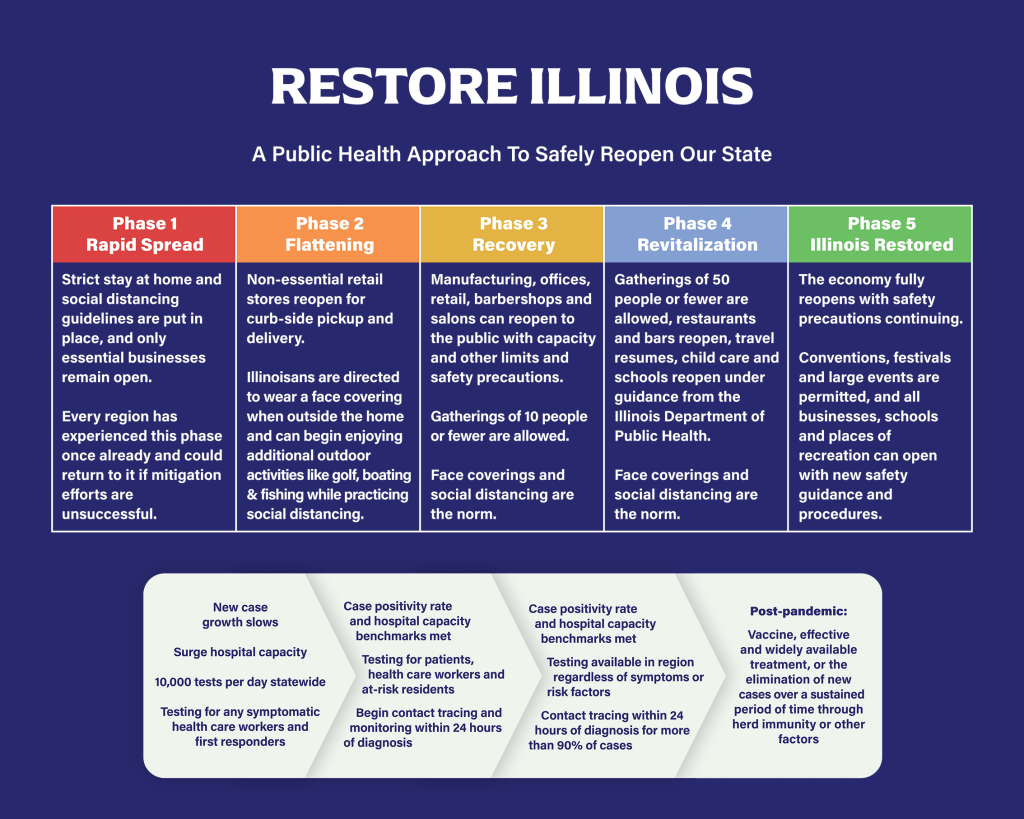 The Phases
Phase 1
We already are past stage one, when the number of patients admitted to the hospital is high or rapidly increasing. During this phase, strict stay at home and social distancing guidelines are put in place and only essential businesses remain open. Every region has experienced this phase once already and could return to it if mitigation efforts are unsuccessful.
Phase 2
The "flattening" phase is where we're currently at in Illinois. In this phase, the rate of infection among those tested, and the number of patients admitted to hospital and ICU beds increases at a slower rate, moving toward a flat and, eventually, a downward trajectory.
The updates to the stay at home order — which allowed curbside pickup and delivery at retail stores, and reopening of golf courses and state parks — were tied to this phase, which remains in effect statewide until May 29, Pritzker said.
Phase 3
The "recovery" phase will happen when the rate of infection among those tested, the number of patients admitted to the hospital and the number of patients needing ICU beds is stable or declining.
Manufacturing, offices, retail, barbershops and salons can reopen to the public with capacity and other limits and safety precautions. Gatherings with 10 or fewer people are allowed. Fitness clubs can provide outdoor classes and one-on-one personal training with IDPH approved safety guidance. Face coverings and social distancing remain the norm.
Phase 4
The "revitalization" phase means the rate of infection among those tested and the number of patients admitted to the hospital continues to decline.
All gatherings of up to 50 people are allowed, restaurants and bars reopen, travel resumes, and child care and schools reopen under guidance from the health department. Face coverings and social distancing are the norm.
Phase 5
The state will only return to the "normal" phase when a vaccine or highly effective treatment becomes widely available, or with the elimination of any new cases over a sustained period, Pritzker said.
Conventions, festivals and large events are once again permitted during this phase, and all businesses, schools and places of recreation can open with new safety guidance and procedures in place reflecting the lessons learned during the COVID-19 pandemic.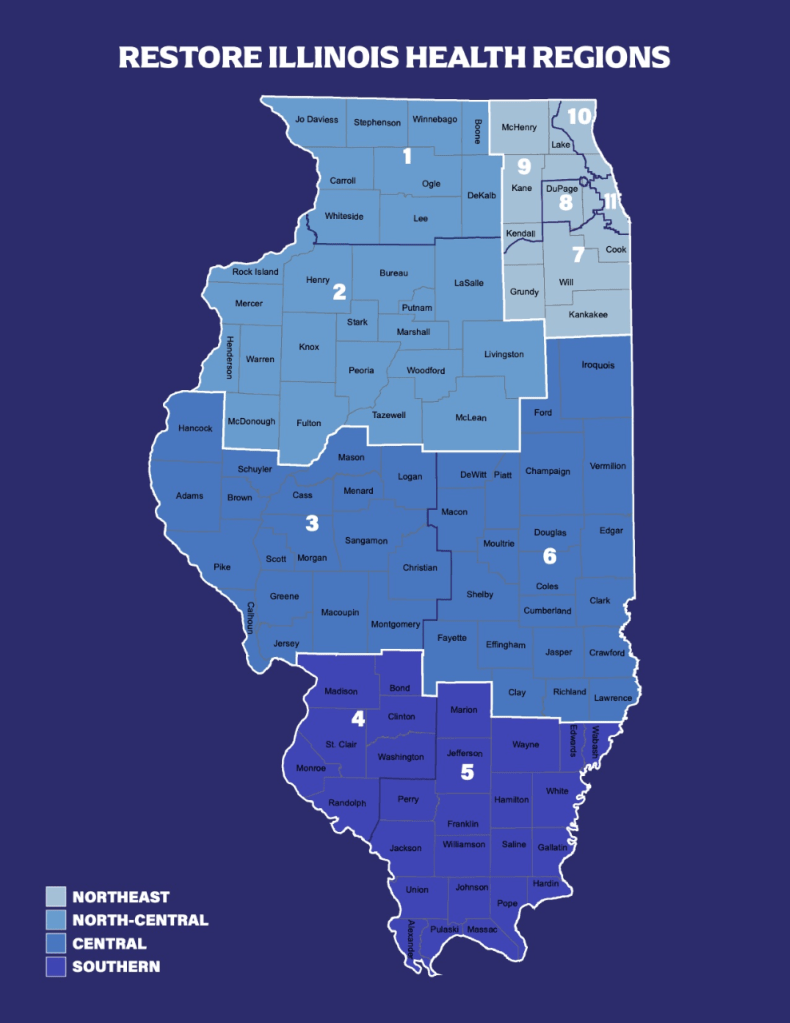 Here is the full Restore Illinois plan:
Block Club Chicago's coronavirus coverage is free for all readers. Block Club is an independent, 501(c)(3), journalist-run newsroom.
Subscribe to Block Club Chicago. Every dime we make funds reporting from Chicago's neighborhoods.
Already subscribe? Click here to support Block Club with a tax-deductible donation.