EDGEWATER — The spirit of Chicago was on display in an Edgewater parking lot Saturday, as some Chicagoans donated homemade cloth masks and others picked up much-needed masks and hand sanitizer.
Ald. Harry Osterman (48th), hosted the event, which was part of a citywide drive created by Mayor Lori Lightfoot called "Chicago Together! Make a Mask, Give a Mask, Wear a Mask" in which residents make and donate homemade cloth masks for homeless shelters, community health clinics and other high-risk residents.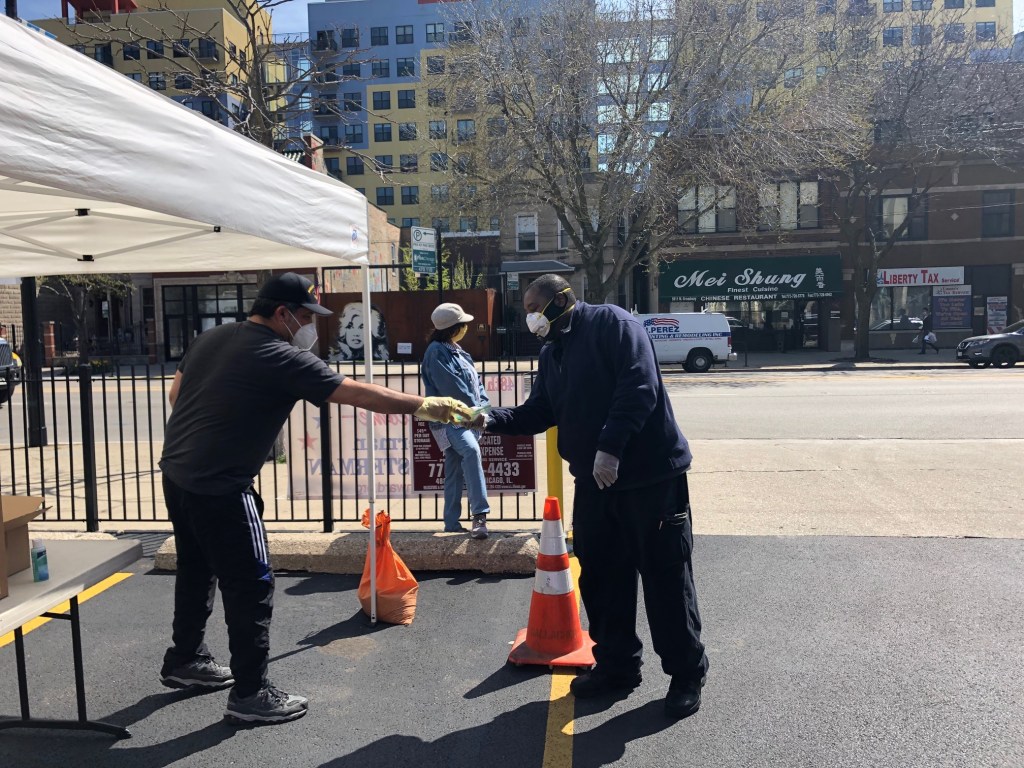 Additionally, the Ismaili Council for the Midwest, which has an office in Edgewater, donated 1,000 cotton masks made by volunteers. According to Karim Ukani, spokesman for the group, they have pledged 2,500 masks and will donate the additional ones in the weeks to come.
"We've been making masks for several weeks now, trying to think of ways that we could give back to the community," Ukani said. He added that the Ismaili Council has donated a total of 7,500 homemade masks across the Chicago area thus far.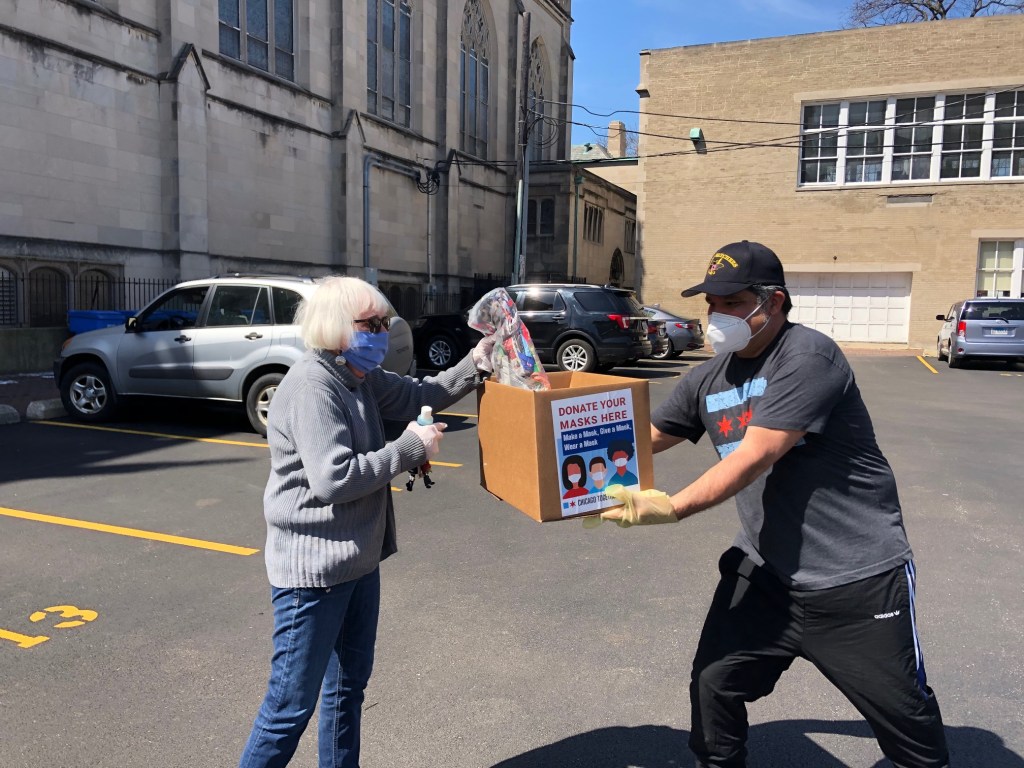 On Saturday, workers from Osterman's office set up in the parking lot of St. Ita Church, across the street from his office at 5533 N. Broadway Avenue. The masks and sanitizer given out to passersby on foot and in their cars on Saturday were part of a supply from the city given to each alderman to distribute. They will also be operating from 10 a.m. until 2 p.m. Tuesday.
"Edgewater is one of the most diverse communities in the city. Everyone contributed from every background and these masks are going to go to people throughout the city who need them most," Osterman said.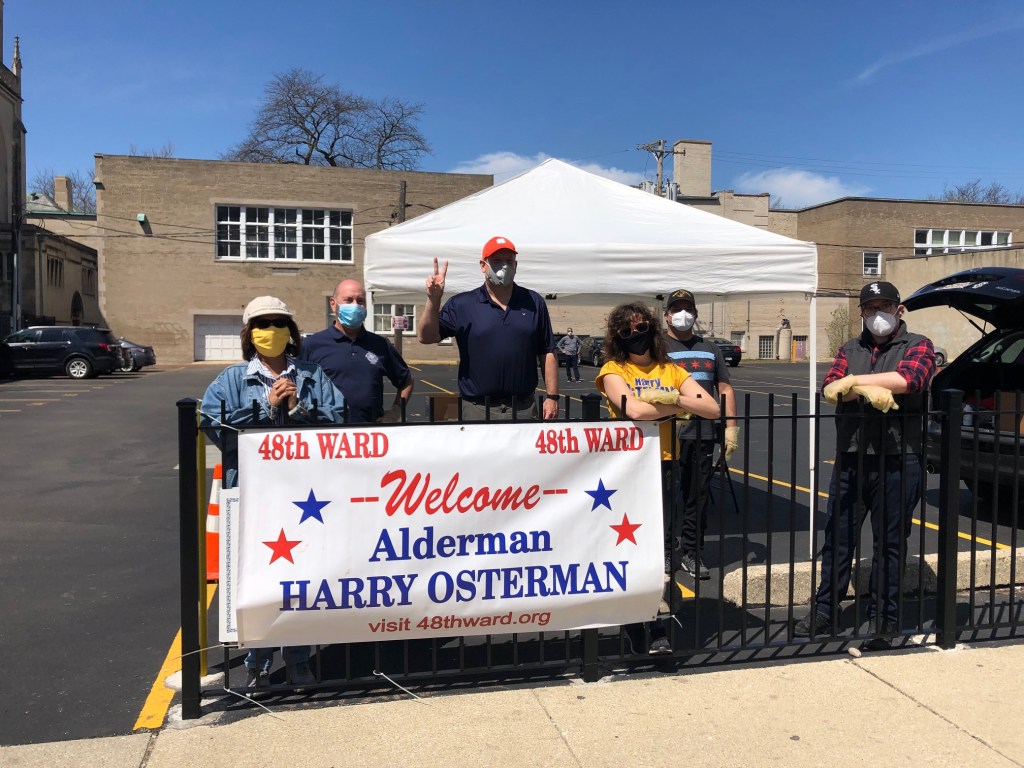 For some, like March Olivera, an Edgewater resident the mask giveaway was a welcome sight.
"The masks are hard to find. I've been using a bandana but this is much better," Olivera said.
For Shanniece Mathis and Marcos Omedeo, healthcare workers from the nearby All American Nursing Home at 5448 N. Broadway, the PPE was especially helpful. They heard masks were being given out and walked over on a break to get them.
"We have some but it's always nice to have more," Mathis said.
Retired CPS teacher Kathy Daniels, who lives in the neighborhood, dropped off several masks made by her friend Aiko DeVincent, another former CPS teacher who lives in Michigan and is a quilter.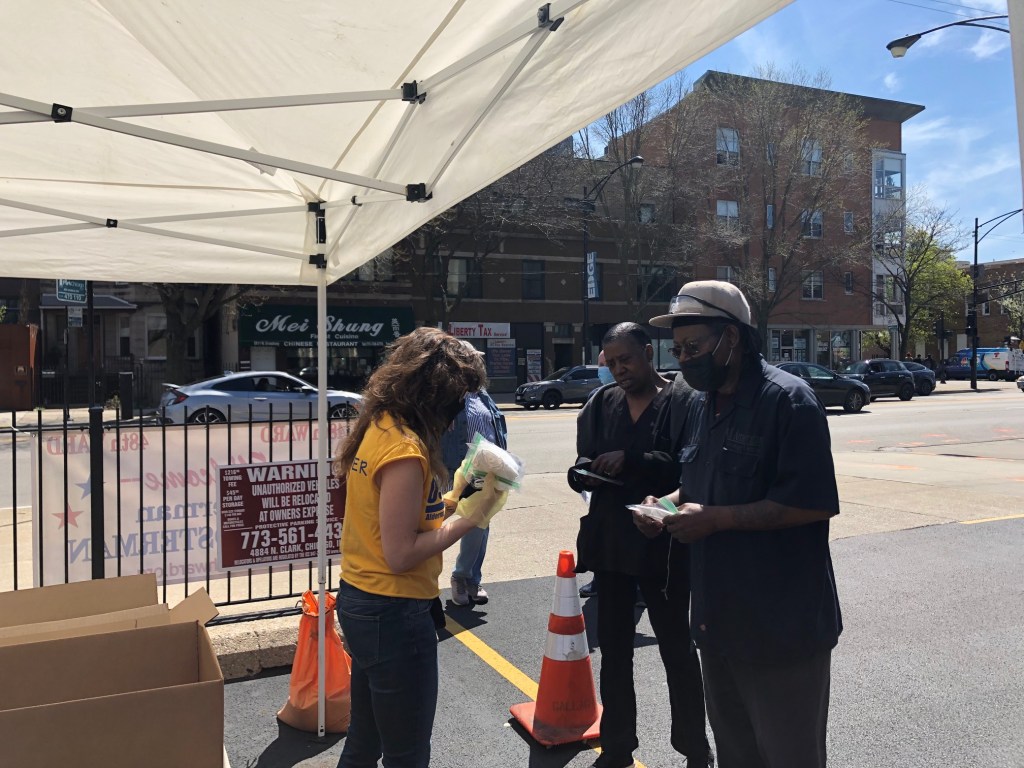 "She wanted to do something so when she learned about this campaign she didn't hesitate, and I'm happy to deliver them," Daniels said.
Nancy Gladfelter, an Edgewater resident, didn't need any masks but stopped by to give encouragement to the volunteers and noted a silver lining to a hard situation. 
"It's a surreal time for all of us that things you never thought about doing, now you're doing. People walking down the street who would have never said hello — now everyone has a hello. For as difficult as it is, we are all learning something about each other," Gladfelter said.
Making Masks
For those who want to make masks, the Chicago Department of Public Health has included the CDC Guidelines on How to Make a Cloth Mask at Chicago.gov/coronavirus. Masks can be made from recycled cloth such as T-shirts, bandanas, jeans, thick cotton and other breathable fabrics.
Drop Off Locations
Donations will be accepted at the following locations from 10 a.m.–2 p.m. on Tuesdays and Saturdays beginning Saturday, April 25 through Saturday, May 16. 
Aldermanic Offices:
Ald. Daniel La Spata (1st), 1958 N. Milwaukee Avenue
Ald. Leslie Hairston (5th), 2325 E. 71st Street
Ald. George Cardenas (12th), 2458 W. 38th Street
Ald. Chris Taliaferro (29th), 6272 W. North Avenue a
Ald. Felix Cardona (31st), 4605 W. Diversey Avenue
Ald. Scott Waguespack (32nd), 2657 N. Clybourn Avenue
Ald. Rossana Rodriguez-Sanchez (33rd), 3001 Irving Park Road
Ald. Samantha Nugent (39th) and State Representative John C. D'Amico, 4200 W. Lawrence Avenue
Ald. Anthony Napolitano (41st), 7442 N. Harlem Avenue
Ald. Michele Smith (43rd), 2523 N. Halsted Avenue
Ald. Tom Tunney (44th), 3223 N. Sheffield Avenue
Ald. James Cappleman (46th), 4544 N. Broadway Avenue
Ald. Harry Osterman (48th), 5533 N. Broadway Avenue
Participating Churches as part of the First Ladies Health Initiative (FLHI)
Apostolic Faith Church, 3823 S. Indiana Avenue
Austin Church of Christ, 4750 W Washington Boulevard
Blackwell-Israel Samuel AME Zion Church, 3956 S. Langley Avenue
Canaan Community Church, 1701 W. Garfield
Commonwealth Community Church, 140 W. 81st Street
Concord Baptist Church, 6319 S. Kimbark Avenue
Cosmopolitan Community Church, 5249 S. Wabash Avenue
Greater St. John Bible Church, 1256 N. Waller
Heritage International Food Distribution Center, 5312 W. North Avenue
Mount Carmel Bible Church, 740 E 42nd Street
Mount Vernon Baptist Church, 2622 W. Jackson Boulevard
New Mount Calvary, 1850 W. Marquette Road
Original Philadelphia M.B. Church, 6558 S. Carpenter Street
Park Manor Baptist Church, 8328 S. Green Street
People's Church of the Harvest, 3750 West Fifth Avenue
Salem Baptist Church of Chicago, 752 E. 114th Street
St. James Unity Baptist, 900 S. Sacramento Boulevard
Trinity United Church of Christ, 400 W. 95th Street
Unity Fellowship Baptist Church, 211 N. Cicero Avenue
The city will pick up the donated cloth masks and deliver them to the United Center, where they will be included in kits packed by TEAM Rubicon, a veteran-led global disaster response organization and distributed as needed.
For a full list of sites to donate masks to, visit: Chicago.gov/coronavirus.