ENGLEWOOD — For hours a day, Hugo Lopez sits at the Bernina sewing machine he's had since high school to sew dozens of masks that will eventually go to the 15th Ward's most vulnerable residents.
It's a labor of love for Lopez, who has been married to Ald. Raymond Lopez (15th) for 14 years. So far, he's sewn 275 reusable masks to be distributed to seniors and essential employees.
"I felt like I had to do something. I've been working from home, and I had CNN playing in the background, and every two minutes more people had been exposed to the virus," said Lopez, who is the office and communications director for Ald. Stephanie Coleman (16th).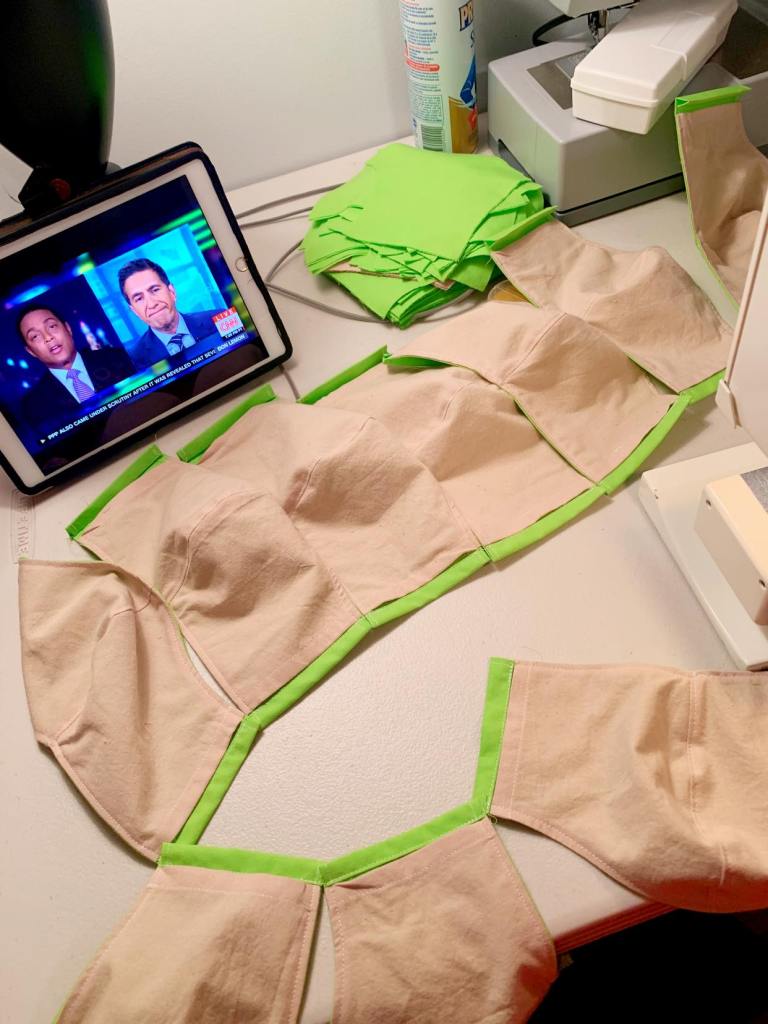 When he saw designer Christian Siriano's tweet to New York Gov. Andrew Cuomo offering his sewing team's services, the Jones College Prep alum quickly got to work, looking for the perfect mask pattern online and making several samples.
"I asked myself 'If he can step up and do something, what's stopping me?'" said Lopez, who has a degree in fashion design from the School of the Art Institute. "Raymond was like, 'Oh, this is awesome, you should probably get more fabric in case you run out' and I'm like, that's already been done. I went ahead and ordered three rolls of fabric, and the string that ties the masks together."
Each mask — which has a pocket that can fit a filter — takes about 10 minutes to assemble, and Lopez makes 50 to 60 masks in one sitting, occasionally going into the wee hours on the weekends, crashing on the couch to not disturb his husband and their two dogs. A small sacrifice, he said.
"There are days when I've done 18 to 20 hours, just sewing," said Lopez. "When my body tells me when it's time to lay down, I listen."
Residents in need of masks can contact the ward office directly at 773-823-1539 to be added to the distribution list, with priority given to seniors and those considered essential employees.
Ald. Lopez has been reaching out to residents in senior housing developments in the ward to make sure they're taken care of. While some understand that the masks are for those who don't have the option of staying at home, Lopez told Block Club tat he has received calls from residents who ask for masks out of boredom.
"People are like, 'I'm bored and I want to go out of my house' and that's not what this is for. This is for people who don't have the luxury of staying put," said Lopez. "If we have extra, we'll be more than happy to revisit this, but for now, these are for people who really need it."
As for Hugo, he said he will keep making masks for as long as there's a need.
"I've been in public service for a long time, and Raymond and I knew each other before he became alderman, so it's our natural inclination to do what's right. I have the skill, I have the time. I'll make the time."
Block Club Chicago's coronavirus coverage is free for all readers. Block Club is an independent, 501(c)(3), journalist-run newsroom.
Subscribe to Block Club Chicago. Every dime we make funds reporting from Chicago's neighborhoods.

Already subscribe? Click here to support Block Club with a tax-deductible donation.