CHICAGO — Chicago's craft beer sales have taken a hit due to the state's coronavirus shutdown — and some breweries are at risk of closing altogether.
Keg sales have evaporated as restaurants and bars are limited to take out and delivery service. About two-thirds of employees at 525 breweries across the nation have been laid off or furloughed, according to an April Brewers Association survey.
"We're hoping many of these job losses aren't permanent and post-pandemic they can come back," said Bart Watson, chief economist at the Brewers Association. "Small and craft breweries employ 160,000 people nationally. That job loss is significant." 
Here in Chicago, the dine-in ban has already forced one brewery to close for good. As keg sales dried up because of the shutdown, Argus Brewery in Pullman closed after 10 years in business.
And more breweries could close as the pandemic continues — and people continue to stay home.
The silver lining, Watson hopes, is that breweries will be able to find new ways to reach their customers drinking at home.
At Revolution Brewing, which operates a brewpub in Logan Square and brewery and taproom in Avondale, can sales increased 20 percent at the start of the stay in place order but have since leveled off.
"We are well positioned in the grocery stores, which not all craft breweries have access to. That part of our business is as healthy as it's ever been," said Doug Veliky, Revolution Brewing's chief financial officer.
The can sales help, "but the draft beer sales normally account for 40 percent of our business. That has gone to zero," Veliky said. "…We've still taken a significant hit."
Revolution's brewpub at 2323 N. Milwaukee Ave. opened for takeout and delivery two weeks ago, but its new distribution method is only making 10 percent of the brewpub's regular sales.
"It's not profitable but allows us to keep people employed," Veliky said.
Breweries are trying to stay in touch with their fans. Begyle Brewing, 1800 W. Cuyler Ave., hosted a virtual brew tour with its head brewer last month. Revolution is hosting a digital tailgate Saturday to celebrate the Chicago Red Stars soccer club.
The Illinois Brewers Guild successfully lobbied the state March 20 to allow breweries to deliver right to people's front doors.
"I've always wanted to deliver our beers like this. Without any middlemen in the way trying to take a cut," said Clint Bautz, Lake Effect Brewing's owner. 
Lake Effect at 4727 W. Montrose Ave. doesn't yet have a taproom and about 60 percent of its sales came from custom beers sold to the Morton Arboretum, Chicago Botanic Garden and a number of golf courses. The stay at home order caused that business to dry up.
"We've completely pivoted to delivery, which has allowed me to retain my staff. Anyone who is idle at the brewery is doing deliveries right now, and reception so far has been really good," Bautz said.
While Dovetail Brewing is allowing pickups from its 1800 W. Belle Plaine Ave. brewery, they've also embraced beer deliveries and are transferring all keg inventory to cans.  
"Thankfully our customer base is very strong and we've been doing drop zone deliveries to homes in a mile radius from our location and to different neighborhoods on alternating days," said Russell Johnson, an employee at Dovetail Brewing. "We announce which neighborhood is next on our Twitter ahead of time so people can place delivery orders."
With Spiteful Brewing's taproom at 2024 W. Balmoral Ave. closed, owners are going back to their roots as a production-only brewery. 
"Now we're canning everything since we're not using kegs," said Jason Klein, Spiteful's co-founder. "We've only had one person voluntarily leave. Everyone else has been able to stay on thankfully and we're constantly trying to figure out how to generate enough revenue to both keep everyone on staff and keep the lights on. If we plan for the worst, hopefully we're not surprised."
Burning Bush Brewery, 4014 N. Rockwell St., opened in January and didn't have canning or bottling infrastructure in place before the shutdown. Owner Brent Raska had to lay off his brewer and take over that role while retaining a skeleton crew to sell growlers. 
"It's tricky to plan ahead because there is so much unknown still. I've been trying to plan ahead for three months but also be prepared if this takes longer," Raska said. "I'm still trying to cut costs as much as possible to try and make it through this and be stronger on the other side." 
Raska applied for the first round of Paycheck Protection Program funding but didn't land it. He was able to get his small business loan deferred for six months, though.
"Hopefully we get those federal funds in the next round and we've applied to other grants, too," he said. "If this shutdown goes longer than five months, I think we're going to be in trouble."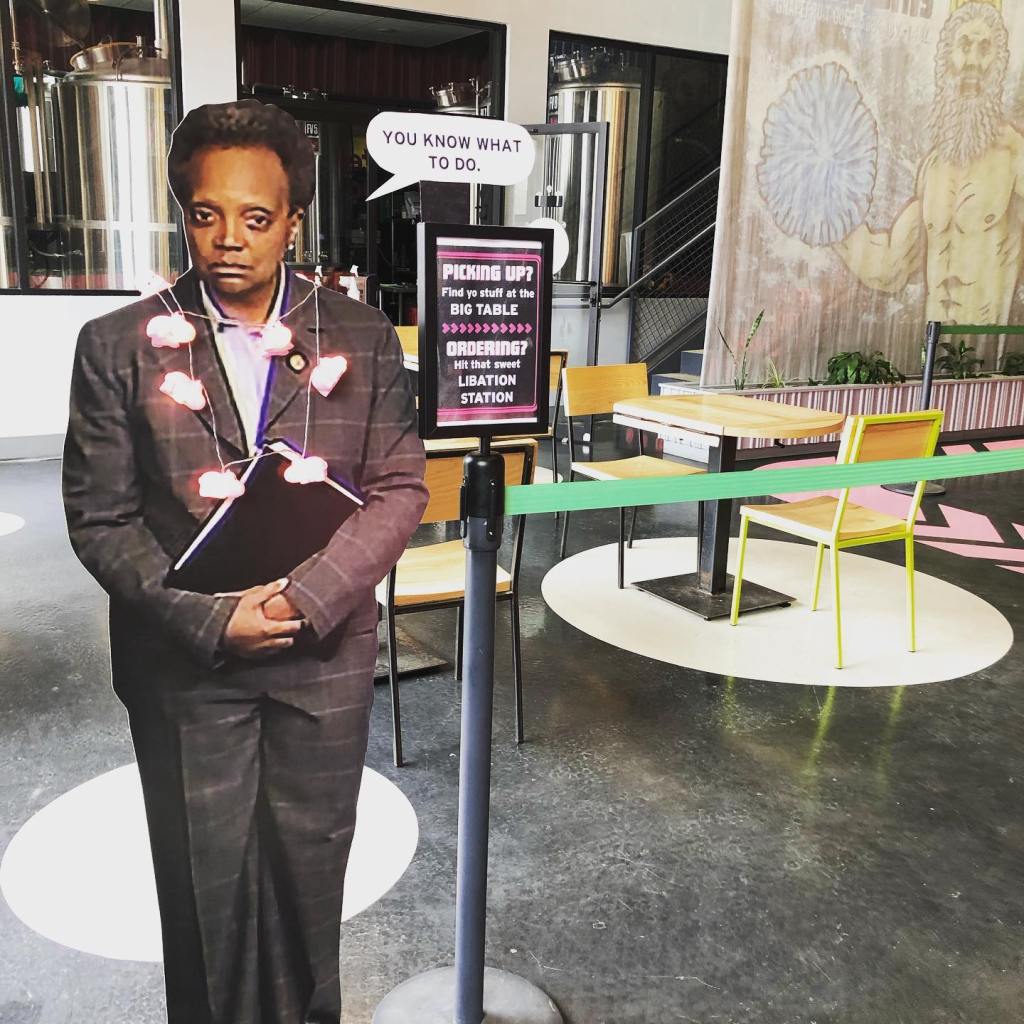 Twisted Hippo's partners have also taken over brewing and curbside and delivery orders at the 2925 W. Montrose Ave. brewery. Two kitchen employees remain on staff to help.
"We're just working our tails off. It's tough, but we have to do it so our employees have something to come back to," said Marilee Rutherford, Twisted Hippo's co-owner. "Once a week we sit down and look at our inventory and we say, do we need to brew next week? Yes or no? And then we figure it out from there."
Furloughing employees allows them to benefit from the state's expanded unemployment program and Twisted Hippo owners are fundraising for them, too.
"Limiting the number of people working is also an effort to lower the risk of exposure to the virus," Rutherford said. "It's one thing if I get sick, but I don't want to risk my employees getting exposed."
Block Club Chicago's coronavirus coverage is free for all readers. Block Club is an independent, 501(c)(3), journalist-run newsroom.
Subscribe to Block Club Chicago. Every dime we make funds reporting from Chicago's neighborhoods.
Already subscribe? Click here to support Block Club with a tax-deductible donation.