LITTLE VILLAGE — After a demolition left Little Village covered in a cloud of dust, neighbors traveled in a car caravan to City Hall on Earth Day, demanding leaders tighten environmental rules to prevent future disasters.
Plastered with hand-drawn signs reading "Hit the road Hico" and "Fuera Hilco," about 70 cars led by environmental groups traveled through Little Village, Pilsen and the Loop Wednesday as part of the Right to Breathe/Right to Live caravan.
Little Village Environmental Justice Organization (LEVJO), Warehouse Workers For Justice and Extinction Rebellion Chicago aimed to raise awareness to the environmental and labor injustices majority Latino neighborhoods on the city's Southwest Side face.
In an effort to show how close the Pilsen/Little Village industrial corridor — and the polluters who occupy it — are to homes, the caravan traveled on a routes used by warehouse semi-trucks, said Little Village Environmental Justice Organization organizer Edith Tovar.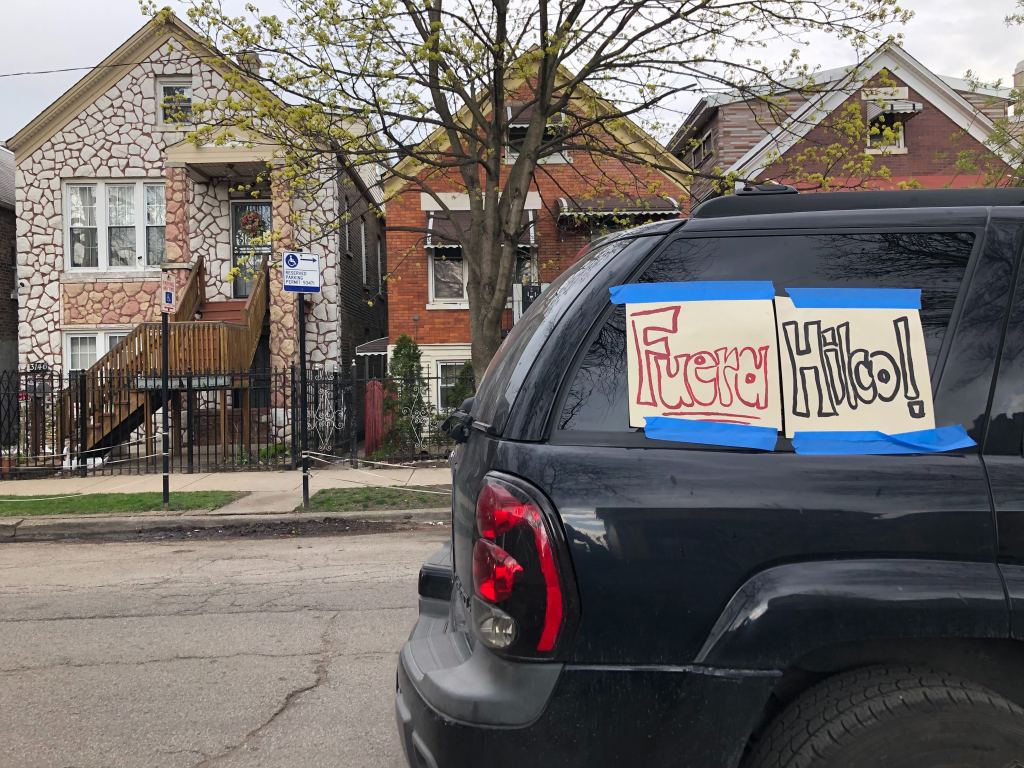 Shortly after 9 a.m., the caravan set off from Little Village Lawndale High School before passing the old Crawford coal plant. Next, they traveled to an Amazon warehouse in support of workers who have protested for more protections amid the COVID-19 pandemic.
Residents watched from their windows and front porches, waving as cars drove by honking their horns. 
The group also planned to drive around City Hall and Hilco Redevelopment Partners' downtown offices.
Environmental groups across the city have called on Mayor Lori Lightfoot to reform the permitting system that allowed the Crawford smokestack to be demolished during a respiratory pandemic. The implosion was ultimately botched.
RELATED: Planned Explosion Covered Little Village In Dust During Respiratory Pandemic — Why Did The City Let It Happen?
The city is conducting a review of Saturday's demolition and plans to update regulations and safeguards. Many of the city's systems need updating, Lightfoot said.
The city will also create a position for a senior environmental inspector to be "our eyes and ears on projects of this type." The city's systems rely on companies telling the truth, but a senior inspector could ensure everything that is said is actually being done, Lightfoot said.
Kim Wasserman, executive director of the Little Village Organization, has called for Hilco to abandon its plan to redevelop the site into a 1-million-square-foot distribution center. Activists also want Lightfoot to rescind the $19.7 million in tax subsidies the city has promised Hilco for the project.
Tovar said neighbors want to see real reform to polices that provide "loop holes" to industry.
"We are calling on the city to prioritize the public health of Chicagoans over polluters," Tovar said.
Block Club Chicago's coronavirus coverage is free for all readers. Block Club is an independent, 501(c)(3), journalist-run newsroom.
Subscribe to Block Club Chicago. Every dime we make funds reporting from Chicago's neighborhoods.
Already subscribe? Click here to support Block Club with a tax-deductible donation.
RELATED COVERAGE:
Hilco Can Clean Debris At Old Little Village Coal Plant This Week, But Other Work Still Banned At The Site
'They Utterly Failed': City Slaps Hilco With $68,000 In Fines For Little Village Dust Cloud, Bans Implosions For 6 Months
Contractor In Little Village Smokestack Fiasco Was Cited In March For Blowing Dust — But City OK'd Demolition Anyway
Little Village Neighbors Sue Developer Hilco Over Demolition Dust Disaster
Little Village Demolition Dust Samples Don't Contain Asbestos, City Says Initial Investigation Shows
Developer Fires Contractor, Apologizes For Little Village Dust Disaster, But Some Neighbors Want Them Gone
What Was In Dust Cloud That Covered Little Village? City Aims To Release Report This Week, Lightfoot Says
Planned Explosion Covered Little Village In Dust During Respiratory Pandemic — Why Did The City Let It Happen?
Mayor Shuts Down Crawford Coal Project After 'Unacceptable' Dust Cloud Descends On Little Village
Dust Cloud Envelops Little Village After Smokestack Demolition: 'My Lungs Started Hurting'
After Old Crawford Coal Plant Smokestack Blown Up, Little Village Residents Worry About Dust During Global Pandemic
Old Crawford Coal Plant Smokestack Will Be Blown Up Saturday In Little Village
After Worker's Death, Hilco Resumes Work At Old Crawford Coal Plant Site In Little Village
Little Village Residents Search For Answers After Worker Dies At Old Crawford Coal Plant Site
Demolition Of Crawford Coal Plant Suspended After Worker Falls To His Death
Worker Falls To His Death In 'Tragic Accident' At Crawford Coal Plant In Little Village
After Little Village Residents Told To Stay Inside During Coal Plant Demolition, City Says It Will Inspect The Crawford Site Every Week
City Tells Worried Little Village Residents To 'Limit Outdoor Activities' As Crews Demolish Old Coal Plant
Illinois EPA To Detail Clean-Up Efforts Of Old Little Village Coal Plant Site Tuesday
Controversial Little Village Distribution Center Gets $19.7 Million Tax Break Approval From City Council
Massive Little Village Warehouse On Old Crawford Coal Plant Site Approved By City Council
Semi-Trucks Are Taking Over Little Village, Neighbors Say — And Giant Warehouse Plan Will Make It Worse
After Post-Arrest Absence, Ald. Muñoz Returns To City Hall To Argue For Tax Break For Little Village Project
Massive Little Village Warehouse On Old Crawford Coal Plant Site Approved By City Council
Huge Distribution Hub Likely Replacing Crawford Coal Plant — Meaning More Dirty Air For Little Village, Critics Say
Little Village Neighbors Demand City Stop Crawford Redevelopment Plan
Developer Behind Controversial Little Village Warehouse Buys Fisk Generating Station In Pilsen, Alderman Says
Old Fisk Generating Station Site In Pilsen Would Become Giant Data Center Under Developer's Plan