WICKER PARK — About a month ago, as COVID-19 spread across the United States, Wicker Park resident Lauren Nepomuceno felt she needed to find a way to help.
The IT worker teamed up with seamstress and cosplayer Monica Paprocki on an ambitious citywide mission to make cloth face masks for Chicago's first responders and essential workers.
As of Monday their group, Masks 4 Chicago, had 654 members who have produced about 3,000 masks — all of which have been donated to workers.
And demand keeps growing.
"Some hospitals say we need 500-plus, or 'any' that you have … it goes to show they'll take whatever they can take," Nepomuceno said. "Everyone has been super grateful."
Hundreds of masks have gone to hospitals, where health care workers have told Nepomuceno they need cloth masks to drape over their re-used N95 respirator masks.
A batch went to the 19th Chicago Police District, in Lakeview. Others to the Friedman Place, a community for adults who are blind, and the Heartland Health Center, a nonprofit clinic.
The group also provided masks to The Haymarket Center, a rehabilitation center in West Loop where a recent COVID-19 outbreak left two dead, the Sun-Times reported.
For some essential workers these hand sewn washable masks are the first — and only — Personal Protection Equipment they've received since the start of the COVID-19 outbreak.
RELATED: Confused About Face Masks? An Infectious Disease Expert Answered All Of Our Questions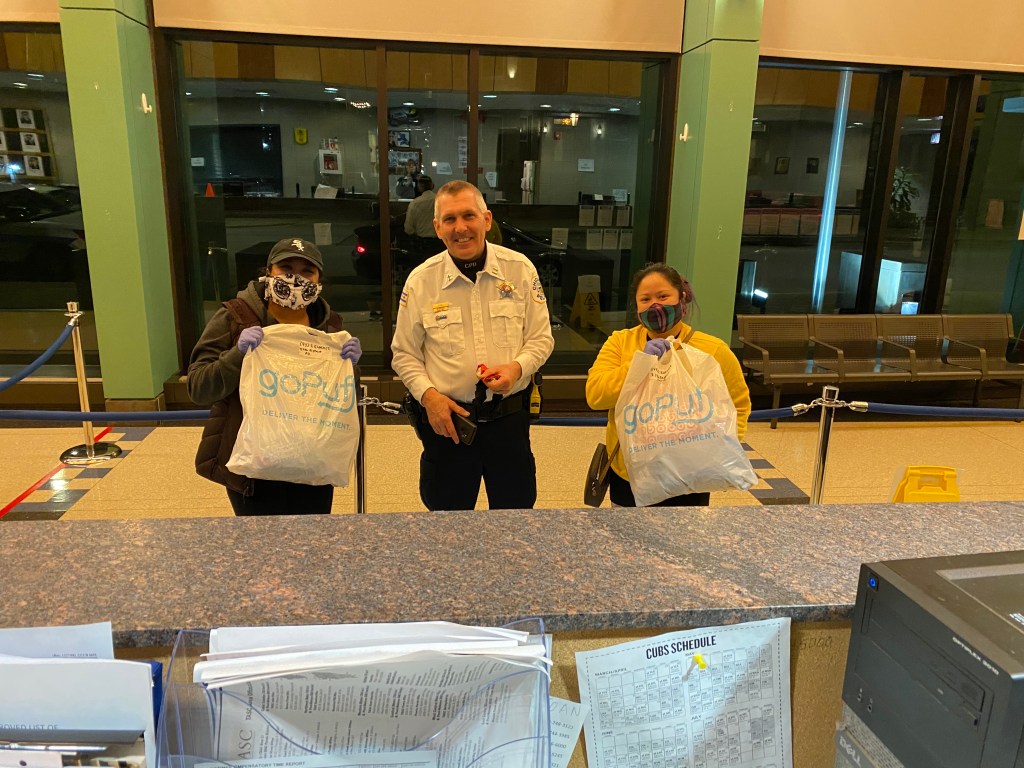 In the early days of the Masks 4 Chicago group Nepomuceno, an expert in distributions logistics, set up a neighborhood P.O. Box in Wicker Park. That's where group members have been sending completed masks and material donations.
Paprocki, a professional sewer herself, has been in charge of quality control, vetting the product before it's distributed. She checks to make sure all hospital donations are large enough to actual fit over an N95.
The group members hail from all over the Chicago area, their skill levels and years of experience varied.
There's Karol Kadechka, a Wicker Park resident of 32 years who learned to sew as a young girl in her hometown in South Dakota. As of Monday she's made and donated 205 masks.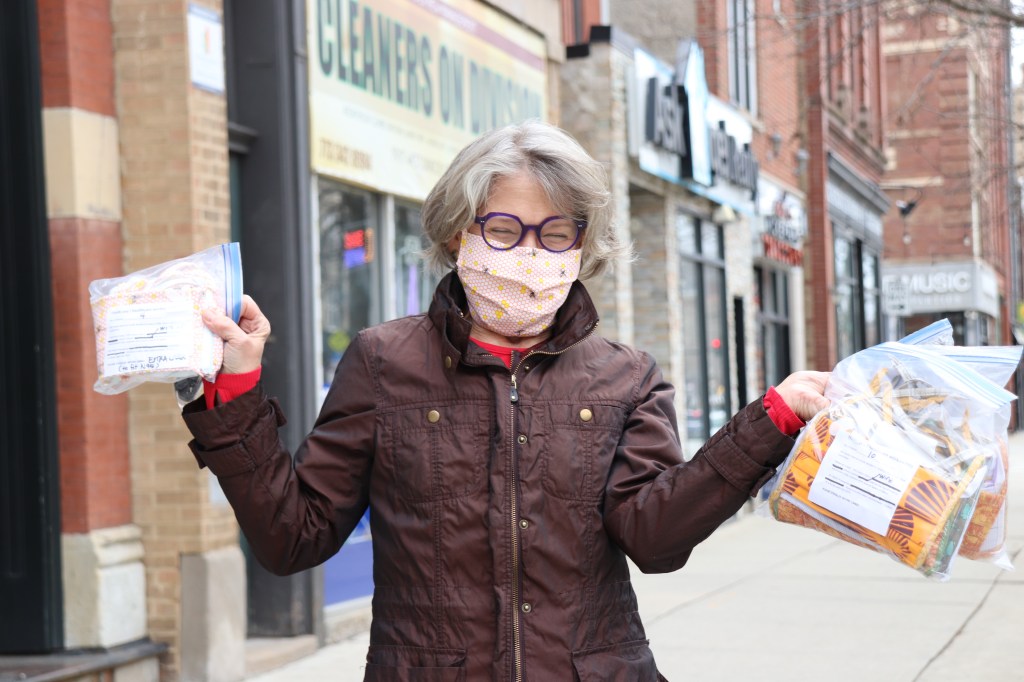 "Everyone learned how to sew where I grew up … I was sewing most of my children's clothes when they were little," she said. "I think everybody just feels positive that it's something we can do to be helpful. We're not police officers, we're not nurses or doctors. It's just wanting to do something."
Then there's Ariel Hantin, a 41-year-old financial analyst and Wicker Park resident who began sewing last year after promising her husband she'd remake their outdoor patio cushions.
She still hasn't gotten around to the cushions, but she has learned how to make cloth masks. As of Monday's she's donated 45 masks.
Hantin said she hopes other sewing novices are inspired to pick up the hobby and join the fight.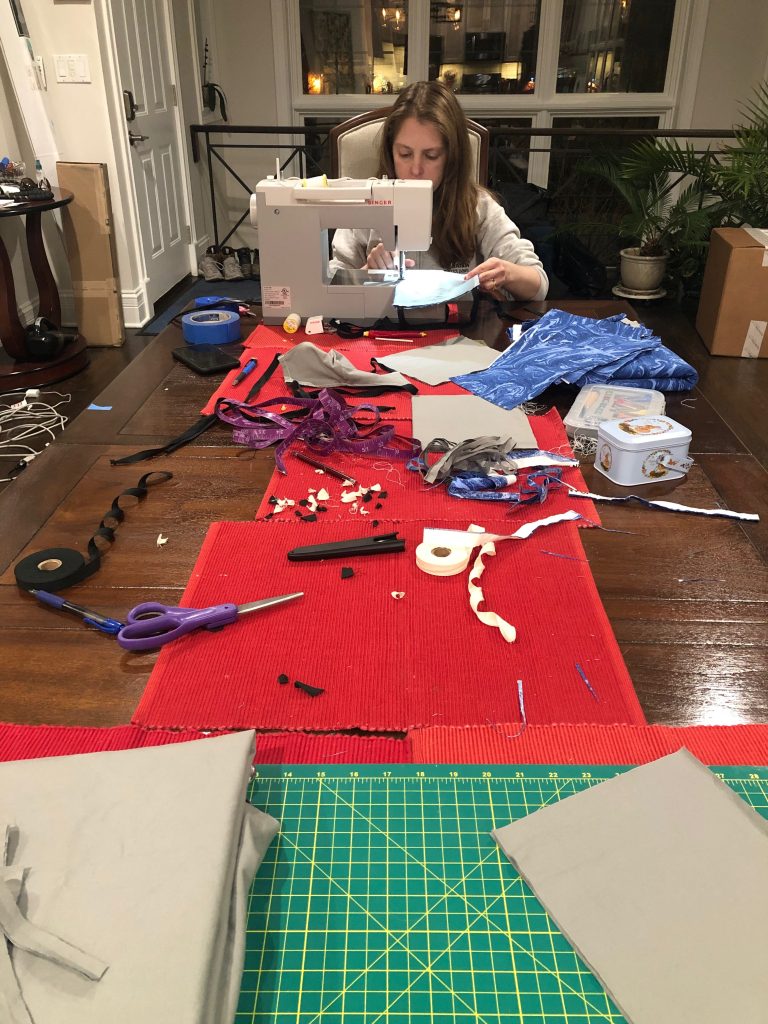 "It's all hands on deck right now," she said. "I never thought in my lifetime with the technology and medicine that we have that I'd be witnessing a pandemic like this. … I just want to help where I can."
Learn more about the group on its website.
Want to get involved as a volunteer sewer or driver? Have materials to donate? Click here.
To the sewers, Nepomuceno said she hopes they know their efforts are greatly "appreciated" by first responders.
"We can't stress enough, please keep sewing," she said. "It really helps because they can see, 'Hey I made that mask, that's my creation.' There's some really great masks out there. People did a really great job."
Block Club Chicago's coronavirus coverage is free for all readers. Block Club is an independent, 501(c)(3), journalist-run newsroom.
Subscribe to Block Club Chicago. Every dime we make funds reporting from Chicago's neighborhoods.
Already subscribe? Click here to support Block Club with a tax-deductible donation.