LITTLE VILLAGE — A contractor working on the smokestack explosion that left Little Village covered in dust has a history of environmental violations — and was cited by the city just weeks earlier for allowing dust to be blown off the site.
Yet, the city still gave the project's developer, Hilco Redevelopment Partners, the green light to demolish the old Crawford Coal Plant smokestack on Saturday during a respiratory pandemic.
Records show Hilco contractor MCM Management Corp. was cited by the city in March for the blowing dust. In addition, a contractor hired by Hilco was cited by the city last year for dust. And in a third case, a Hilco affiliate along with MCM and its partners were slapped with $3.75 million in penalties in Maryland.
On March 5, a Chicago Department of Public Health official inspected the old Crawford Coal Plant site at 3501 S. Pulaski Road and saw dust leaving the demolition site, city records show. Inspector John Singler took photos of "airborne emissions," which were branching out east and west of the site "crossing the public way," according to an inspection report.
A superintendent with a subcontractor also told the inspector he saw airborne emissions leaving the demolition site in the past month.
MCM, which oversaw the demolition, was slapped with a citation for the blowing dust. One week earlier, the contractor was warned after dust was seen blowing off the site, according to the report.
On Saturday, with little notice and amid the coronavirus respiratory pandemic, the city allowed the demolition of the smokestack. When it fell, it lifted a cloud of dust and debris that soon descended on nearby Little Village homes. A day earlier, activists begged city officials to halt the demolition, but it went on anyway.
RELATED: Planned Explosion Covered Little Village In Dust During Respiratory Pandemic — Why Did The City Let It Happen?
Preliminary testing showed no signs of asbestos in the dust, the city said, but neighbors worry the demolition released unknown toxic materials into the air.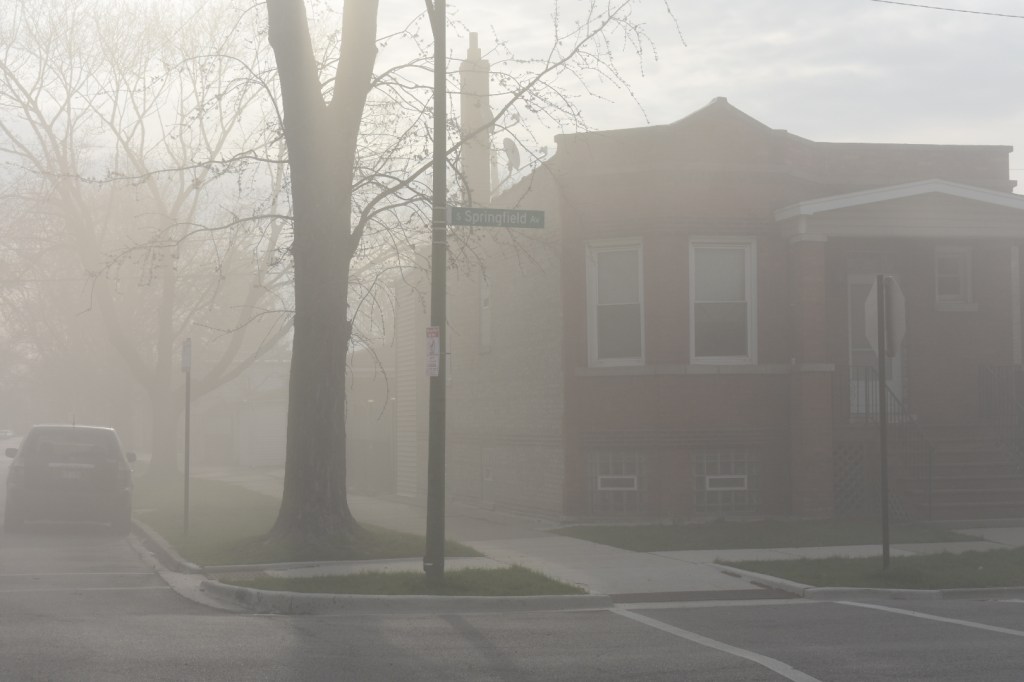 Mayor Lori Lightfoot and Ald. Michael Rodriguez (22nd) are blaming the dust disaster on "dishonest" developer Hilco. Hilco is pointing the finger at MCM Management, Hilco's now-fired contractor, and subcontractor Controlled Demolition Inc.
It's not clear if or how much Hilco or MCM Management could be fined for the blowing dust incident in March. An administrative hearing is set for May 21, said Cristina Villareal, a Chicago Department of Public Health spokeswoman.
In an email, Villareal said the department "takes construction dust violations very seriously" and approved the smokestack implosion based on the company's demolition plan, which called for appropriate watering to keep dust and debris contained to the site.
"Clearly, that didn't happen, and we are diligently working to hold all parties accountable," Villareal said.
Last year, the city's Department of Public Health ticketed one of Hilco's contractors after they received a video from workers showing dust blowing around at the site. The fine was for a nominal amount, "probably less than $10,000," David Graham, an assistant commissioner with the city's Department of Public Health, told residents last summer.
It's unclear from the February 2019 report which contractor was ticketed, but the inspector Singler met with MCM Management, Marine Technologies Solutions and a Hilco consultant.
At that same summer meeting, Graham warned worried residents that "kids and people with breathing problems" should limit their outdoor activity during the demolition.
After the dust emergency Saturday, Lightfoot slapped a stop-work order on the site. The city is now investigating the incident. Lightfoot promised to hold Hilco responsible and fine the company for failing to follow demolition procedures.
Work was also stopped at the site in December 2019, after a worker died.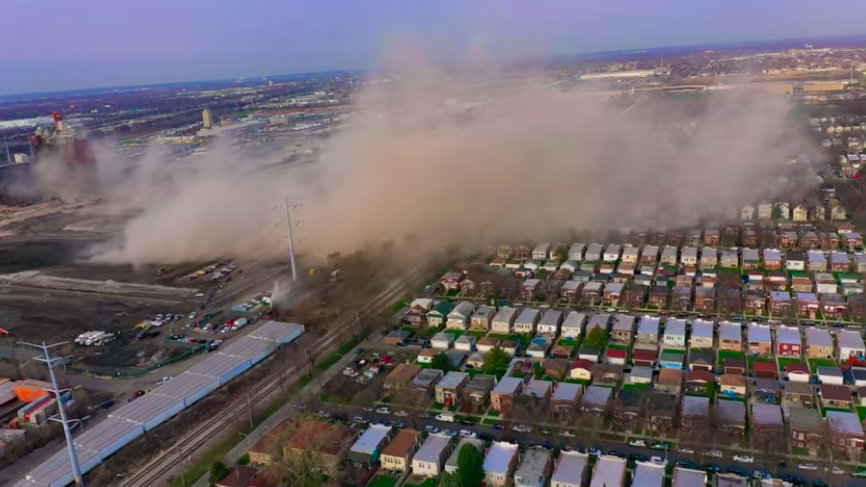 In a letter obtained by the Better Government Association and Block Club, Lightfoot wrote to Hilco CEO Roberto Perez Wednesday, formalizing demands she previously made in public. Lightfoot asked Perez to clean up dust that blanketed the community, distribute 10,000 masks to neighbors, monitor air quality, conduct soil sampling and complete a report to the city explaining what caused the dust cloud.
In an earlier statement from Hilco, Perez apologized for the "pain and anxiety" neighbors experienced because of the demolition.
"Despite the assurances we received from our implosion expert, the measures that were to be implemented were not sufficient to contain the dust that migrated off-site," Perez said.
Asked why the developer decided to implode the smokestack during the coronavirus crisis, a spokeswoman for the company declined to comment.
Chicago Department of Buildings spokeswoman Mimi Simon said demolition requests are reviewed on a case-by-case basis by multiple city departments.
"In this case, all approving departments coordinated and reviewed the plan submitted to the city," Simon said.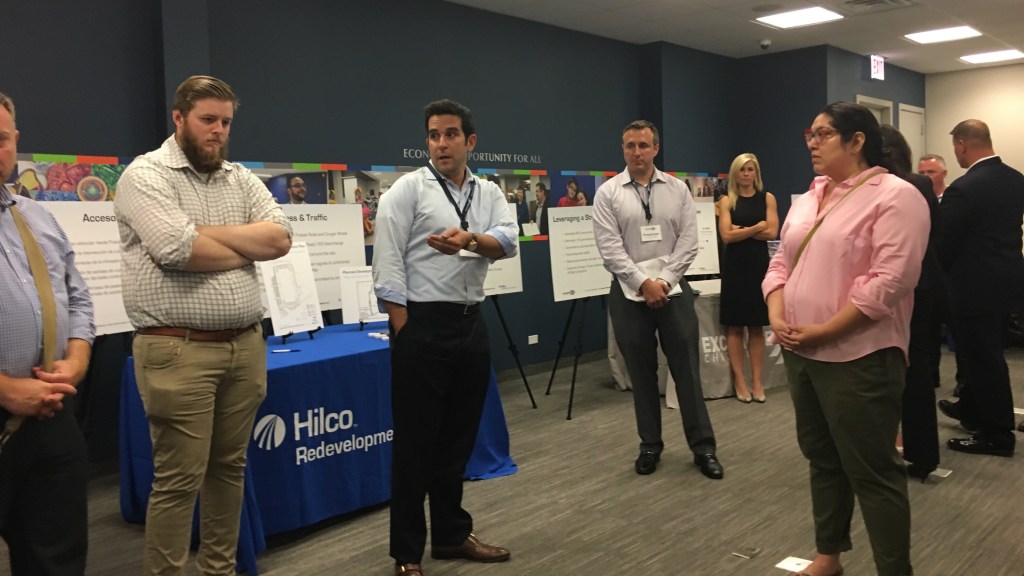 Past environmental violations
Saturday's botched implosion isn't the first time Hilco or its affiliates have worked with MCM Management and something went wrong.
In 2015, a Hilco Global affiliate, Sparrows Point LLC, its partners and MCM Management were fined for environmental violations related to the demolition of old mill buildings in Dundalk, Maryland, according to the Baltimore Sun. Sparrows Point and its partners committed violations that included failing to control stormwater, sediment and erosion, dumping trash and industrial waste, stockpiling scrap tires and handling asbestos improperly, according to the newspaper.
HRE Sparrows Point LLC, Sparrows Point LLC and contractor MCM Management were fined after a multi-year investigation.
Hilco Global partnered with a private equity firm to form Sparrows Point LLC, according to Hilco. HRE Sparrows Point LLC, is an affiliate of Hilco Industrial, according to the project website. 
In a 2015 agreement with the Maryland Department of the Environment, the developers and its contractor settled, and were forced to complete $3.375 million in environmental projects. The companies also were fined $375,000, according to the Baltimore Sun.
The inspections found "bags with tears, allowing discharge of friable asbestos material to the atmosphere" and "open dumping of solid waste and industrial sludge, according to the Maryland Department of the Environment.
During the same project, nine workers were hospitalized after a roof collapsed at a worksite in Maryland, the Baltimore Sun reported. The workers were dismantling a former steel mill when the roof gave way at the site. Four of the workers were critically injured, according to the report. 
The Maryland site now houses operations for Amazon, Under Armour, FedEx, Volkswagen and Harley-Davidson, according to Bloomberg Businessweek.
Most recently, in December, a worker plummeted 50 feet to his death at the old Crawford Coal Plant.
The developer now faces three lawsuits related to the Little Village site.
Hilco Redevelopment Partners and MCM Management Corp did not respond to requests for comment.
'This isn't a 'bad apple' problem'
After the dust cloud, the Little Village Environmental Justice Organization and neighbors called on the developer to abandon its plan to redevelop the site into a 1-million-square-foot distribution center.
Activists in the majority-Latino neighborhood on the Southwest Side also want Lightfoot to rescind the $19.7 million in tax subsidies the city has promised Hilco for the project.
Kim Wasserman, executive director of Little Village Environmental Justice Organization, said residents who live near industrial areas have no power to reject development that puts their health at risk. That needs to change, she said Thursday.
"This isn't a 'bad apple' problem," Wasserman said. "Community harm is stemming from one broken, corrupt, racist system. This is a system that cannot be redeemed and these are ethical failures by public servants that cannot be overlooked by our communities any longer."  
Hilco Redevelopment Partners and MCM Management Corp did not respond to requests for comment.
This story was produced by Block Club Chicago, a nonprofit newsroom focused on Chicago's neighborhoods, and the Better Government Association, a nonpartisan watchdog organization.
Subscribe to Block Club Chicago. Every dime we make funds reporting from Chicago's neighborhoods.
Already subscribe? Click here to support Block Club with a tax-deductible donation.
RELATED COVERAGE:
Little Village Neighbors Sue Developer Hilco Over Demolition Dust Disaster
Little Village Demolition Dust Samples Don't Contain Asbestos, City Says Initial Investigation Shows
Developer Fires Contractor, Apologizes For Little Village Dust Disaster, But Some Neighbors Want Them Gone
What Was In Dust Cloud That Covered Little Village? City Aims To Release Report This Week, Lightfoot Says
Planned Explosion Covered Little Village In Dust During Respiratory Pandemic — Why Did The City Let It Happen?
Mayor Shuts Down Crawford Coal Project After 'Unacceptable' Dust Cloud Descends On Little Village
Dust Cloud Envelops Little Village After Smokestack Demolition: 'My Lungs Started Hurting'
After Old Crawford Coal Plant Smokestack Blown Up, Little Village Residents Worry About Dust During Global Pandemic
Old Crawford Coal Plant Smokestack Will Be Blown Up Saturday In Little Village
After Worker's Death, Hilco Resumes Work At Old Crawford Coal Plant Site In Little Village
Little Village Residents Search For Answers After Worker Dies At Old Crawford Coal Plant Site
Demolition Of Crawford Coal Plant Suspended After Worker Falls To His Death
Worker Falls To His Death In 'Tragic Accident' At Crawford Coal Plant In Little Village
After Little Village Residents Told To Stay Inside During Coal Plant Demolition, City Says It Will Inspect The Crawford Site Every Week
City Tells Worried Little Village Residents To 'Limit Outdoor Activities' As Crews Demolish Old Coal Plant
Illinois EPA To Detail Clean-Up Efforts Of Old Little Village Coal Plant Site Tuesday
Controversial Little Village Distribution Center Gets $19.7 Million Tax Break Approval From City Council
Massive Little Village Warehouse On Old Crawford Coal Plant Site Approved By City Council
Semi-Trucks Are Taking Over Little Village, Neighbors Say — And Giant Warehouse Plan Will Make It Worse
After Post-Arrest Absence, Ald. Muñoz Returns To City Hall To Argue For Tax Break For Little Village Project
Massive Little Village Warehouse On Old Crawford Coal Plant Site Approved By City Council
Huge Distribution Hub Likely Replacing Crawford Coal Plant — Meaning More Dirty Air For Little Village, Critics Say
Little Village Neighbors Demand City Stop Crawford Redevelopment Plan
Developer Behind Controversial Little Village Warehouse Buys Fisk Generating Station In Pilsen, Alderman Says
Old Fisk Generating Station Site In Pilsen Would Become Giant Data Center Under Developer's Plan