LAKEVIEW — Two longtime Lakeview institutions are teaming up to help feed Chicagoans in need of food assistance during the coronavirus pandemic — but they need more help.
Lakeview Pantry, celebrating its 50th anniversary this year, is opening a temporary operations center at Wrigley Field, using the friendly confines to receive, sort and package boxes of food to be distributed outside the stadium and the pantry's other food markets.
Coronavirus has increased need at the pantry by about 140 percent, said pantry CEO Kellie O'Connell. The pantry has had a long relationship with the Cubs, so teaming up during this unprecedented pandemic — "like nothing we've ever seen before" — was only natural, she said.
The privately-funded food bank relies on donations and volunteers to serve its clients, but with some at-risk volunteers out of commission, more help is needed. About 60 volunteer shifts are needed per day to operate the Wrigley program.
The pantry is asking for healthy volunteers to sign up to "pack groceries, sort food, and other essential tasks," at Wrigley and the other locations in the pantry's network. Spanish language volunteers are especially needed.
Volunteers will go through a 10-minute orientation and should be willing to wear a facial mask. They can sign up by emailing volunteers@lakeviewpantry.org or by visiting the pantry's website.
From noon-2 p.m. on Tuesdays and Saturdays, food will be distributed at the corner of Sheffield and Addison, just outside the right field gate.
People who qualify as "food insecure," generally a family of four that makes less than $45,000, can pick up food there. Clients will be asked to their name, address if they have one and information about your family size.
The packages will contain a two week supply of food.
"We're giving a mix of dry, shelf-stable foods, frozen protein…and then dairy, so you get a really good mix of food for about two weeks," O'Connell said.
No one who needs help getting food should feel ashamed, O'Connell said.
"So many of our neighbors right now are finding themselves, for the first time ever, not being able to provide food for themselves or their families," she said, "I know it's really, really hard to come in and say, "hey I need help"…but that's really exactly why we're here."
Normally the pantry allows those in need to select their own food, but with the increased demand and social distancing guidelines, they've moved to a pre-packaged model. The new model requires a lot of space to pack boxes in a way that keeps staff and volunteers safe.
"The long concourse allows us to space people out every six feet with a conveyor belt, so that they can pack boxes and sort of push down, and so you're not needing to stand close to each other," O'Connell said.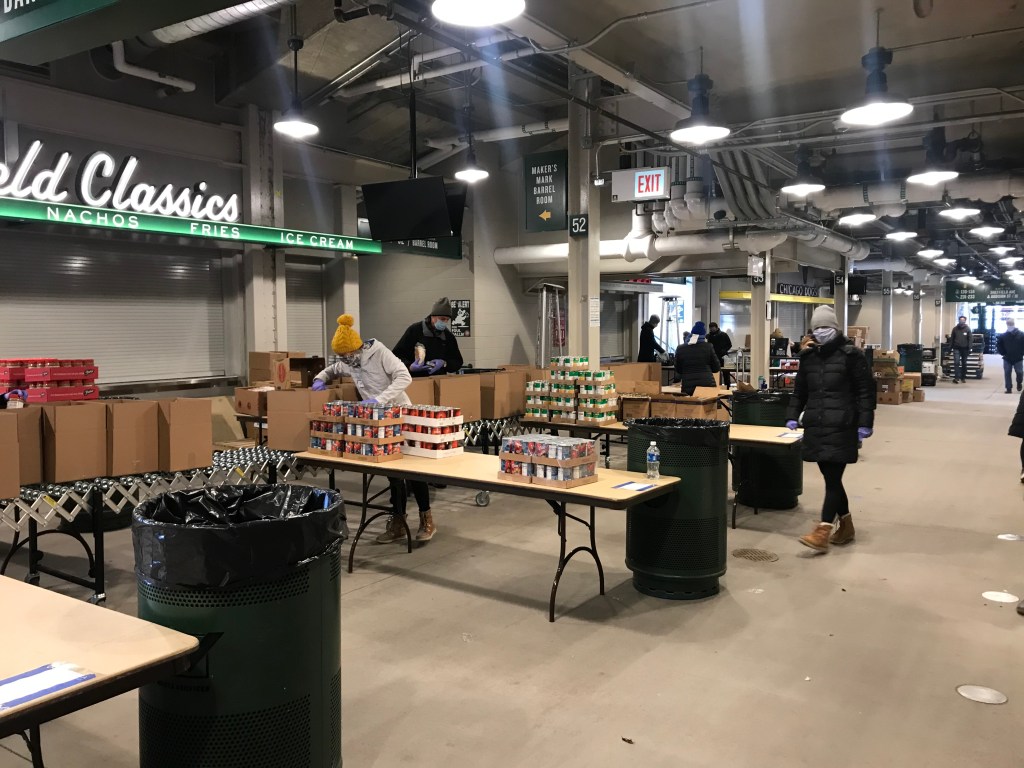 The extra space at Wrigley will also reduce the number of staff and volunteers needed inside their regular distribution centers; Sheridan Market, 3945 N. Sheridan Road in Lakeview, and La Casa Norte's Fresh Market, 3533 W. North Ave. in Humboldt Park. Those locations will remain open to distribute boxes of food packaged at Wrigley.
Although the boxes are prepackaged, those who need a specific grocery order are encouraged to sign up for the pantry's free Online Market. Orders can be placed on Tuesday's and picked up Thursday, Friday or Saturday at the Sheridan Market location or "The Hub", 5151 N. Ravenswood, a operations center the pantry opened in 2019.
The Sheridan Market is open from 11 a.m.-4 p.m. Monday, Wednesday and Friday, 4-7:30 p.m. Tuesday and Thursday and 10:30 a.m.-3 p.m. Saturday.
Lakeview Pantry expects to expand hours at the La Casa Norte location next week. Currently, the market is open Monday and Wednesday 11 a.m.-3 p.m.
On Saturdays, the pantry will continue delivering food to older adults and others unable to leave their home. Through the pandemic, O'Connell said they are delivering about 160 orders a week, up from the usual 90-100 a week.
The partnership between Wrigley Field and the Lakeview Pantry is the second pairing of a food pantry and professional sports facility in the city. The Greater Chicago Food Depository has turned the United Center into a giant satellite storage facility.
In order to keep up with the demand for food, O'Connell said fundraising is ongoing and the community has stepped up, including the newly signed Chicago Bears quarterback Nick Foles, who made a donation through his Foles Believe Foundation. The grant was one of several made to food banks operating in the cities the veteran signal caller has called home during his career.
O'Connell said people are able to make food donations, but "we can make the dollar go a lot further by buying products from wholesalers and other food distributors." The organization's website says it can provide 8 meals for every $1 donated.
"It's all hands on deck," O'Connell said, "…we definitely need folks to raise their hand and come join us."
In addition to food programs, the Lakview Pantry has licensed clinicians that provide free social services. During the pandemic, case management and mental wellness sessions are available by phone at 773-525-1777, text at 773-849-9659, video call or email at socialservices@lakeviewpantry.org.
Donate to the Lakeview Pantry here.
Block Club Chicago's coronavirus coverage is free for all readers. Block Club is an independent, 501(c)(3), journalist-run newsroom.
Subscribe to Block Club Chicago. Every dime we make funds reporting from Chicago's neighborhoods.
Already subscribe? Click here to support Block Club with a tax-deductible donation.