PORTAGE PARK — Perkolator Coffee has launched a coffee and tea delivery program to give customers their fix while keeping the business afloat during the dine-in ban.
Four weeks ago, owners Joe Basilone and his wife, Melissa, closed their coffee shop at 6032 W. Irving Park Road. The couple also closed their resale ship, Thrift & Thrive at 6025 W. Irving Park Rd.
"We believe closing the retail part of our businesses altogether is the best and safest decision for the health of our neighbors, our team and our own family," Basilone said. "It was costing too much money to stay open and, more importantly, my wife is a cancer survivor. The thought of risking her life so I can sling lattes was not a good idea." 
But with no concrete end date to the stay at home order and dine-in ban in sight, Basilone said he realized the business was going to have to try something to stay viable. 
"Curbside service wasn't going to work for us so we pivoted to an at-home delivery and subscription service," he said. "I realized we could use that to bring in money to show the bank we're still viable, keep our roasters in business. And since I'm placing new orders from them every week we can donate the beans we weren't able to sell to first responders and food banks who need it."
Basilone launched a service last month where customers can subscribe to get regular deliveries of 12 ounce bags of coffee beans for $15, three ounce bags of loose tea for $15, BBQ sauce for $12 and even their shirts and hats, among other things.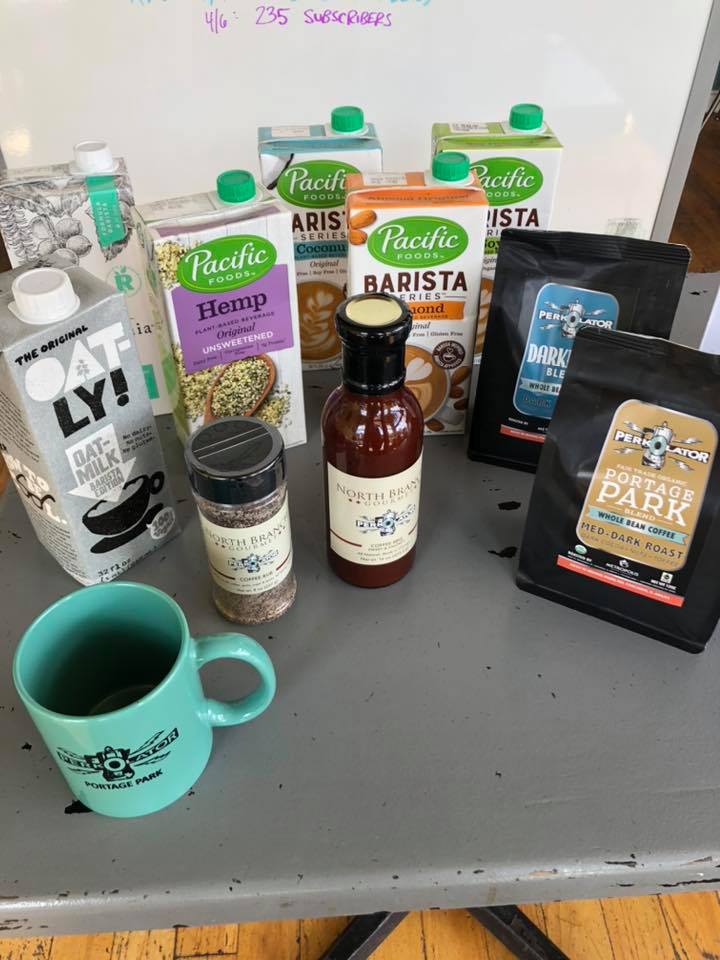 To sign up click here.
"Right now we have over 200 subscribers. It's just been Melissa and I fulfilling these subscription orders. About 81 of them are weekly subscribers and we have a handful more that are every other week and also some that are monthly," Basilone said. 
Basilone furloughed his employees so they can apply for unemployment and also launched a GoFundMe for them that has so far raised over $6,000. The money from the GoFundMe is to offset the difference between what emergency unemployment compensation might pay, and what they are used to taking home on average every week. 
"The response to the GoFundMe has been greater than we expected and I want to reiterate that money is 100 percent for our team," Basilone said. "I keep telling people, if you love our team donate to the GoFundMe. If you love us, get a subscription and get loud and tell the government small businesses like ours need their help right now."
Basilone has applied for grants and loans available to small businesses hurt by dine-in ban, but says he's yet to receive one penny of local, state or federal assistance. Rent on the three storefronts the couple's businesses are located at cost over $5,000 a month. Basilone has negotiated with the landlords for the rest of April, but with no clear end date set for the state's restaurants to reopen, he worries about the longterm health of the business without government aid. 
"So far we've gotten a lot of lip service from the government but no real help. We're not waiting for a handout. We're fighting hard filling orders and getting customers to subscribe. People need to understand the ripple effect small businesses closing due to this will have on the city," Basilone said. "Our subscription service isn't just paying our bills. We're one of Metropolis Coffee roasters' biggest customers right now outside of grocery stores. We're helping keep their whole staff employed during all this too."
RELATED:
Chefs, Restaurant Owners Come Together To Ask City, State — And You — For Help During Coronavirus Shutdown
Perkolator Coffeehouse Promises To Perk Up Irving Austin Business District
Block Club Chicago's coronavirus coverage is free for all readers. Block Club is an independent, 501(c)(3), journalist-run newsroom.
Subscribe to Block Club Chicago. Every dime we make funds reporting from Chicago's neighborhoods.
Already subscribe? Click here to support Block Club with a tax-deductible donation.