DOWNTOWN — All the staying at home is paying off in Chicago, Mayor Lori Lightfoot announced Wednesday, but more testing is needed before life can go back to normal.
While releasing new data on coronavirus cases in the city, Lightfoot said infection rates are significantly lower than initial predictions, which means there have been fewer cases and thousands of lives have been saved thanks to people obeying the state's stay at home order.
"I am happy to announce that Chicago is beginning to flatten the curve on COVID-19 cases," Lightfoot said. "However, we should not confuse improvement with success. … We still have a long way to go. Many things are needed for us to lift the restrictions we have place."
In mid-March, cases in the city were doubling every two to three days, the mayor said.
"If that continued, we'd be looking at nearly 2,000 deaths and 62,000 cases today," she said.
Instead, cases are now doubling just every 12 days — and the city has seen 9,666 confirmed cases to date and 347 people have died.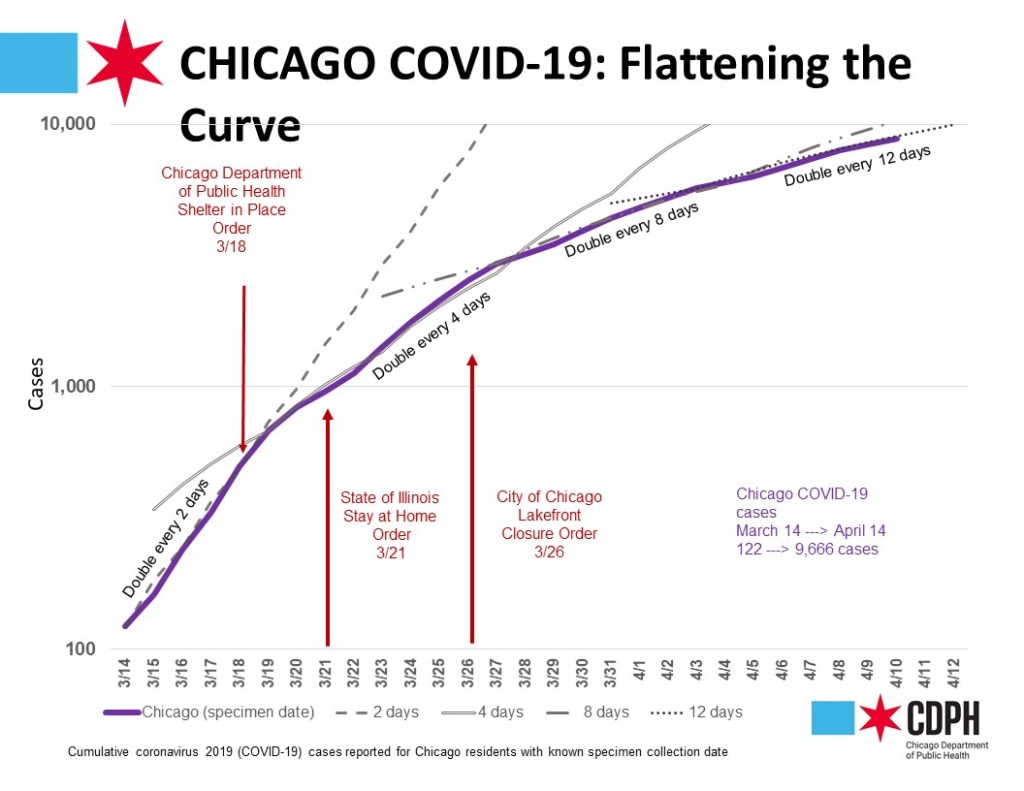 Lightfoot and Dr. Allison Arwady, commissioner of the Chicago Department of Public Health, said anonymous location data shows Chicagoans are staying home much more since mid-March — 80 percent of time is spent at home now as opposed to 60 percent in "normal times" — and that's helped slow the spread of the virus here.
Still, Lightfoot said more testing and monitoring is needed to lift restrictions in the city and state.
"We'll be focusing on data related to the number of cases and the rate of change in the number of cases. To think about lifting restrictions, we'll need to see a sustained and substantial drop in the rate of new cases, and we are not there yet," she said. "At this point, in this arc of this pandemic, while the rate has slowed, new cases are continuing to increase daily."
The city is also monitoring hospital intensive care units and ventilator capacity data over time.
"Our hospitals in Chicago have been stretched, there's no question," the mayor said. "But they have risen to the challenge. They've had to expand their ICU capacity and we've had to add ventilators into the system from CDPH's stockpile."
Currently, Chicago's ICU beds are 75 percent full.
Finally, Lightfoot said she spoke to Vice President Mike Pence about increased testing capacity.
"We are seeing improvements, but we are still not testing nearly enough people on a daily or weekly basis," Lightfoot said. "This issue has been a standing request to our federal leaders. We will need the ability to have vigilant monitoring and contact tracing."
A vaccine likely won't be available until 2021, the mayor said, but the city is making plans to open before then.
"What we can't do, as some other countries have done, is come out of these stay at home measures too soon following some gains only to have cases surge all over again. We do not want to make that mistake," Lightfoot said. "And as we move forward, we will continue to update the public on plans to emerge as well as to stand our economy back up, which we are also very focused on."
While Arwady said her department is already preparing for a mass vaccination effort in 2021, she stressed that right now, staying home is still extremely important.
"All of you staying home has, in fact, saved lives already," Arwady said. "But I want to be clear: This also tells us that we need to be abiding by these restrictions more now than ever because we haven't yet gotten to the other side of the curve, where the number of daily cases begins to fall day after day. We need to get to the other side of the curve to be able to move forward as a city."   
Block Club Chicago's coronavirus coverage is free for all readers. Block Club is an independent, 501(c)(3), journalist-run newsroom.
Subscribe to Block Club Chicago. Every dime we make funds reporting from Chicago's neighborhoods.
Already subscribe? Click here to support Block Club with a tax-deductible donation.