CHICAGO —  The number of new confirmed cases of coronavirus in Illinois continues to slow, Gov. JB Pritkzer said Tuesday, but an additional 74 people in the state died from the virus in the past 24 hours.
There have now been 868 deaths from COVID-19 in the state and 23,247 confirmed cases. An additional 1,222 new cases were confirmed in the past day, Pritzker said.
But the governor expressed optimism that it's now taking the state 8.2 days to double its total number of new cases. On March 22, the day after the stay at home order was enacted, Illinois was doubling its cases every three days.
The doubling rate for deaths is also slowing, with fatalities now doubling every 5.5 days. The number had been 2.5 on April 1.
"To be clear, there is nothing good about twice as many people having this virus or, worse, dying from it, no matter how long the increase takes," Pritzker said. "But we won't get to zero cases overnight. The fact that our doubling rate continues to increase in every metric is a clear demonstration that there is a deceleration of virus transmission. We are, in fact, bending the curve."
The governor cautioned people to stay home to keep the progress moving.
"Folks, this curve may not flatten. And it may go up again if we don't adhere to the stay at home order," he said. "We need to stay the course for now for our efforts to truly remain effective."
As of Tuesday, just 207 of the city's 916 ICU beds were available.

Pritzker also said he is working with other Midwestern governors to see if they can team up to create guidelines for reopening Illinois and its neighboring states as the pandemic slows. His office wouldn't immediately say which governors Pritzker is in talks with, though.
They understand "speaking with a common voice might be a positive move," Pritzker said. "Our goal, of course, for this is to start to think about what are the preconditions for beginning to allow certain kinds of businesses to open their doors again, to expand the definitions of those who can work or those businesses that can have their doors open.
"We've been all of us thinking about what's next, what's next."
Illinois' reopening is dependent on officials being able to have widespread testing, tracing and treatments, and decisions will be dependent on what Pritzker hears from infectious disease experts and doctors, he said.
The governor acknowledged that while measures might be loosened, the state likely won't have returned to "normal" even in November, which is seven months away. He said he's pushing for everyone in Illinois to have access to a vote-by-mail ballot for the election then so they won't have to risk a spike in coronavirus cases from people heading to the polls.
And Pritzker said it will be local officials who make the decisions about how to reopen their states and lift stay at home orders — not President Donald Trump, who incorrectly insisted Monday he would have the power to lift states' stay at home orders.
"There is no one who wants our state to open up more than I do. I want kids to go back to school and I want parents to go back to work. I want families to enjoy our parks and lakefronts. I want small businesses thriving … job growth to return to record high," Pritzker said. "But no matter what the president may say, I will do what's best for safeguard the health and safety of Illinois' residents. That means test, trace and treat.
"I'm hopeful the president will help us accomplish that because that's what will make it safer for people to return to their everyday lives. What we have to do is design a new normal … ."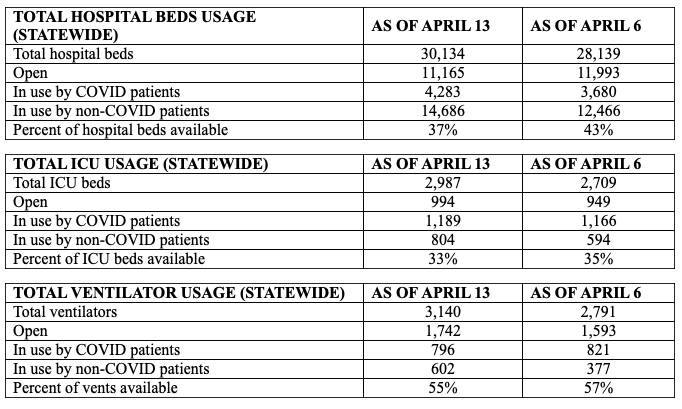 Symptoms
Coronavirus can be deadly, but the vast majority of cases have been mild. Those most at risk from the virus are people who are elderly or who have underlying health conditions.
Symptoms of coronavirus can appear two to 14 days after a person has been exposed to the virus, according to the Centers for Disease Control. People with no symptoms may have the virus and spread it to others.
The virus spreads between people through coughing and sneezing, according to the Illinois Department of Public Health.
The most common symptoms:
Fever
Cough
Shortness of breath
People have also experienced body aches, nasal congestion, runny nose and sore throat, according to Harvard Medical School.
If you or someone else has difficulty breathing, persistent pain or pressure in the chest, become confused, cannot be roused or develop a bluish face or lips, get immediate medical attention, according to the CDC.
How To Protect Yourself
Here's what you can actually do to prevent getting ill:
The CDC and other officials have said people should wash their hands often, including before, during and after eating; after using the bathroom; and after blowing your nose, coughing or sneezing.
The CDC has a guide here for how to properly wash your hands. Remember: Wash with soap and water, scrubbing your hands for at least 20 seconds.
If you can't wash your hands with soap and water, you can use an alcohol-based hand sanitizer, according to the Illinois Department of Public Health.
Avoid touching your face, especially your eyes, nose and mouth, with unwashed hands.
Clean and disinfect objects and surfaces you touch frequently, like cellphones and light switches. Here are tips from the CDC.
Stay home when you're sick and avoid close contact with people who are sick.
If you have to sneeze or cough with a tissue, throw it out immediately after using it, according to the CDC.
What To Do If You Think You're Sick
Even if you're not showing symptoms, the Chicago Department of Public Health recommends people coming from high-risk countries (here's a CDC list) self-quarantine for 14 days after returning home.
If you do have symptoms of coronavirus, contact your primary doctor or a health care facility before going in. Explain your symptoms and tell them if you've come into close contact with anyone with coronavirus or traveled to an area where COVID-19 is widespread (here's a CDC list) within the last 14 days, according to the Illinois Department of Public Health.
From there, the experts will work with your local health department to determine what to do and if you need to be tested for coronavirus, according to the Illinois Department of Public Health.
And, of course, if you think you're sick with coronavirus, don't risk exposing other people to the virus. Anyone who feels unwell has been ordered to stay home or risk getting a $500 fine.
Those with questions and concerns about coronavirus can call the Illinois Department of Public Health at 800-889-3931.
Block Club Chicago's coronavirus coverage is free for all readers. Block Club is an independent, 501(c)(3), journalist-run newsroom.
Subscribe to Block Club Chicago. Every dime we make funds reporting from Chicago's neighborhoods.
Already subscribe? Click here to support Block Club with a tax-deductible donation.