JEFFERSON PARK — A science and surplus store on the Northwest Side shut its doors to browsing customers last month following the stay home order, but it's finding a second life online as Chicagoans search desperately for gloves, spray bottles and other items that are normally slow sellers.
American Science & Surplus at 5316 N. Milwaukee Ave. is trying to survive the stay home shutdown with online sales and store pickup. But don't look for its supply of N95 masks normally on the shelves. Owner Patrick Meyer donated his stock to first responders.
But other items in his eclectic inventory are hot sellers, including solar shower bags, spray bottles of all kinds and prepper supplies.
"I've never seen this before," Meyer said. "We've been through a lot, but this is a new one."
While offering a tranche of science supplies, skeletons and high-power telescopes, AS&S prides itself as the store that loves "closeouts, inventory overruns, mis-manufactures and items whose time has not come."
And despite its shuttered storefront, AS&S can't keep up with demand fueled by the worldwide pandemic.
"Nobody knows where to get this stuff," Meyer said. So people looking for what he called "preparedness" products will "come across us online."
In addition to its original location in Jefferson Park, AS&S has a store in Geneva and Milwaukee. All three stores, crammed with bizarre artifacts and fanciful displays, remain closed indefinitely. But merchandise continues to flow from its warehouse in a north suburban industrial park.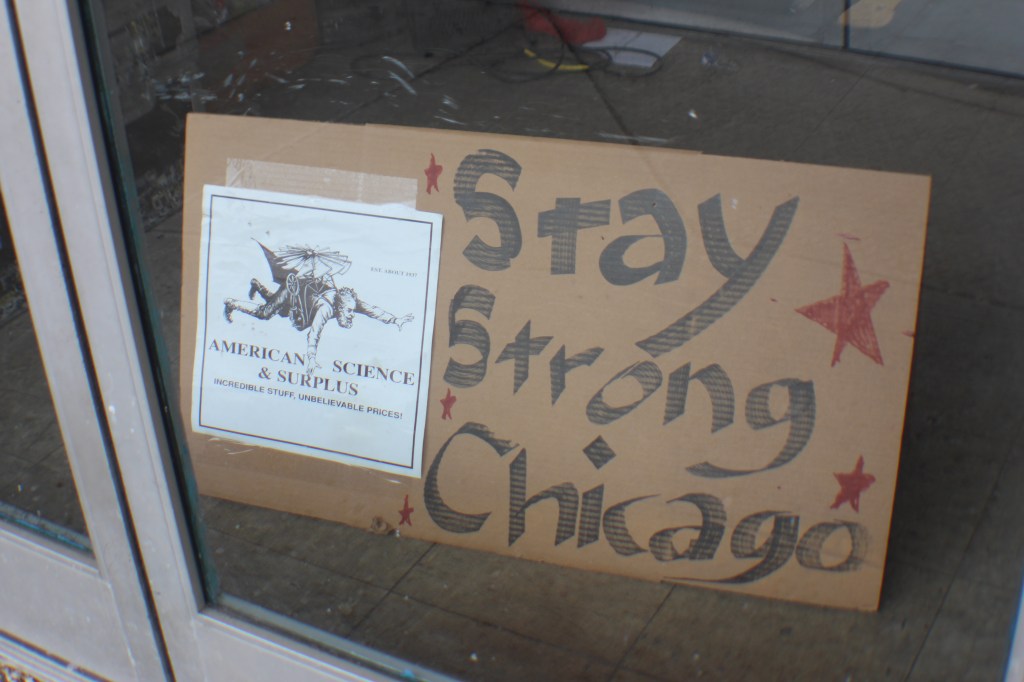 The hottest seller are sanitizer supplies.
It's "containers and bottles," Meyer said. "Mostly bottles: spray bottles and lotion bottles. Bottles that we have had for a long time — they sell, but they don't sell like crazy — have all sold out."
And customers haven't been choosy, Meyer said. "If we're out of it, people just move on to the next item . . . they just try to find something else."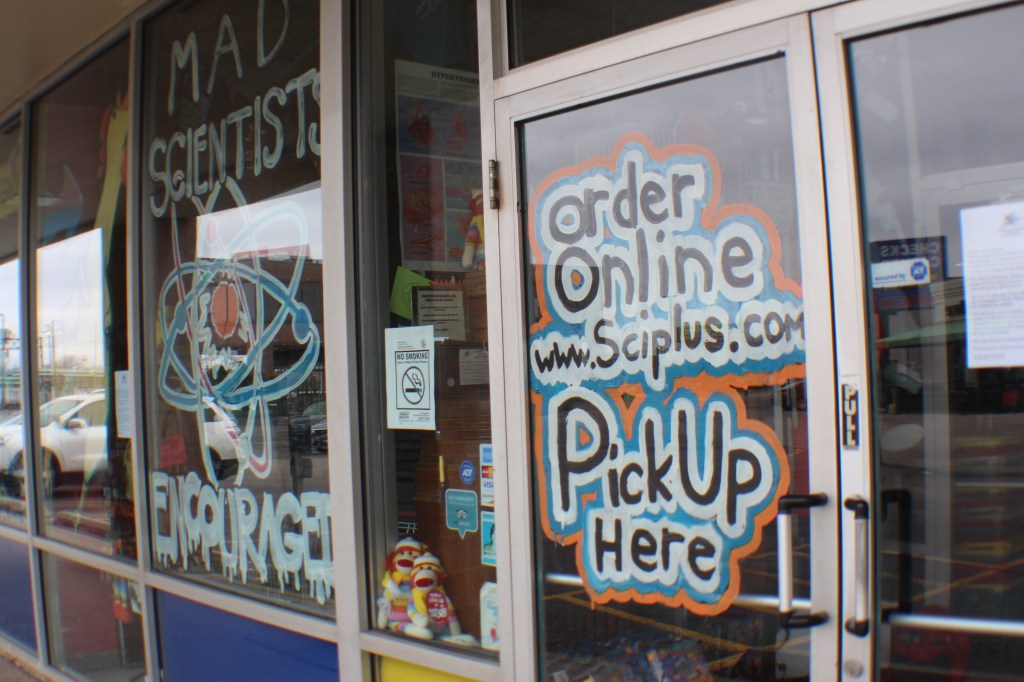 "The shortage in hand sanitizer has created a secondary market for people who make their own. … I've spoken to several of them," Meyer said. "Some of them are selling it, some are donating it and some are doing both."
This has driven, Meyer said, a run on spray bottles. "Under normal circumstances, people like to make their own perfumes and soaps, things like that. … We had, probably, three or four [kinds of] spray bottles. Now we don't have any."

Another set of hot items is no surprise: nitrile, latex and vinyl gloves. "They're something, because of the nature of our business, we always want to carry," Meyer said, noting historically, "they're slow sellers." But gloves are slow no longer: AS&S's Web site limits order quantities for some, and shows "out of stock" for others.
Other items that have "started to pick up" are what Meyer called "prepper stuff — Mylar blankets, batteries, flashlights, things like that . . . We carry a bunch of that."
What "kind of shocked us," Meyer said, was the demand for a particular preparedness gizmo: the solar shower bag, or what he called "a hanging water jug."
"We didn't have a lot of them," Meyer said. "They have a little valve on 'em, you hang 'em on a tree, it heats up in the sun for people to take showers."
When the pandemic hit, Meyer said, "all of a sudden, those are gone."
Although medical face masks are hunted nationwide, you won't find any in AS&S's on-line catalog. Meyer recently donated 1,000 N95 masks to local first responders.
And military-surplus gas masks, Meyer said, are also unavailable. "Typically, gas masks sell really well" during pandemics. "The last time this happened was . . . 2009," Meyer said, referring to that year's H1N1 outbreak. Then, he said, AS&S saw "a huge uptick in gas mask sales."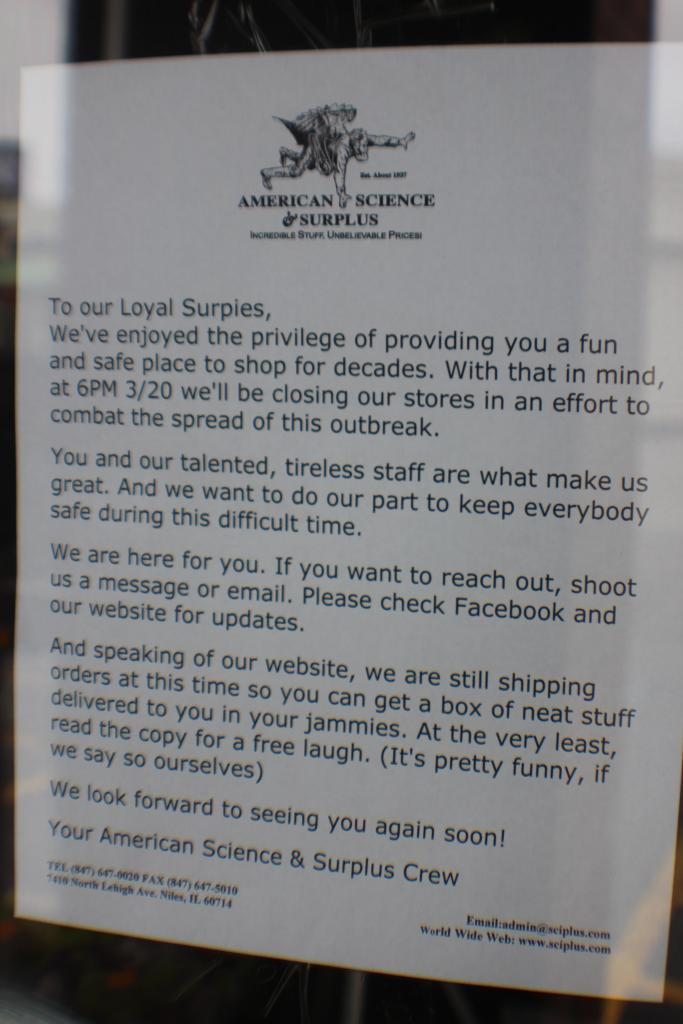 The pandemic-fed boom in online orders, though significant, hasn't offset the loss of AS&S's in-store sales.
"It's not even close," Meyer said. "The three retail locations are a big part of our business. It's a significant financial impact on us."
Meyer declined to talk about how the store closings have affected his staff. According to ReferenceUSA business data from March, AS&S had about 60 total employees at its four facilities.
Despite uncertainty about the pandemic's end, Meyer said he's "pretty confident" that his stores will reopen.
But "it's not like, they're gonna say one day, 'OK, it's all gone'," Meyer said. "It'll be gradual. You'll have people who are gonna be comfortable" with visiting retailers, "and people who aren't."
"It's gonna take a while."