PILSEN — In an effort to keep the decades-long tradition alive amid the coronavirus, organizers staged a much smaller Pilsen Via Crucis procession on Good Friday, featuring just seven socially distanced performers.
For 43 years, thousands of Catholics flood Pilsen's streets annually to watch the annual Living Stations of the Cross. But on Friday, those crowds were noticeably absent, in accordance with Gov. JB Pritzker's statewide stay at home order to curb the spread of the virus.
Nellie Quintana, president of Pilsen Via Crucis, led a cast of seven performers from Providence of God down 18th Street to Harrison Park, re-enacting the beloved tradition.
Along the way, construction workers took photos from scaffolding, while a few people watched the group of seven actors from the sidewalk. A lone officer followed the crew, which included an cross-bearing actor portraying Jesus. In years past, several police cars escorted the large processional down closed streets as thousands watched from the sidewalks.
Quintana said she believed "people need this…They want to grasp something they believe in" amid the coronavirus pandemic.
"Today was not an act of public disobedience but only a testament of our faith and trust in God," she said.
RELATED: Pilsen's Stations Of The Cross Procession Canceled As Coronavirus Continues To Spread
Last month, organizers announced they would cancel Via Crucis in an effort to halt the spread of the coronavirus. The cancellation came after the Archdiocese of Chicago announced Palm Sunday and Holy Week liturgies would not be celebrated publicly inside churches. That included living Stations of the Cross events on Good Friday.
But Quintana later told Block Club she was thinking of creative ways to keep the tradition alive amid the pandemic.
RELATED: Hundreds Watch Stations Of The Cross In Pilsen As Via Crucis Good Friday Tradition 'Brings People Together'
Throughout the precession, Quintana said her "heart was beating so fast," because they were staging the procession without permits. They earlier had canceled them.
"I didn't tell anyone because I didn't want to attract a crowd," Quintana said.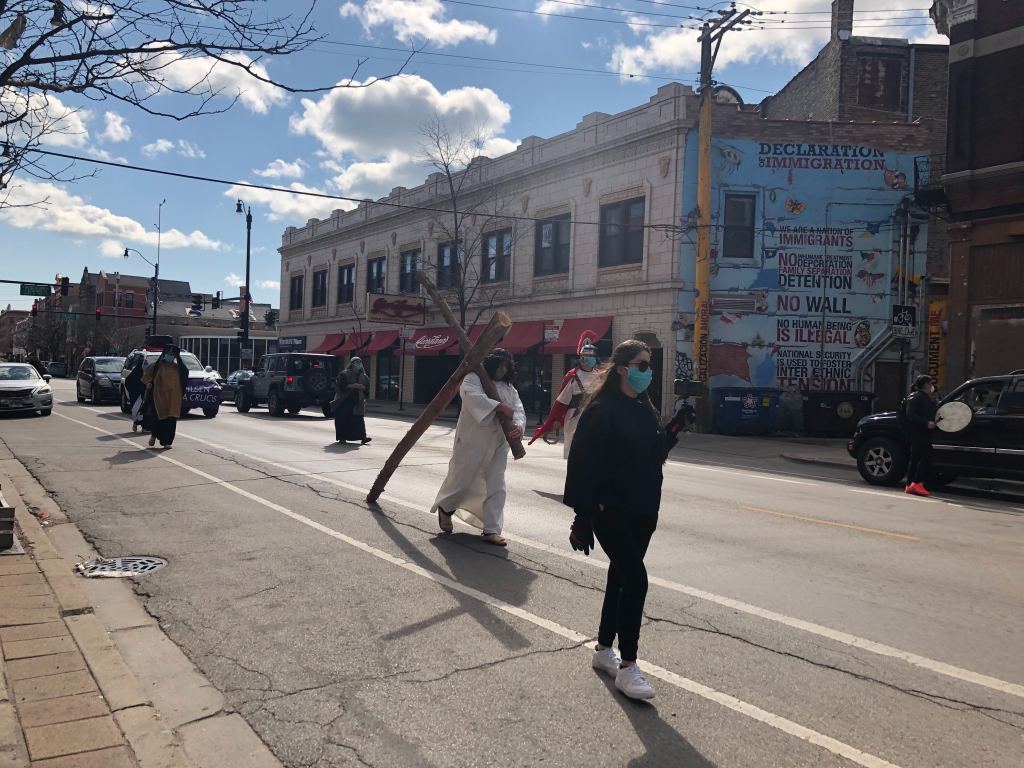 Quintana said she highly doubted there would be repercussions for Friday. "This a tradition. This is number 43. [The city]  knows we are not here to cause harm."
The Living Stations of the Cross re-enactments, an annual Good Friday tradition, consists of live scenes representing the day before Jesus Christ was crucified, each marked with crosses along procession routes in Pilsen.
Every year, a group of Pilsen parishioners reenact the Last Supper in the basement of Providence of God Church, 717 W. 18th St. In years past, the procession has traveled along 18th Street, stopping for a reenactment of the crucifixion at Harrison Park before ending at St. Adalbert Catholic Church.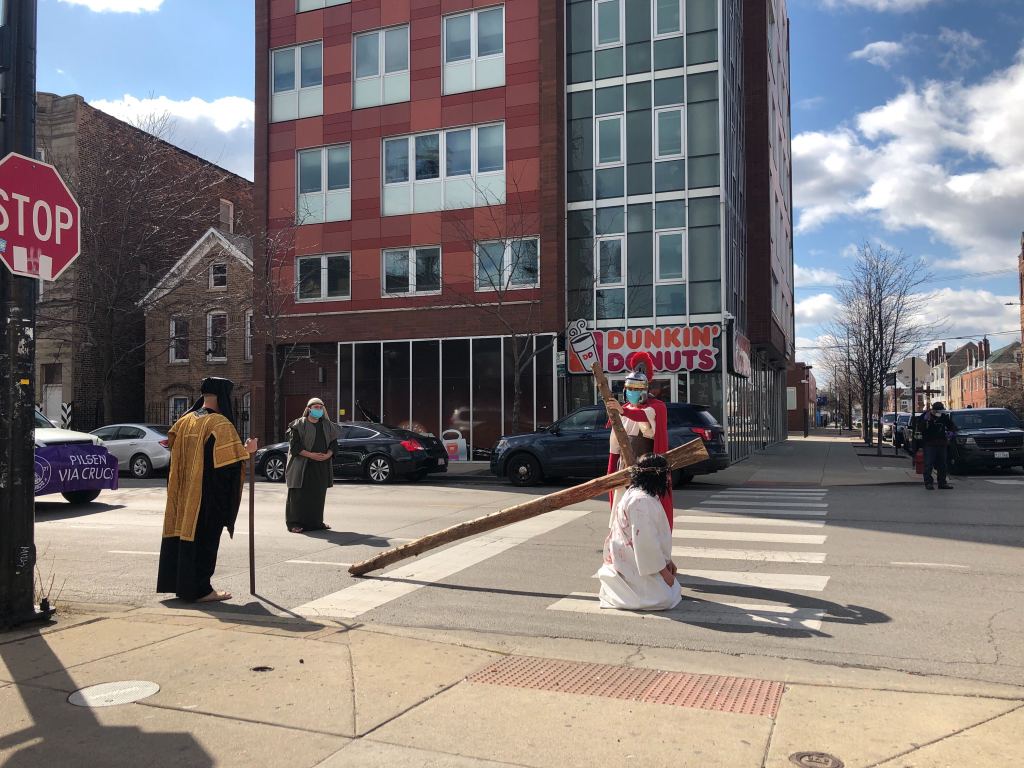 Block Club Chicago's coronavirus coverage is free for all readers. Block Club is an independent, 501(c)(3), journalist-run newsroom.
Subscribe to Block Club Chicago. Every dime we make funds reporting from Chicago's neighborhoods.
Already subscribe? Click here to support Block Club with a tax-deductible donation.