LITTLE VILLAGE — Despite opposition from environmental groups and some neighbors, a smokestack at the former Crawford Coal Plant was demolished Saturday morning in Little Village.
Hilco Redevelopment Partners, in coordination with the city, set off explosives to demolish the smokestack at the former coal plant at 3501 S. Pulaski road around 8 a.m. The site is being redeveloped into a 1-million-square-foot distribution center.
Ahead of the implosion, city officials said explosive materials would collapse the structure in 5-7 seconds.
"Extensive dust control and mitigation efforts including watering techniques such as water trucks, water cannons and direct-drive misting systems" will be employed, officials said. The Chicago Fire Department will be on hand for dust suppression."
In a 45 second video shared by the Chicago Fire Department on Twitter, a loud boom can be heard before the tower topples on its side, sending dust billowing into the air.
A fire official can be heard telling officials "to be ready" before saying: "You can see the dust coming at us…"
During a Saturday morning news conference, Mayor Lori Lightfoot was asked whether destroying the structure was a good idea during a global pandemic.
The mayor said "obviously" the decision to do this now was not made by the city, but said the city's Department of Public Heath was "actively engaged with the owners of the property." City agencies were making sure there were precautions in place so there was no more dust than a normal demo," she said.
"[They] Continue to monitor the situation," she said.
Ahead of the demolition,  Little Village Environmental Justice Organization called on Lightfoot to halt the implosion from taking place. 
Kim Wasserman, the group's executive director, said they were concerned about the implosion's timing considering the coronavirus pandemic impacts respiratory health.
The implosion was putting the health of 75,000 residents at risk, she said.
The neighborhood already suffers from poor air quality from the industry. This is not an "appropriate time," Wasserman said.
Photos of the implosion and its aftermath with streets obscured by dust were posted on Instagram.
For 12 years, the environmental group fought to have the site shut down. A 2001 study from the Harvard School of Public Health attributed 41 premature deaths, 2,800 asthma attacks, and 550 emergency room visits to the Crawford and Fisk coal plants, according to NPR.
Little Village activists were disappointed when a warehouse development expected to bring hundreds of diesel-fuel trucks to their neighborhood would be replacing Crawford. The warehouse will exacerbate the poor air quality residents are already experiencing, activists say.
Now is "not an appropriate time to expose over 75,000 people stuck in their homes to asbestos and lead," Wasserman said of the Saturday demolition.
Hilco spokeswoman Julia Sznewajs said testing shows no presence of asbestos or lead in the smokestack, but has not provided evidence of such tests to Block Club or neighborhood groups.
On Friday, Ald. Michael Rodriguez (22nd) told Block Club Chicago, he was informed of the planned implosion earlier this week by the city's Department of Buildings and Department of Public Health. The alderman said Hilco has met every city requirement for the work.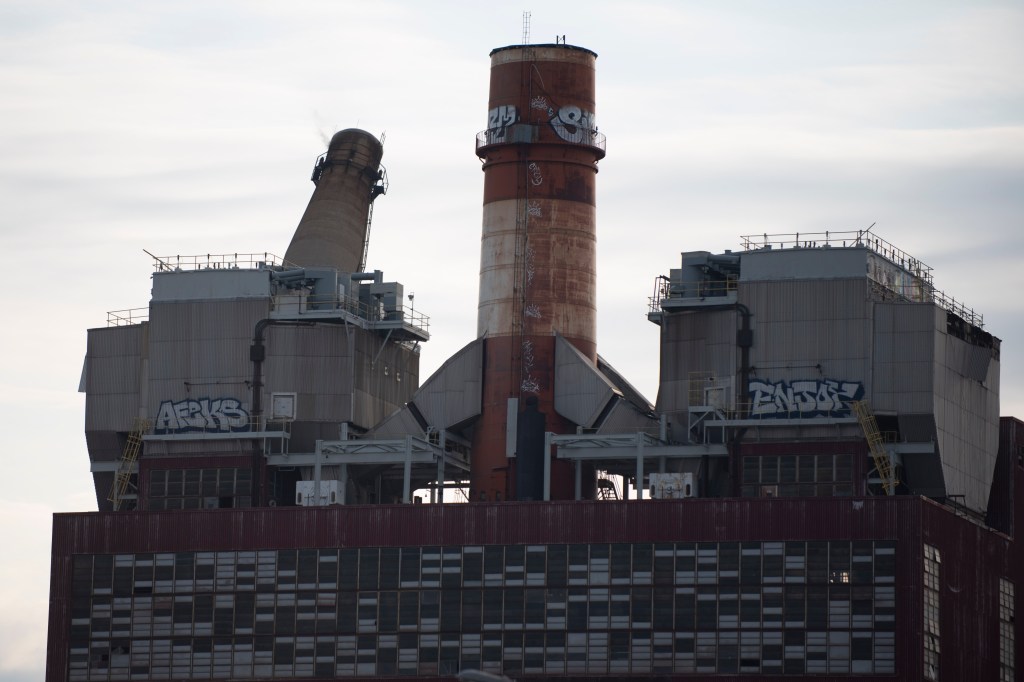 Rodriguez asked Hilco to notify neighbors via letters in English and Spanish, so they could prepare and wouldn't be alarmed. Notices to residents and business were mailed earlier this week after city officials confirmed the demolition date, Sznewajs confirmed.
Hilco posted a notification about the the project website Thursday — less than 48 hours before the demolition. The Chicago Department of Transportation issued a notification about street closures less than 24 hours before the action.
'We get more notification with street cleaning'
Lucky Camargo, a Little Village resident and member of a neighborhood group Mi Villita, said her family didn't receive a letter. She found out about it from her brother.
Other neighbors received fliers rolled up and tucked on the fences of homes near the site the day before, she said.
"This is a lack of accountability toward residents here," Camargo said.
Camargo questioned "how the [implosion] permit could be approved in short notice and the city fail to tell us."
The Little Village resident said she worried for parents and relatives with respiratory ailments living a few blocks from the Crawford site.
"They are susceptible to breathing distress and trauma. They are already experiencing these deepened anxiety from COVID-19 pandemic and this has added to their concerns," she said.
Layla Lopez, 28, didn't receive find out about implosion of the Hilco site until 6 p.m. the night before when she spotted a flier sticking out of her mailbox.
"You could easily mistake it for something of unimportance," Lopez said.
She acknowledged the dismantling of the smokestack as "inevitable," but said Ald. Rodriguez and Hilco failed to adequately notify neighbors in advance.
"I can see families walking in the [Piotrowski] Park in the morning, they don't even know this is going on," Lopez said.
The century-old Crawford Power Plant was shut down in 2012 after community-led efforts raised concerns about the impact coal pollution was having on the health of Little Village residents. 
After the project was approved by City Council, neighbors and activists called on the developer to install air monitors ahead of the demolition and remediation of the site to protect the safety of workers and nearby residents.
City officials said the company was not required by state law to host air monitors on the site.
Concerns over the safety grew in December after a worker plummeted 50 feet to his death in December 2019.
The distribution center, which is reportedly set to house a Target warehouse, is expected to be completed in 2021.
The lack of notification added to the "lack of transparency" since the outset of the project, Camargo said. She said the notification process was shoddy and rushed.
"We get more notification with street cleaning, honestly," she said. "Would this be happening in Lincoln Park or Lincoln Square? Would this [notification] method be used? I doubt it. This is further evidence of political inequality rooted in environmental racism that Little Village residents have had to endure time and time again."
Watch the demolition here:
Block Club Chicago's coronavirus coverage is free for all readers. Block Club is an independent, 501(c)(3), journalist-run newsroom.
Do stories like this matter to you? Subscribe to Block Club Chicago. Every dime we make funds reporting from Chicago's neighborhoods.
Already subscribe? Click here to support Block Club with a tax-deductible donation.
RELATED COVERAGE: 
After Worker's Death, Hilco Resumes Work At Old Crawford Coal Plant Site In Little Village
Little Village Residents Search For Answers After Worker Dies At Old Crawford Coal Plant Site
Demolition Of Crawford Coal Plant Suspended After Worker Falls To His Death
Worker Falls To His Death In 'Tragic Accident' At Crawford Coal Plant In Little Village
City Tells Worried Little Village Residents To 'Limit Outdoor Activities' As Crews Demolish Old Coal Plant
Illinois EPA To Detail Clean-Up Efforts Of Old Little Village Coal Plant Site Tuesday
Controversial Little Village Distribution Center Gets $19.7 Million Tax Break Approval From City Council
Massive Little Village Warehouse On Old Crawford Coal Plant Site Approved By City Council
Semi-Trucks Are Taking Over Little Village, Neighbors Say — And Giant Warehouse Plan Will Make It Worse
After Post-Arrest Absence, Ald. Muñoz Returns To City Hall To Argue For Tax Break For Little Village Project
Massive Little Village Warehouse On Old Crawford Coal Plant Site Approved By City Council
Huge Distribution Hub Likely Replacing Crawford Coal Plant — Meaning More Dirty Air For Little Village, Critics Say
Little Village Neighbors Demand City Stop Crawford Redevelopment Plan
Developer Behind Controversial Little Village Warehouse Buys Fisk Generating Station In Pilsen, Alderman Says
Old Fisk Generating Station Site In Pilsen Would Become Giant Data Center Under Developer's Plan