PILSEN — Guadalupe wakes up every morning more worried than the day before.  
Worried about the health and wellbeing of her family. Worried about how her family is going to pay rent, utility bills, or how she's going to buy food.
To calm her nerves, the 48-year-old mother has been climbing out of bed every morning and checking on her four sleeping children to make sure they're OK.
Over the last few weeks, Guadalupe's world has been turned upside down. Her husband lost his factory job and she can no longer safely sell beauty products door to door.
"There's no money coming in, it's just money going out," Guadalupe said.
Thousands of people across the city have found themselves out of work or with scaled back pay amid the coronavirus crisis and the shutdown designed to slow it. Local and federal leaders are scrambling to provide relief to people struggling to make rent and buy basic necessities like food and medicine. 
For many, emergency relief funds, extended unemployment benefits and a federal stimulus check will help blunt the financial blow. But Guadalupe and thousands of other undocumented Chicagoans who are dealing with the ripple effects of the crisis have no real safety net: They don't qualify for the unemployment benefits or stimulus checks that many can rely on.
Combing through her bills, Guadalupe listed off how much she currently owns in utilities — $105 for electricity, $250 for gas — before taking a pause. (Block Club is using an alias to protect her identity because she is undocumented.)
"We are worried because the bills don't stop…and we are just trying to figure out a way to make these payments," she said in Spanish.
Before the outbreak, the Pilsen family was already struggling to get by with their income of approximately $350 to $400 per week. Now, amid the coronavirus crisis, Guadalupe said they are "living day by day." 
"It's even more difficult now with this situation," she said.
"We are living in fear, worry, anxiety, depression…sometimes my head hurts thinking about how we are going to pay our bills when we can't go outside," Guadalupe said.
In speaking with other undocumented friends and family who have also lost their jobs, there's a lot of "desperation," Guadalupe said. "It's difficult right now. We don't know how we are going to survive, so we pray to God every day."
Currently, undocumented people pay taxes but are not eligible for federal benefits. 
When Guadalupe first heard of the stimulus check, she was hopeful but she grew frustrated when she learned her husband and her children, ages 13, 14, 17 and 22, were ineligible.  
"You feel sad because we are all paying taxes. We are all contributing, not just people who have documentation," she said.
On Tuesday, Mayor Lori Lightfoot signed an executive order meant to protect undocumented Chicagoans during this crisis. 
Lightfoot's order is predicated on the fact that undocumented people aren't eligible for relief on the federal level. It ensures that undocumented people in Chicago are eligible for the city's existing coronavirus relief funds, including ones meant to help people pay rent and help entrepreneurs keep their small businesses afloat.
"This order is more than just an official decree. It's a statement of our values as a city and as Americans," Lightfoot said at a press conference. "It means that in this crisis, we will leave no one behind, and no one will get left behind." 
The order, while an "incredibly welcoming sign," does not create any new protections for undocumented Chicagoans — it just reaffirms existing city policy, according to Fred Tsao, senior policy counsel for the Illinois Coalition for Immigrant and Refugee Rights.
"Chicago has had on its books a policy opening up all city services to everybody in the city regardless of immigration citizenship. … this dates back to Harold Washington," Tsao said.
It's concerning, Tsao said, that undocumented Chicagoans must compete with other city residents for relief funds and benefits, which are in incredibly high demand right now.
For example, 83,000 people applied for just 2,000 housing grants, meaning fewer than 2.5 percent will get the funds.
Tsao said he'd like to see city and state leaders provide undocumented Illinosians with resources like basic income support and nutritional assistance — resources that aren't being offered on the federal level. But he also acknowledged that Chicago doesn't have "unlimited funds."
What's for certain, Tsao said, is immigrants "are serving really crucial roles in our society these days. They're front line workers in any number of different fields — food service, delivery, manufacturing. Unfortunately, the federal government has failed to fully recognize that."
"To the extent that Mayor Lightfoot and other local governments are recognizing that immigrants are really essential in the current crisis — that's definitely a welcome and appreciated sign from them."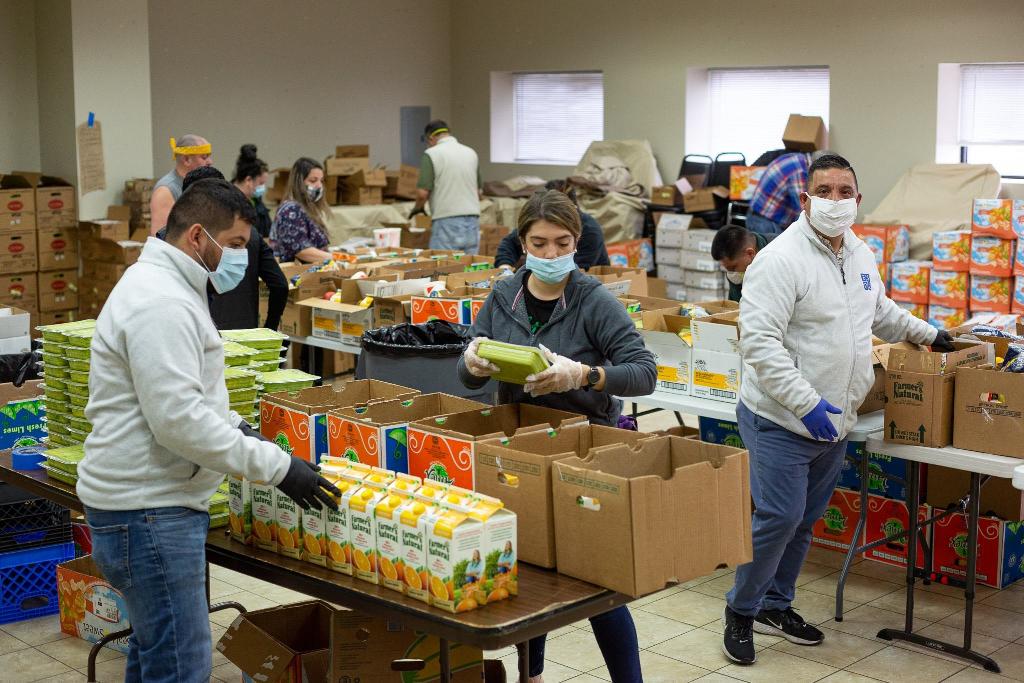 'Waiting weeks or months isn't really an option for many people right now'
Ahead of the mayor's announcement, independent organizations have tried to fill the gap and help undocumented Chicagoans. 
The director of the Gage Park Latinx Council Antonio Santos said the city's executive order falls short of making "meaningful impact" on the lives of undocumented families facing huge uncertainties.
"We need to see more being done at a city and state level at a faster response," Santos said.
"It's great that the mayor offered some news that will be beneficial but the impact and the reach isn't widespread enough and not happening quickly enough to ease people's worries."
RELATED: Gage Park Group Raising Relief Funds For Undocumented Families On The Southwest Side
Two weeks ago, the group launched a GoFundMe page to help undocumented community members on the Southwest Sides with rent, car payments and other bills. The mutual aid fund has raised nearly $24,000 from over 300 individual donors. 
Within 48 hours of opening the application to undocumented Southwest Side families, the group was flooded with 2,500 applications. The group closed the application portal early after 3,000 applications were submitted by Saturday night.
Among the highest financial requests made was for rent ranging from $650 to $1,200. Other requests were for utility bills, groceries and medication, Santos said.
The thousands of applications submitted during a span of three days underscored how many undocumented families are grappling with a loss of income, Santos said.
"Most families live paycheck to paycheck or are $400 away from a financial crisis," Santos said. 
Because of the pandemic, families are being forced to prioritize which bills to pay, Santos said. They are being asked to make a decision between rent and life-saving medication like insulin, Santos added.
The group is working to fulfill requests from about 50 families and is reaching out to other community groups and businesses to figure out how to help more struggling immigrant families.
"People have an immediate need. Most people, especially undocumented families on the Southwest sides, don't have a savings, don't have a safety net. They are essentially out of money as soon as they are out of work.  Waiting weeks or months isn't really an option for many people right now," Santos said. 
Last week, Pew Research Center released a national survey showing that 49 percent of Latinos received a pay cut or lost their job because of the pandemic, compared with 33 percent of other U.S. workers.
About 8 million Latino workers are employed in the restaurant and bars, hospitality restaurants, hotels and other service-sector positions that are at higher risk of job loss, according to another study by Pew Research Center. 
'They are anxious. There's a lot of fear'
Laura Mendoza, an immigration organizer for the Resurrection Project, said the mounting challenges facing the immigrant community are "daunting."
Without federal assistance, the city and different organizations are trying to find resources to help families during this time, Mendoza said.
Undocumented immigrants are scrambling to come up with rent or mortgages while trying to navigate the healthcare system during such precarious times, she said.
Many community members are worried about getting care because of their undocumented status, Mendoza said. They're also worried about the financial costs incurred if they happen to contract the virus and are hospitalized.
Families are being forced to think about worst case scenarios of possibly paying for a death in the family when they don't have any income, Mendoza added.
"Our families are living paycheck to paycheck. They don't have a rainy day fund that they can dip into," Mendoza said.
Beyond the financial stresses family face, undocumented families are contending with mental health issues caused by this pandemic, she added.
Mental health has taken a back seat while families try to meet basic financial needs, Mendoza said.
"A lot of people right now are under stress. They are anxious. There's a lot of fear,' Mendoza said. 
There's a need to address the mental health of undocumented families to ensure that "when we get out of this, we want to make sure people are mentally healthy so they are able to return to whatever our new normal is going to be."
The pandemic has taken a huge toll on the mental health of Lorena's family. Lorena is a DACA recipient and a member of the Gage Park Latinx Council. She lives in Gage Park with her undocumented parents and her sister.
"My parents are constantly stressed and anxious," the 24-year-old said. 
"Not working for my dad has been extremely difficult because he has been socialized to believe that his value in society is measured by how much he's producing at his work…Being on this forced break is taking a toll on my family's mental health."
Lorena and her sister, also a DACA recipient, have been trying to help carry the financial burden for the family now that her father, who worked as a busser at a restaurant, is out of work. Her mother is still providing childcare to other families in the neighborhood, but Lorena wants her to stop because she is diabetic and at risk for COVID-19.
As the 24-year-old tries to navigate the world with her family, a political battle is being waged in Washington, D.C. that could see her and other DACA recipients' ability to work revoked pending a Supreme Court ruling. That would deal another blow to an already fragile financial situation for the family, Lorena said.
As bilingual speakers, DACA recipients "are pillars in our communities and families," Lorena said.
"I'm trying to reassure my family, care for their mental health, while helping them financially. It's a lot of pressure to carry."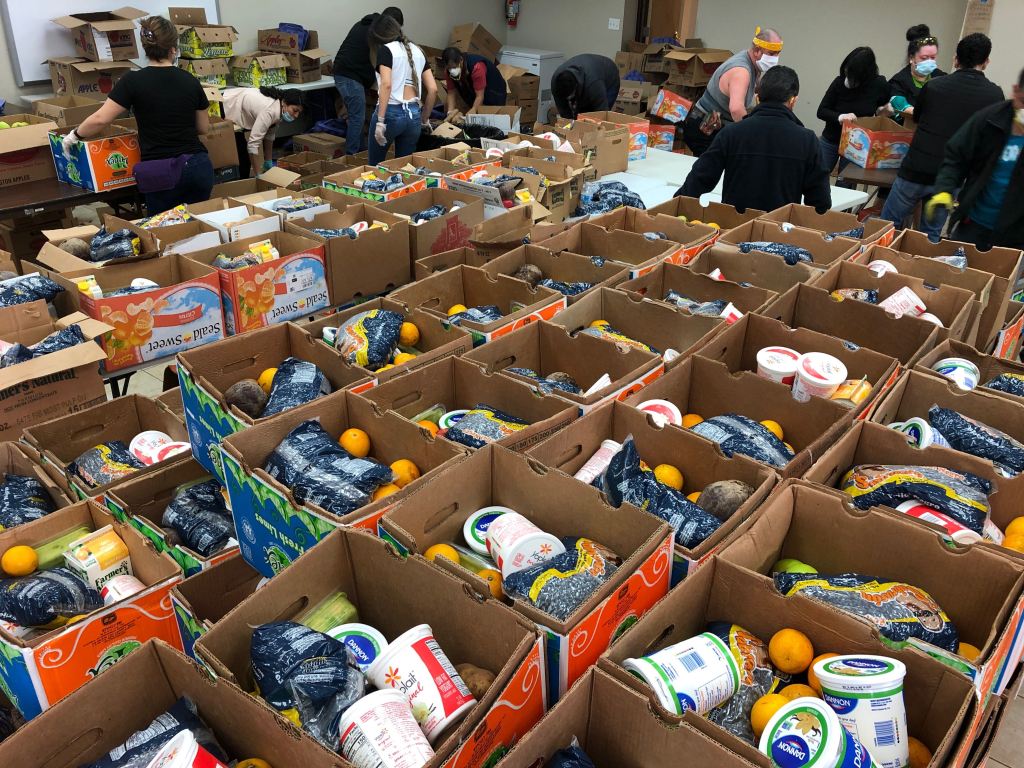 'We are stuck between a rock and a hard place'
In Belmont Cragin, Veronica has been trying to figure out how her family will survive with a significantly reduced income.
In the last month, her husband went from working full-time at a factory to just 18 hours a week. Prior to the pandemic, she worked two part time jobs. She's since been laid off from her part time job at a furniture store, and her hours were reduced to one shift cleaning an office space on the weekend.
To make the rent, Veronica and her husband asked for a one-week extension on their $1,050 rent payment and have fallen behind on other bills.
"We are stuck between a rock and a hard place," she said in Spanish. 
The mother of three said a few meals from CPS' meal program during the school closings has provided some relief. She's also stopped at a local food pantry at a nearby church. She attempted to apply for the city's rental relief grant, but the system was so overloaded at the time she couldn't get through.
Now without a steady income, Veronica has been applying to jobs to make sure they don't fall any further behind on bills.
But many employers that previously hired people without documentation are now closed, and there are few options left, she said. 
She's looked into unemployment benefits and the federal stimulus package, only to be let down to discover their lack of immigration status keeps them from receiving such benefits. 
"We pay our taxes. We can prove that we have paid our taxes every year. We have dependents that were born here in the states," Veronica added.
Despite the challenges, Veronica and her husband are trying to move forward for their three children to make sure they have food on the table and a roof over their head. 
"It's really challenging not being able to work. Not being able to have a weekly income for groceries," she said.
In reflecting on the lack of resources available for undocumented families, Veronica sighs. 
"Personally, I feel like this is discrimination for people who are undocumented. We pay our taxes and we do some of the most difficult jobs…It feels like we've been left out, like we've been left behind."
Block Club Chicago's coronavirus coverage is free for all readers. Block Club is an independent, 501(c)(3), journalist-run newsroom.
Subscribe to Block Club Chicago. Every dime we make funds reporting from Chicago's neighborhoods.
Already subscribe? Click here to support Block Club with a tax-deductible donation.