WEST RIDGE — At Devon Avenue's Par Birdie Foods, it's no longer business as usual for the South Asian grocery store that is a lifeline to West Ridge's diverse population.
With West Ridge having the highest number of confirmed coronavirus cases in the state, the grocery store is doing everything it can to help stop the neighborhood's outbreak — while still offering what is considered an essential service to some neighbors, said Ahmed Khan, whose family owns the 2234 W. Devon Ave. store.
"It's definitely a shock. It's a mystery to all of us," Khan said of the outbreak. "The store has to stay open, but how do we help flatten the curve?"
West Ridge leaders are working to determine the cause and contributing factors of the area's outbreak — while seeking to keep its many tight-knit communities safe. With one community in particular experiencing an influx in cases, leaders insist action must be taken to slow the spread.
As of Wednesday, West Ridge's 60645 ZIP code has 272 confirmed cases of COVID-19, up from 225 on Monday. That's more than any other ZIP code in the state, according to data from the Illinois Department of Public Health.
The 60659 ZIP code, which includes the southern end of West Ridge and some of North Park, has 132 confirmed cases as of Wednesday, according to the state.
West Ridge's 60645 is closely followed by Auburn Gresham's 60620, which has 269 confirmed cases of COVID-19.
The outbreak has puzzled some elected officials and neighbors. More specific data on which groups are most impacted has not yet been offered, due to medical privacy concerns and other reasons, Ald. Debra Silverstein (50th) said.
"Health officials have not proffered a reason for our neighborhood's high level of confirmed cases, and I would caution us all to not invent reasons of our own," Silverstein said in an update to constituents.
The high concentration of cases in a diverse neighborhood like West Ridge highlights a disturbing trend in Illinois' coronavirus outbreak: that minority communities are harder hit. But the West Ridge outbreak differs from others in the city and state in some key ways.
In West Ridge, the 20-29 age demographic is most impacted by far. West Ridge residents in their 20s account for more than 60 COVID-19 cases, compared to about 20 cases for those ages 70 and up, according to the Illinois Department of Health. Statewide, people 50-59 comprise the largest number of coronavirus cases — and 20-somethings make up the fifth-largest contingent of cases.
RELATED: WEST RIDGE HAS HIGHEST NUMBER OF CORONAVIRUS CASES IN CITY: 'WE MUST TAKE THIS AS A CAUSE TO ACTION'
West Ridge's racial breakdown of cases also bucks larger trends. In the Far North Side neighborhood, white residents make up about 40 percent of total coronavirus cases (105 out of 272 total known cases), according to the state health agency. Statewide, white residents account for just over 25 percent of cases. Black residents of West Ridge also make up a much smaller fraction of total cases than those on a city-wide or statewide level.
(State and city officials say racial breakdowns of the coronavirus are marred by a lack of data. Statewide, about a quarter of known COVID-19 cases have come without reliable race demographics data.)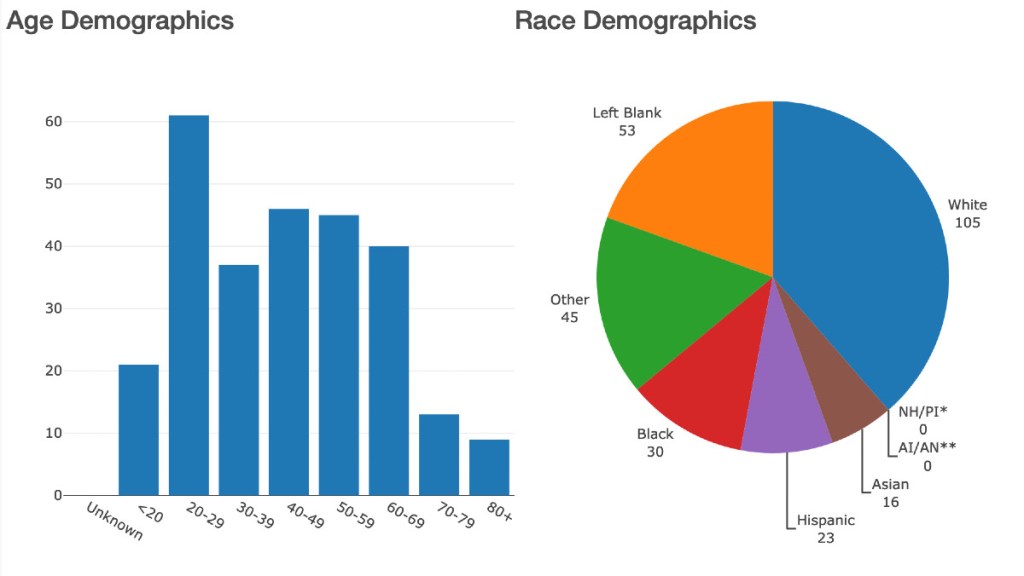 There are some thoughts as to why West Ridge has such a concentration of known cases. The 60645 ZIP code has the highest testing rate in the city, along with two other Downtown-area ZIP codes. It is relatively close to the state's free testing facility in Dunning, and neighbors have made use of the resource, officials said.
The neighborhood is also home to sizable immigrant and religious communities which are tight-knit, and in some cases live, shop and worship in close quarters.
While officials wait on better data to confirm the extent of the outbreak, one West Ridge population appears to be particularly impacted: the Orthodox Jewish community.
"My impression is that there's a disparity for the Orthodox community related to the community in general," said Rabbi Leonard Matanky, who leads the Congregation K.I.N.S synagogue in West Ridge. "The impact has been significant."
'This Is Unparalleled'
A family who attends another West Ridge synagogue has already lost their father to the coronavirus, and now the man's wife is sick as well, the synagogue's rabbi said in a video message. More than $695,000 has been donated to help the family.
Rabbi Dov Keller, an influential faith leader in Chicago's Orthodox community since 1960, is in critical condition after contracting COVID-19, according to reports. In another case, a West Ridge Orthodox Jewish man recounted his battle with coronavirus to CBS2 Chicago.
Coronavirus is impacting the Orthodox community because many religious practices involve social interaction, community leaders said.
"We're all community centered, community minded," said State Rep. Yehiel 'Mark' Kalish, a West Ridge Democrat. "It makes sense that there would be a lot of transmissions."
The outbreak also struck Chicago at an unfortunate time on the Jewish calendar.
Gov. JB Pritzker's statewide stay at home order came as observations of the Sabbath began in Jewish community, said Kalish, a West Ridge resident, state representative and a Jewish Orthodox rabbi.
At Kalish's congregation, the Sabbath was observed, but meals were not shared communally, he said. Sunday morning prayers were the last time he prayed communally, Kalish said. All synagogues and other places of worship throughout the city have been closed since the weekend of Pritzker's order.
The week before Pritzker's order, the Jewish holiday of Purim was celebrated. At K.I.N.S Synagogue, about 500 people celebrated with a dinner Friday night, followed by about 700 people attending a service on Saturday, Matanky said.
"We checked with public health officials," Matanky said. "In hindsight, it was probably one of the contributing factors."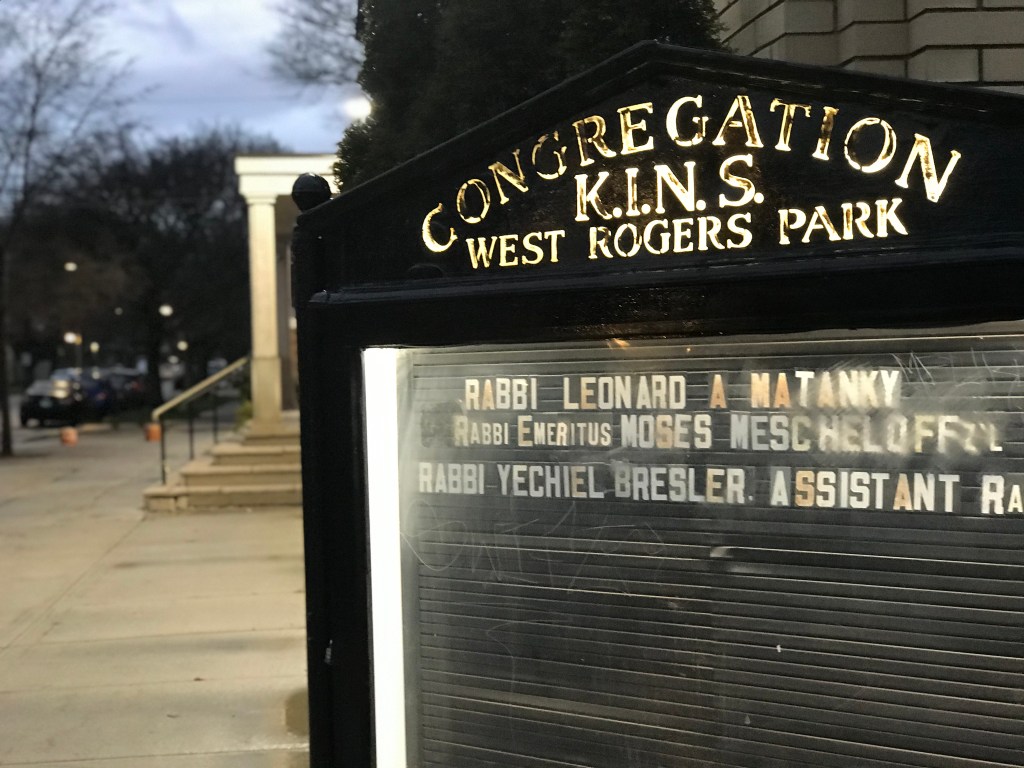 Purim and Yom Kipper are the two busiest nights of the year for synagogues, Kalish said.
"Purim, there's no question that had something to do with it," he said. "I was exposed a dozen times on Purim." (Kalish said he does not have symptoms of coronavirus.)
After Purim, strict social distancing guidelines and other best practices to halt the virus' spread were adopted. The outbreak — and efforts to mitigate it — have turned Jewish Orthodox life on its head, officials said.
"This is unparalleled, that synagogues are closed," Matanky said. "Now that everything, including prayer, is private, it's jarring."
On Wednesday, the Jewish holiday of Passover began. It's normally a time filled with celebrations between family, friends and congregations. But that will not be happening this year, officials stressed.
Now that the outbreak's impact is being understood, the Jewish Orthodox community has taken up a common cause: to reduce its spread and help those impacted.
"It has created a sense of unity and cooperation between all kinds of Jewish organizations and other organizations," Matanky said.
'A Call To Action'
Silverstein has characterized the local cluster of cases as a "call to action" — and many neighbors and resident groups are heeding that advice.
A consortium of synagogues in the West Ridge area have pledged $1.5 million to help the community, Matanky said. That's on top of thousands of free meals donated each day by synagogues, plus grocery donation operations and a local senior citizen check-in program staffed by local high school students.
"Everyone is working together on this," Matanky said.
The local business community has partnered with Silverstein's office to buy lunches for area medical workers and first responders, which in turn gives much-needed business to area restaurants.
There's also a community-lead effort to get information and resources in the hands of those in need.
Halle Quezada, a West Ridge resident and teacher at Boone Elementary in the neighborhood, is helping to organize a 40-person-strong volunteer group to check in with residents and help provide resources.
"There are parts of the community that are more vulnerable than others," Quezada said. "There might be cultural barriers to receiving help. We're looking at how to address that."
Mayor Lori Lightfoot said this week that language barriers and other hurdles may have hampered efforts to stop the virus' spread in some areas of Chicago. Silverstein said she has worked with the neighborhood's various religious and community leaders to make sure information and best practices were being communicated.
"That's a question I ask them all the time," Silverstein said of the community's faith leaders and efforts to inform their constituents on the outbreak. "Their answer is, the information is getting out."
In neighboring Rogers Park, the effort to get up-to-date information to its diverse population posed a logistics and manpower challenge, Ald. Maria Hadden (49th) said.
On the last day that Chicago Public Schools were in session, Hadden's office rushed to disseminate essential information in numerous languages to area schools, so students could share the fliers with their families.
"Getting things translated in different languages was a priority," Hadden said. "One challenge was, everything is changing every 12 hours, so you have to quickly translate."
There is still more work to be done, community leaders said.
Because so many shop at small South Asian markets or Kosher grocery stores, an extra effort should be taken to allow for better online shopping for these businesses, Kalish said.
At Par Birdie Foods in West Ridge's Little India, there isn't enough time or resources to keep sanitizing the store's surfaces after constant use, Khan said. Measures like taping off six-feet increments and installing plexiglass for cashiers have been taken, but finding protective equipment for the staff has been difficult.
"Just at an initial glance, not everyone has the direction, or the materials are limited," he said.
Block Club Chicago's coronavirus coverage is free for all readers. Block Club is an independent, 501(c)(3), journalist-run newsroom.
Subscribe to Block Club Chicago. Every dime we make funds reporting from Chicago's neighborhoods.
Already subscribe? Click here to support Block Club with a tax-deductible donation.