WEST TOWN — Being couped up in the house can have a heavy toll on your mental and physical health.
That's why, despite a stay at home order, Mayor Lori Lightfoot and Gov. JB Pritzker have repeatedly said endorphin-boosting exercise is allowed — as long as social distancing measures are in place.
Exactly what that means, however, has been the topic of much debate. As the weather warms and people try to sneak in some fresh air, runners are being accused online of endangering the public with their fast and sweaty public workouts.
Dr. Richard Novak, head of the Division of Infectious Diseases at University of Illinois at Chicago, said there is no science to back the claim that runners are making the air more dangerous for pedestrians.
But Novak did say there are ways to run responsibly. He joined Ald. Daniel La Spata (1st), an avid runner, in sharing tips for how to run while observing social distancing.
"There's a lot of ways to do this that are common sense, require minimal sacrifice and can keep all of us safe," La Spata said.
Find the road less traveled
While running, La Spata tries to keep a strict 6 feet between himself and others.
"If there's a family coming up on the sidewalk I'm not gonna play chicken with them," he said.
That's easier to do on less crowded sidewalks, he said.
La Spata seeks routes in relatively pedestrian-free industrial corridors, such as Hubbard and Elston streets. He's also ventured to running tracks, like the River Park Track at North Park.
Novak said that's a good idea. Practicing social distancing is hard enough for pedestrians given how narrow sidewalks are in Chicago neighborhoods.
"If you're gonna run, run in less crowded areas," he said.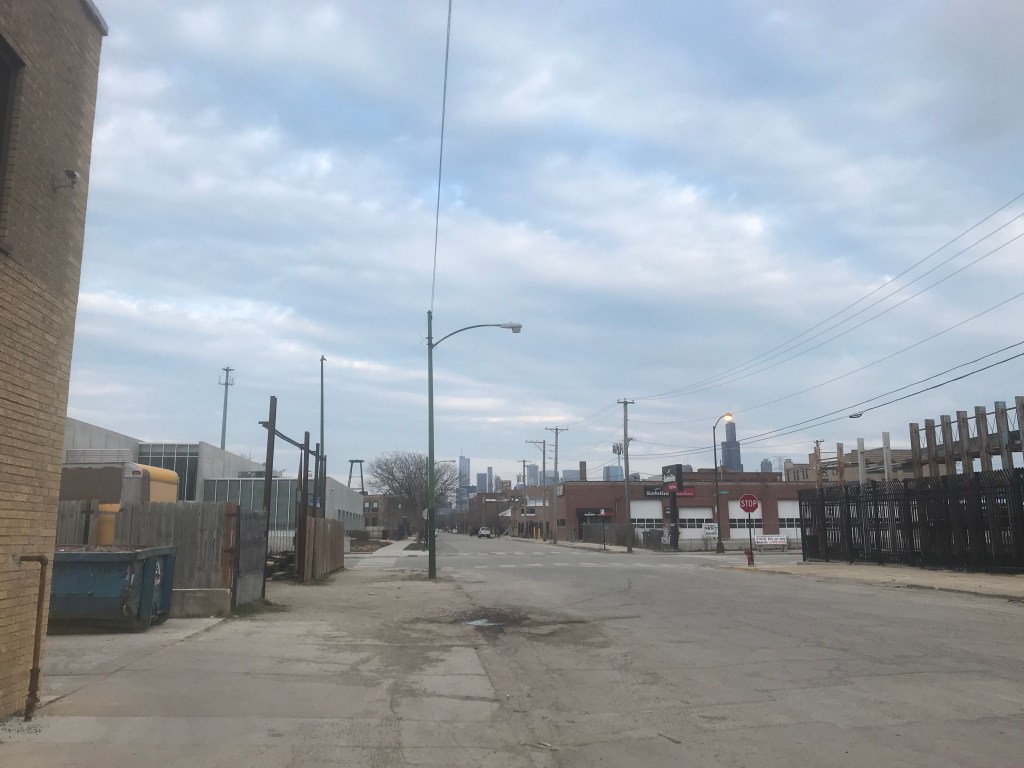 (Safely) run in the road
Logan Square resident Taylor Deatherage has been running on quiet and residential one-way streets near her home and throughout Avondale. She runs against traffic and looks out for cyclists. She stops when a car comes her way.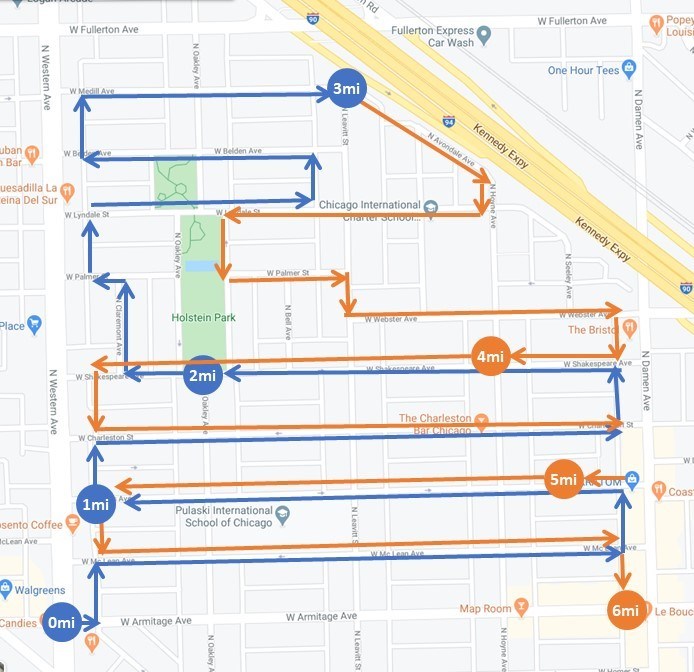 Deatherage said she's taking these steps to avoid being within 6 feet of pedestrians using the sidewalks.
"There are a lot of little side streets where you can not see anyone at all," she said.
In Bucktown, a neighbor shared a screenshot of his 6-mile running route that includes one-way residential streets.
La Spata said he runs in one-way roads, too. But he cautioned runners against using bike lanes in lieu of sidewalks.
Run during "off times"
La Spata said he's made the effort to run during "off times," or times of the day when families are more likely to be inside.
He's found the dinner window, around 6-6:30 p.m., to be a great time. Early mornings — before 8 a.m. — work well, too.
Run with a face cover
The CDC is encouraging everyone wear face masks when they go outside. Even if you are not coughing, you could be an asymptomatic carrier of COVID-19.
Though it's uncomfortable, runners should do their part by covering their mouths with a light fabric, Novak said.
"It's hard to run with a mask on," Novak said. "A piece of a T-shirt, that would capture [droplets] quite a bit."
RELATED: Confused About Face Masks? An Infectious Disease Expert Answered All Of Our Questions
La Spata said he hopes other runners take precautions to socially distance during the stay-at-home order. He worried that if people continue to break the rules, Chicagoans may lose the privilege of outdoor exercise.
"I know that it sucks," he said. "There is a part of all of our hearts that drops when you hear this is going to be going through the entire rest of this month. … In making [sacrifices] we avoid the fate that we're seeing in a lot of other large cities."
The city is warning people to stay away from busy parks, especially as the weather warms up. Check out this list of parks that aren't as busy.
A news story out of Belgium has been shared widely to discourage runners, but the story's findings — that droplets left behind by runners linger in the air, requiring stricter social distancing — have not been properly studied or peer reviewed.
"I have never and nowhere discouraged people from walking, running, or cycling," the researcher behind the droplet story told Vice News. "Rather the opposite. Maybe people should read more, and react less."
Remember: Officials have said it's OK to head to the park, but people should keep their visits short and abide by social distancing and hygiene guidelines while there. That means:
Stay 6 feet from people outside your household, and only for short periods of time (less than 10 minutes), officials have said. If someone is passing by, move aside to ensure the 6-foot rule is enforced.
If you're sick, stay home.
Do not form or join any crowds.
Do not play contact sports like football.
Pick up and dispose of any trash you have.
Wash your hands frequently, especially before going out and after returning home.
If a park or other area looks crowded, go elsewhere.
Do not use city playgrounds, they are shut down.
Still stay at home as much as possible. The parks should be a "brief respite," officials have said.
Of course, if you think you're sick with coronavirus, don't go out at all. Anyone who feels unwell has been ordered to stay home or risk getting a $500 fine.
Block Club Chicago's coronavirus coverage is free for all readers. Block Club is an independent, 501(c)(3), journalist-run newsroom.
Subscribe to Block Club Chicago. Every dime we make funds reporting from Chicago's neighborhoods.
Already subscribe? Click here to support Block Club with a tax-deductible donation.