LOGAN SQUARE — A $7,000 reward is being offered to anyone who can provide information that would lead to the arrest of the gunman who shot and killed 27-year-old Alexa Baute outside of a Logan Square 7-Eleven Tuesday night.
The fatal shooting happened just after 8 p.m. Tuesday outside of the 7-Eleven in the 2900 block of West Fullerton Avenue, according to police.
Alexa Baute was with her close friend waiting to get inside 7-Eleven to buy cigarettes or some kind of snack, according to her father, Jeffrey Baute. The store was following social distancing guidelines and only allowing a few people in at a time, he said.
The friend walked away to lock up his bike and when he turned around he saw Baute fall to the ground, her mouth full of blood, Jeffrey Baute said.
"He didn't know what happened. Someone called 911. The EMTs came. The EMT said she's been shot. He didn't even know. No one heard anything," Jeffrey Baute said.
Alexa Baute was rushed to Illinois Masonic Hospital in critical condition. She died at the hospital at 8:45 p.m., according to the Cook County Medical Examiner's office.
"No one saw it. That's why we're putting the word out. We want witnesses to come forward with more information," Jeffrey Baute said of the $7,000 reward, organized by gun violence activist Andrew Holmes and bolstered by Alexa Baute's friends.
Chicago Police spokesman Steve Rusanov on Thursday would not say if detectives had determined whether Alexa Baute was the intended target of the shooting and said the investigation is ongoing.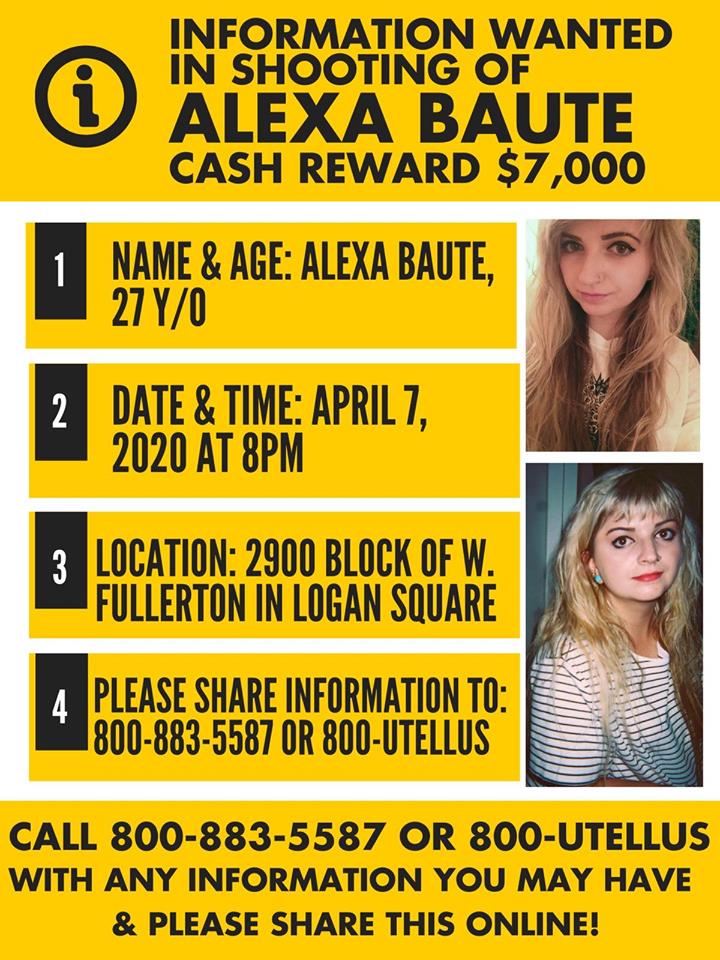 Family and friends of Alexa Baute are devastated and struggling to understand her sudden passing. She was just a few blocks from her Logan Square apartment when a silent gunshot pierced her chest and ended her life.
To people who knew and loved her, Alexa Baute "was a happy soul" and a "strong spirit" who always had friends around her.
"She loved being around people," her father said. "She was happy, strong, independent, stubborn."
In her free time, she liked to play music and go to shows with friends. She played bass and was "all about her shows, Riot Fest, all of that," her father said.
"I called her my little punk rock girl," he said.
She grew up in the western suburbs St. Charles and Roselle, splitting time between her parents. After high school, she took classes at Columbia College in the South Loop, but ultimately left school and started working in the service industry.
She was working as a bartender/server at the Bucktown bar Jack & Gingers until the stay at home order forced all bars and restaurants to close to dine-in customers.
When the pandemic took hold, she left Chicago and went to stay with her father and his fiance in St. Charles for a couple weeks. Alexa Baute's mother, Patricia, lives in Roselle.
"I called her and I'm like, 'Well, honey, you live in Chicago. We're dealing with a pandemic and we don't know what's going to happen,'" Jeffrey Baute said.
For those two weeks, the family enjoyed breakfasts together and played games together.
"We all had a really nice time," Jeffrey Baute said.
Alexa Baute eventually told her father she wanted to get back to the city she loved and figure out her unemployment benefits.
"She was like, 'Dad, I really need to go back to my apartment. No one's rioting. No one's looting. I'll come back whenever I feel comfortable. I'll make my way back. … A few days later, she's gone," Jeffrey Baute said.
'She was our world'
Jeffrey Baute said despite growing up in the western suburbs, his daughter loved Chicago and Logan Square specifically.
"She loved being down in that area. Even when she was younger, she wanted to go to Logan Square. I was like no, no this is dangerous. .. She loved that neighborhood. She felt like she was at home in that neighborhood, so to speak," he said.
She also loved the service industry and had dreams of opening her own bar or restaurant someday.
"She liked going out to different places and trying their drinks and trying their food to learn and understand. She just loved the whole Chicago scene. She really loved the city," her father said, adding that she was a "people person" who enjoyed being around "real people, people from all walks of life."
Now the people who loved Alexa Baute are fighting for justice and calling on the public to come forward with any information that could convict her killer.
Alexa Baute's friends are braving the pandemic and putting up reward fliers all over the neighborhood, Jeffrey Baute said.
"They're all broken. They're in shock. They can't believe it," he said.
Asked how he's coping with losing a daughter to gun violence in the middle of a pandemic, Jeffrey Baute said, "I'm trying to figure that out now."
He said a few months ago, after his ex-wife's mother died, Alexa Baute told her mother, "I wouldn't want a stuffy funeral. If something ever happened to me, I want a celebration. I want my friends to party," Jeffrey Baute recalled, holding back tears.
Because of the pandemic and social distancing guidelines, all gatherings, including funerals, are being postponed.
"Maybe this summer we'll be back to somewhat of a normal world and maybe we can do something then. … she was our world."
Block Club Chicago's coronavirus coverage is free for all readers. Block Club is an independent, 501(c)(3), journalist-run newsroom.
Subscribe to Block Club Chicago. Every dime we make funds reporting from Chicago's neighborhoods.
Already subscribe? Click here to support Block Club with a tax-deductible donation.