WEST RIDGE — West Ridge has the highest number of confirmed COVID-19 cases of any neighborhood in the city — a fact that must be taken as a "call to action," the neighborhood's alderman said.
The 60645 ZIP code, which comprises much of West Ridge, has 225 confirmed cases of COVID-19, according to data from the Illinois Department of Public Health. The 60659 ZIP code, which makes up the southern end of West Ridge and parts of North Park, has 109 confirmed cases, making it another hotbed of the coronavirus outbreak in Chicago.
The ZIP code with the second-highest number of confirmed coronavirus cases is Auburn Gresham's 60620, which has 216 cases as of Monday, according to the state health agency.
"We must take this as a call to action," West Ridge Ald. Debra Silverstein (50th) said in an email to constituents. "The safety of our neighborhood depends on us all heeding the advice of public health officials and staying at home!"
West Ridge's number of confirmed COVID-19 cases highlights a disturbing trend in the local coronavirus outbreak: communities of color are seeing more confirmed cases of the virus.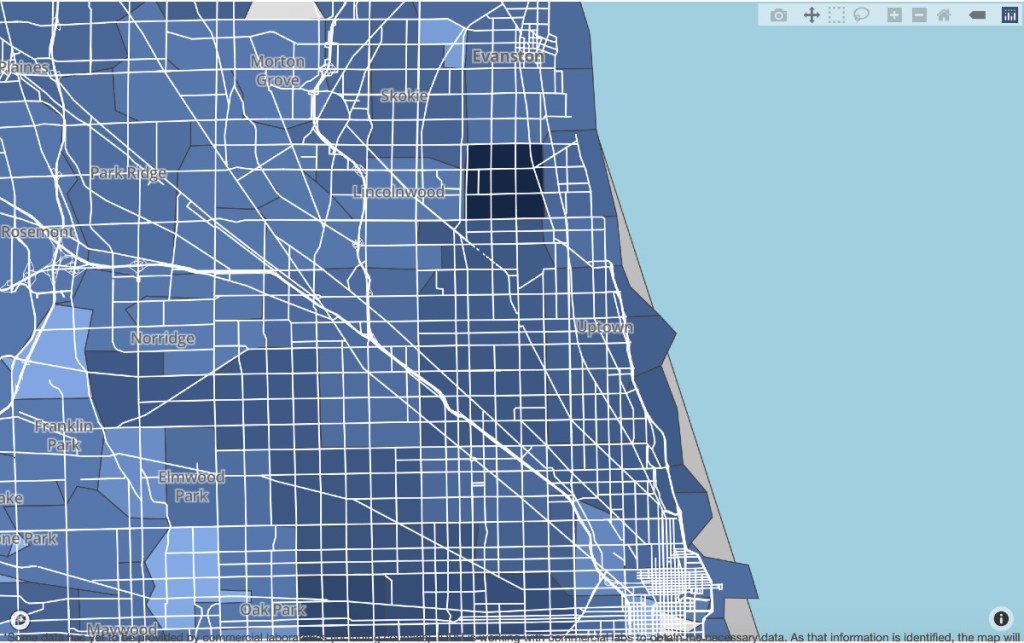 Of the Chicago coronavirus cases where race/ethnicity information is known, 52 percent of COVID-19 diagnoses have been in Black Chicagoans, said Dr. Allison Arwady, head of the Chicago Department of Public Health. Strikingly, 72 percent of deaths in the city due to coronavirus have been of Black Chicagoans. About 30 percent of people in Chicago are Black.
Efforts to mitigate the virus' spread — including promoting social distancing — have been stymied in some neighborhoods where language and social inequity barriers exist, Mayor Lori Lightfoot said at a press conference Monday. Lightfoot announced a Racial Equity Rapid Response Team to help combat the virus' spread in diverse communities.
"We're in this crisis together — but we are not experiencing this in the same way," Lightfoot said. "The distribution of this disease tells a story about resources and inequality."
West Ridge was named the most diverse neighborhood in Chicago in city data aggregator Niche's 2020 Most Diverse Places list. The neighborhood is home to a large immigrant and refugee population.
West Ridge also has one of the higher COVID-19 test rates of any neighborhood in the city. The 60645 ZIP code has tested 1,043-1,646 people per 100,000 residents, according to data from the city.
Only two other ZIP codes in the city had a similar rate of testing: the Loop's 60602 and the West Loop's 60661. In those affluent neighborhoods, however, the number of confirmed cases is only a fraction of West Ridge's. The 60661 has 14 cases, according to the state. The state health agency did not provide confirmed cases for 60602 ZIP code.
Not all diverse Chicago neighborhoods have the same number of confirmed coronavirus cases as West Ridge. In neighboring Rogers Park, the 60626 ZIP code has 73 confirmed cases.
Efforts to mitigate the spread of the coronavirus have hit West Ridge's Devon Avenue hard, but a new effort to help area first responders is also giving local restaurants a boost. Silverstein and a group of businesses in the area are partnering to buy meals from local restaurants to donate to local police officers, firefighters and hospital workers.
Block Club Chicago's coronavirus coverage is free for all readers. Block Club is an independent, 501(c)(3), journalist-run newsroom.
Subscribe to Block Club Chicago. Every dime we make funds reporting from Chicago's neighborhoods.
Already subscribe? Click here to support Block Club with a tax-deductible donation.