HYDE PARK — Tenants with Mac Properties rallied Sunday afternoon to demand the cancellation of rent due to the coronavirus pandemic, a move the major Hyde Park landlord has been unwilling to make.
A few dozen tenants and supporters came out to Sunday's rally. Organizers distributed masks and gloves, and rally participants walked from Nichols Park to the Mac Properties office at 1364 E. 53rd St. in lines separated by six feet of string.
Mac Tenants United, the organization behind the rent strike, also issued a demand letter Sunday. Organizers said their attempts to negotiate with the property owner have been unsuccessful.
"The power to protect against eviction and to prevent the levying of late fees comes from our collective bargaining power," organizer Zak Witus said. "Mac has been stonewalling Tenants United. It's been a total rejection of the principle of collective bargaining thus far."
Tenants participating in a rent strike will withhold payment Monday, the first day rent is considered late.
Mac is "not a mom-and-pop landlord" and can afford to forgive rent while still paying its employees, community organizer and Hyde Park native Dordie Hester said.
She said she "can no longer afford to live" in the neighborhood and now lives in Washington Park.
"I'm here in support of those people who've lost their jobs and can't afford to pay rent … like so many millions of Americans," Hester said. "The first month of the pandemic, [Mac is] already asking people to move out. I'm livid about that."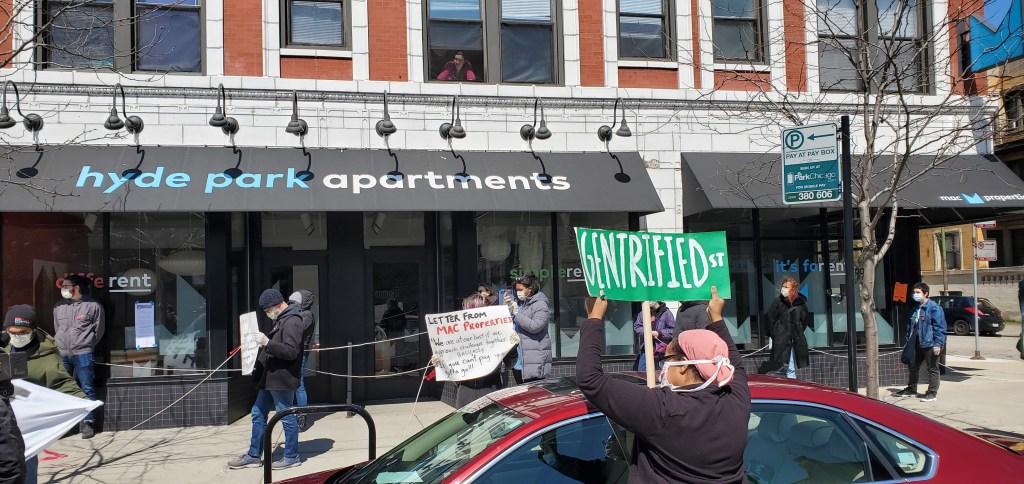 Author Mikki Kendall is a former Mac tenant who walked past the rally and decided to join in support. She used to live in Regents Park, 5035 S. East End Ave., which she said was "the worst-run building I've ever rented from."
"For $2,300 a month almost, I might as well have lived in the projects — in the old days, right before they shut them down," Kendall said.
Kendall said she still lives in Hyde Park and now pays $1,000 less for her rental home than she did with Mac for a similar apartment. She said her small-time landlord is able to offer grace to his tenants and questioned why Mac, "a big, major, professional company," can't do the same.
"I'm not necessarily anti-the concept of a property owner, I'm just currently of the belief that the small property owner that owns two apartments and is gonna work a deal with you is the only answer," Kendall said.
When asked last week if total rent forgiveness would be granted on a case-by-case basis, a Mac spokesperson would not answer the question. 
"I believe when we get to the end of this [pandemic], there will be instances of people paying less" than their full lease agreement, director of community development Peter Cassel said.
Several Chicago Police and University of Chicago squad cars attempted to break up the rally around 2 p.m., flashing their lights and blaring sirens. Protesters dispersed shortly after police arrived.
Beyond organizing tenants, Mac Tenants United is also working to "build relationships" with Mac employees, as "we see our interests as aligned," Witus said.
Mac's letter last week asked tenants to continue payment and "keep in mind" the 250-plus employees who work for the company, as they "have families to feed, and rent or mortgages to pay, and parents and children to care for."
"We totally reject Mac's premise that our payment of rent is the condition for these low-wage workers getting paid," Witus said. "We refuse to be pitted against them."
Block Club Chicago's coronavirus coverage is free for all readers. Block Club is an independent, 501(c)(3), journalist-run newsroom.
Subscribe to Block Club Chicago. Every dime we make funds reporting from Chicago's neighborhoods.
Already subscribe? Click here to support Block Club with a tax-deductible donation.