Editor's Note: Due to the demand for protective face masks — and the scarcity of materials needed to make them — Chicago Upholstery And Draper Co. can no longer offer free masks. First responders and elderly neighbors can get masks at a reduced cost of $4. Read more below on how to obtain masks.
ROGERS PARK — To help stop the spread of the coronavirus, Dale Forbes closed The Chicago Upholstery and Drapery Co. in late March. But it didn't take Forbes long to figure out how his Rogers Park business can be of service during this time.
After closing on a Thursday, Forbes reopened the upholstery business at 7101 N. Ridge Blvd. the following Monday and began making hospital-grade face masks and gowns. Using the skills and equipment needed to re-upholster furniture, Forbes said making protective medical gear could help the community while keeping his employees on the job.
"We have the equipment and we have the employees," said Forbes, whose owners Chicago Upholstery and Drapery Co. for 20 years. "We thought if we get this up and running, we could provide a need and bring our employees back."
As the coronavirus spreads in Chicago and throughout the country, hospitals and medical workers are in dire need of personal protective equipment. And with the Center for Disease Control now recommending that citizens wear face masks in public, demand for such products is skyrocketing in the country.
Chicago Upholstery and Drapery Co. has designed washable face masks, disposable face masks and disposable gowns and has the ability to make 500 products a day.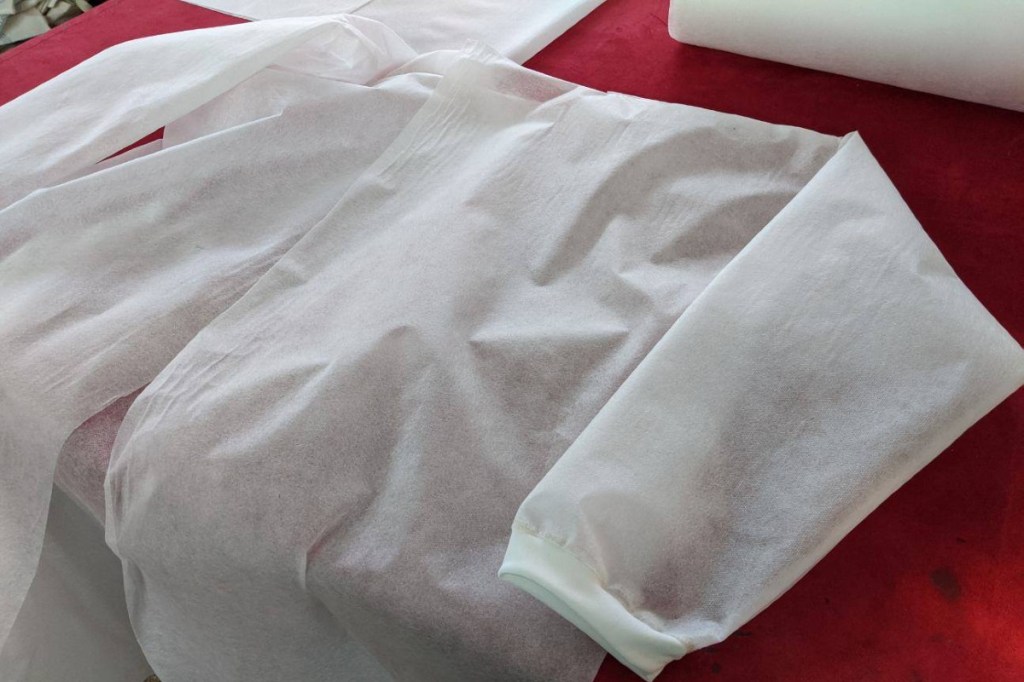 The protective gear is available for Rogers Park area health care workers and first responders, but Forbes is actually marketing his materials to major hospitals and health care facilities. An Arizona hospital has ordered 2,000 masks, he said, and the business has worked with buyers in North Dakota, New York and Florida, he said.
RELATED: Rogers Park's Le Piano, Shuttered Due To Coronavirus, Is Making Face Masks For Local Grocery Stores
Switching to protective gear production has allowed the upholstery business to remain open in a time when small businesses are experiencing tremendous difficulty, but Forbes said he isn't looking to get rich off the scheme.
Profits from the mask and gowns sales are being re-invested to buy the materials and bring on more of the store's staff. Forbes and his business partner are not taking salaries in April, and the business has a list of 20 individuals and groups who they are making masks for, free of charge.
Chicago Upholstery and Draper Co's regular mail person is even helping out, by offering to deliver masks to neighborhood elderly residents who are self-quarantining through the outbreak, Forbes said.
"Especially in Rogers Park, a lot of businesses are closing," Forbes said. "Trying to maintain the business and be of service, that's important."
The shop's immediate focus is on producing non-sterile disposable surgical masks and disposable SMS isolation gowns by request. They are woven spunbond polypropylene materials offering Level 2 protection.
The shop will also offer non-sterile washable masks and disposable SMS isolation gowns that are non-woven spunbond polypropylene.
To receive masks: Those looking to purchase masks/gowns or inquire about mask donations can reach the Chicago Upholstery and Drapery Co. at 773-663-3261 or by email at chicagomedicalwear@gmail.company.com.
Block Club Chicago's coronavirus coverage is free for all readers. Block Club is an independent, 501(c)(3), journalist-run newsroom.
Subscribe to Block Club Chicago. Every dime we make funds reporting from Chicago's neighborhoods.
Already subscribe? Click here to support Block Club with a tax-deductible donation.