WICKER PARK — The Wicker Park woman who attempted to set the Guinness Book of World Record for 100 hours of consecutive hula hooping last year finally learned her attempt was successful.
Jenny Doan, a 29-year-old analyst at Uber Freight, hooped consecutively for 100 hours at District Brew Yards, 417 N. Ashland Ave., in November.
In December, Doan was told Guinness would need time to review her attempt, which included a hoop drop at the 58-hour mark. The previous world record of 74 hours, 54 minutes was set in 2009 in Ohio by Aaron Hibbs.
Months later, Guinness finally made the news official that yes, Doan successfully broke the record.
"It just put a smile on my face," Doan said. "[Training] was pretty tortuous at some points … moments where there's no fun and there's no glory. But there was always the belief that it would pay off on the day."
RELATED: Wicker Park Woman Attempts To Hula Hoop For 100 Hours To Break World Record While Raising $10,000 For Mental Health
During her hoopathon, Doan attempted to raise $10,000 for Mental Health America, an organization that is close to her heart. 
As of Friday, she's raised just shy of $5,000. Because the campaign is a year long, she hopes to raise the remainder before November. You can chip in here.
Doan's hooping hobby began in 2012 in her native country of Australia. She moved to Chicago in 2019 and decided that would be the year she would attempt to break Hibbs' record.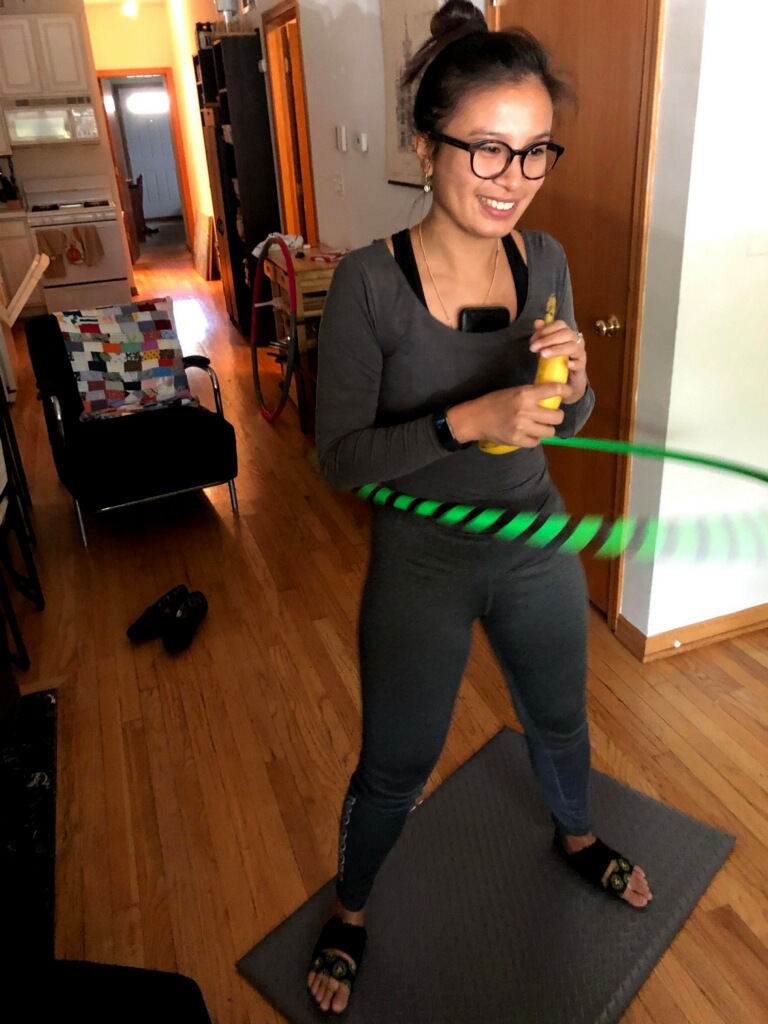 In August she began an intense 16-week hula hooping training program, in which she took a marathoner's training schedule and converted miles running to hours hooping.
District Brew Yards offered itself as a venue for Doan's hooping conquest. She staffed time keepers who volunteered to watch Doan hoop around the clock.
Within an arm's reach, Doan had access to a sleeping bag, snacks and an Xbox controller to use to watch Netflix on a flat screen. As Chicago slept, she Facetimed pals in Australia. 
She also brought to District Brew Yards a stuffed banana, wrapped in a bright blue patterned pillowcase. The pillowcase was a gift from her older sister, who died at the age of 15 when Doan was 12. 
After her sister's death, Doan said she received professional help for her mental health. These resources are easily accessibly in Australia, she said.
When she moved to America, Doan said she felt Americans were less able or less likely to seek mental health services. That was a big reason why she hoped people would be inspired by her hula hooping and donate to Mental Health America. 
This week, upon reflecting on her 100-hour hooping bonanza, Doan said she hoped people would take time during Gov. JB Pritzker's stay at home order to try new hobbies and to share their interests with others via social media.
"That's what keeps us going," she said. "It would be kind of nice to see more of that … what people are up to and what interests them, the things that keep them entertained and excited. … A big part of me starting the whole thing was putting myself out there to do something different."
How is Doan occupying her time indoors?
She's training to set two other world records, one for hula hooping upside down and another hula hooping while climbing stairs. Follow her progress on Instagram.
Do stories like this matter to you? Subscribe to Block Club Chicago. Every dime we make funds reporting from Chicago's neighborhoods.
Already subscribe? Click here to support Block Club with a tax-deductible donation.