CHICAGO — More than 1,100 health care workers have applied for licenses in Illinois, hoping to join the state's fight against coronavirus, Gov. JB Pritzker announced Wednesday.
Pritzker, Mayor Lori Lightfoot and other officials have pleaded for anyone with any type of health care experience to volunteer in Illinois. There are not enough health care workers to deal with the onslaught of patients expected to come as coronavirus spreads in Illinois, Pritzker said Wednesday.
So far, there have been 6,980 confirmed cases of coronavirus in Illinois, with 3,123 of those in Chicago, and 141 people have died.
RELATED: Got Any Health Care Experience? The City Wants You To Help Battle Coronavirus — Now
Those who have applied for licenses are a mix of former health care workers and current medical professionals who live along Illinois' borders and practice out of state, Pritzker said. Once they've received their licenses from the state, they'll be able to help battle coronavirus in Illinois through volunteer work or employment opportunities.
"It's really incredible to watch" people apply, Pritzker said. "The people of this state are truly so deeply, genuinely caring."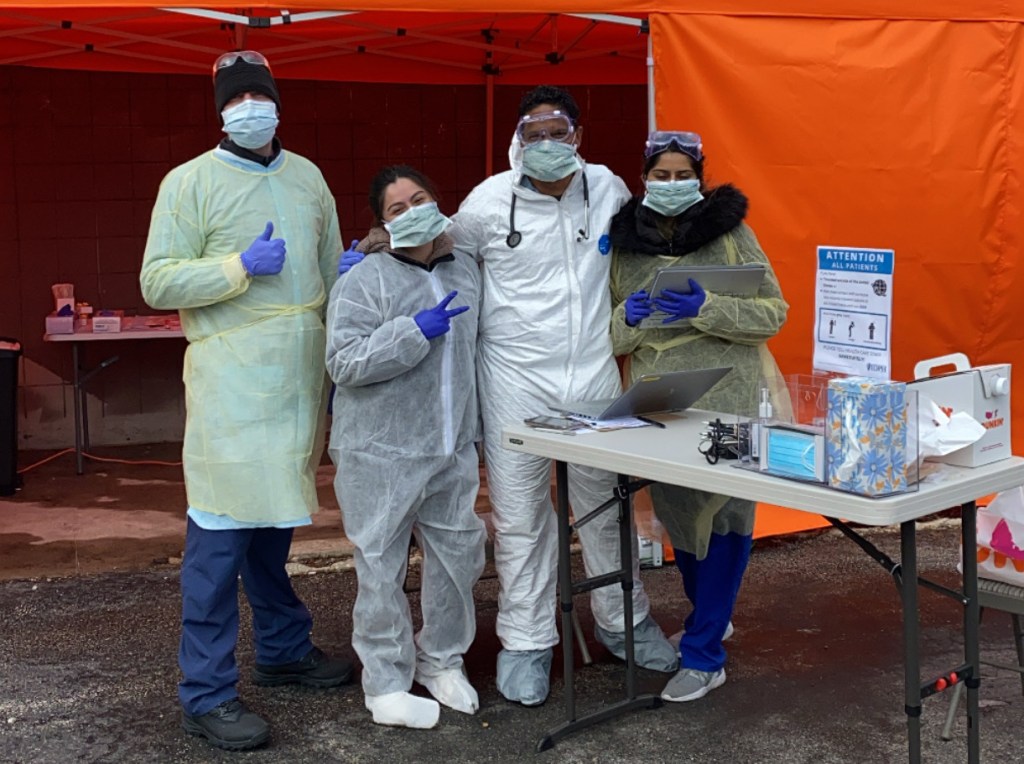 Medical workers who are already licensed in Illinois can sign up to volunteer through Illinois Helps.
Those who volunteer might help treat COVID-19 patients, do tele-health, plan or organize, among other things.
Anyone with medical experience — including nurses, podiatrists and physicians assistants — is being asked to volunteer. The state is also exploring allowing nurses at the end of their programs and fourth-year medical students to join up, too, Pritzker said Wednesday.
Everyone will have a role to play as Illinois nears its expected peak in cases, which is predicted to come in mid- to late April, officials have said. As of now, the state does not have the hospital capacity and workforce to deal with the large amount of patients who will need care during the peak.
Those without health care experience can find ways to volunteer through their local community or can donate any medical supplies they have, like masks and gloves, to help protect health care workers, Pritzker has said.
Lightfoot will have a call with reporters at 1 p.m. and Pritzker will have his coronavirus briefing at 2:30 p.m.
Coronavirus Cases
• There have been 6,980 confirmed cases of coronavirus in Illinois as of Tuesday afternoon. Some of those patients have recovered since testing positive.
• There have been 3,123 confirmed cases of COVID-19 in Chicago.
• A city employee with the virus died, one of the 141 people who have died of coronavirus in Illinois.
If You Need Help
• Sick? Broke? Want To Help? Here's A Massive List Of Coronavirus Resources In Chicago
What's Happening In Chicago
• Clearing the Parks: Some Chicagoans have gone around or even taken down police tape meant to close off lakefront parks after Mayor Lori Lightfoot closed them last week.
Police kicked them out Wednesday.
• CPS: The district will continue giving away free meals, even during what would have been spring break. But some of the giveaway sites are being consolidated.
Students across the state are likely sad to be missing events like prom — or even just hanging out with friends in hallways, Pritzker said, and that's OK. He encouraged students to feel their emotions — but then find ways to help amid the pandemic.
CPS is sending out 100,000 laptops and tablets to students so they can learn at home, with remote learning set to begin April 13. It could also be a sign schools will stay closed longer than first announced.
• Artists: The city and state have teamed up to create a $4 million relief fund for all types of artists who have been impacted by COVID-19.
• Stay at Home: The state's stay at home order has been extended through April 30. The order means non-essential businesses are shut down (here's what remains open) and people are urged to stay home and practice social distancing as much as possible.
Police are issuing citations and fining people up to $500 if they don't follow the state's stay at home order. Those who don't listen to warnings and citations could get arrested.
Chicagoans who have tested positive for coronavirus, or even those who simply have symptoms of coronavirus, are being ordered to stay home or risk up to $500 fines.
• Online Aldermen: The city's aldermen are using social media to keep up with residents during the outbreak.
• First Responders: The city is offering hotel rooms to first responders so they can safely isolate from their families amid the pandemic. At least 50 members of the Chicago Police Department have tested positive for the virus so far, and hundreds are calling in sick.
• Rent and Mortgages: Renters throughout the city are asking for help and threatening rent strikes — but a rent freeze is not coming.
The city will give $1,000 grants to 2,000 Chicagoans to help with rent relief. You can apply online.
State officials have also contacted major mortgage lenders, like Fannie Mae and Freddie Mac, to ask them to offer multi-month forbearance to Illinoisans.
Pritzker has halted evictions throughout the state during the crisis.
• Construction: Though New York City has called off construction, it continues throughout Illinois.
• McCormick Place: The convention center is being turned into a hospital for coronavirus patients. About 500 beds are being delivered there this week, and there will be 3,000 hospital beds at McCormick Place by the end of the month.
• Hospital Supplies: Officials are still trying to acquire more personal protective equipment, ventilators and other supplies they'll need to fight coronavirus. Chicagoans are finding creative ways to get supplies to hospital workers, too.
• Small Businesses: Illinois has created a grant program that will divide $14 million among hotels, bars and restaurants hit hard by the coronavirus. The businesses can use the money for payroll, rent and other things.
• Taxes: Pritzker moved back the state's tax filing deadline to July 15, matching the federal deadline.
• United Center: The home of the Bulls and Blackhawks is becoming a medical supply and food distribution hub to help with relief efforts.
• Bills and Tickets: Lightfoot said the city would stop booting cars and collecting debt until at least April 30 — but parking tickets from a private company, Chicago Parking Meters LLC, are continuing.
A city program that promised to cut utility bills for low-income residents and families by up to 50 percent and to have past-due balances forgiven has been put on hold.
• National Guard: The Illinois National Guard has been activated, but its troops are working on things like distributing supplies and giving coronavirus tests. Adjutant Gen. Richard Neely tried to dispel rumors about the National Guard's work.
• Health Care Workers: Doctors, nurses and other health care workers who recently retired or left the profession are being urged to rejoin so they can help in the fight against coronavirus.
Information about "re-enlisting" is available online.
• Protective Equipment: The state needs personal protective equipment for health care workers so they can stay healthy while treating COVID-19 patients. N95 masks, gloves, gowns and other items will be "essential," Pritkzer said.
Businesses and organizations are being urged to donate their supplies to local hospitals. Those interested in donating items can email PPE.donations@illinois.gov.
• Volunteering: Those interested in helping people impacted by COVID-19 can look up community service opportunities on the state's Serve Illinois site. Pritzker also urged people to go online and look for opportunities to donate or volunteer in their communities.
Symptoms
Coronavirus can be deadly, but the vast majority of cases have been mild. Those most at risk from the virus are people who are elderly or who have underlying health conditions.
Symptoms of coronavirus can appear two to 14 days after a person has been exposed to the virus, according to the Centers for Disease Control. People with no symptoms may have the virus and spread it to others.
The virus spreads between people through coughing and sneezing, according to the Illinois Department of Public Health.
The most common symptoms:
Fever
Cough
Shortness of breath
People have also experienced body aches, nasal congestion, runny nose and sore throat, according to Harvard Medical School.
If you or someone else has difficulty breathing, persistent pain or pressure in the chest, become confused, cannot be roused or develop a bluish face or lips, get immediate medical attention, according to the CDC.
How To Protect Yourself
The CDC only recommends those are already sick wear facemasks because they help you avoid spreading the virus.
Here's what you can actually do to prevent getting ill:
The CDC and other officials have said people should wash their hands often, including before, during and after eating; after using the bathroom; and after blowing your nose, coughing or sneezing.
The CDC has a guide here for how to properly wash your hands. Remember: Wash with soap and water, scrubbing your hands for at least 20 seconds.
If you can't wash your hands with soap and water, you can use an alcohol-based hand sanitizer, according to the Illinois Department of Public Health.
Avoid touching your face, especially your eyes, nose and mouth, with unwashed hands.
Clean and disinfect objects and surfaces you touch frequently, like cellphones and light switches. Here are tips from the CDC.
Stay home when you're sick and avoid close contact with people who are sick.
If you have to sneeze or cough with a tissue, throw it out immediately after using it, according to the CDC.
What To Do If You Think You're Sick
Even if you're not showing symptoms, the Chicago Department of Public Health recommends people coming from high-risk countries (here's a CDC list) self-quarantine for 14 days after returning home.
If you do have symptoms of coronavirus, contact your primary doctor or a health care facility before going in. Explain your symptoms and tell them if you've come into close contact with anyone with coronavirus or traveled to an area where COVID-19 is widespread (here's a CDC list) within the last 14 days, according to the Illinois Department of Public Health.
From there, the experts will work with your local health department to determine what to do and if you need to be tested for coronavirus, according to the Illinois Department of Public Health.
And, of course, if you think you're sick with coronavirus, don't risk exposing other people to the virus. Anyone who feels unwell has been ordered to stay home or risk getting a $500 fine.
Those with questions and concerns about coronavirus can call the Illinois Department of Public Health at 800-889-3931.
Block Club Chicago's coronavirus coverage is free for all readers. Block Club is an independent, 501(c)(3), journalist-run newsroom.
Subscribe to Block Club Chicago. Every dime we make funds reporting from Chicago's neighborhoods.
Already subscribe? Click here to support Block Club with a tax-deductible donation.