SOUTH LOOP — Chicagoans posting up on balconies and in high-rise windows for nightly singalongs as the city remains in coronavirus seclusion got a special message from legendary Queen guitarist Brian May Friday night.
Inspired by Italians singing from their balconies united against COVID-19, promptly at 8, the neighbors play music, flash lights and sing to show support for first responders and medical workers. Friday night's uplifting medley included the National Anthem, Queen's "We Will Rock You" and "We Are The Champions," and John Lennon's "Imagine."
The foggy rain and howling wind didn't damper the night's celebration, as neighbors put on a twinkling light show from their apartments and condos, filling the night sky with beams of hope as songs were sung. Lights from the Willis Tower and John Hancock Building, shone in unison, donning patriotic colors of red, white and blue.
Some whistled, and many cheered and sang as the songs went on.
Just as Jon Bon Jovi shared a special message ahead of last week's singalong, Queen's very own May spoke to Chicago in a video.
"Hello beautiful people of Chicago! Sing, dance, be merry. Great choice of music, by the way. We can do this, you know," May said. "I'm speaking to you from England, little old England, where we have the same stuff and we are under the same lockdown. Take care, guys. We will get through. And we will see you soon I hope. God bless you all. Rock."
RELATED: Chicago Singalong Of 'Livin' On A Prayer' Unites Thousands In COVID-19 Seclusion — Including Jon Bon Jovi
Neighbors, spurred by the Hello South Loop Facebook page, started the tradition a few nights ago. Since then, it has since become a full-fledged ritual. Called Solidarity at 8, the shows start each night at 8 p.m. Friday night's singalong was co-hosted by 97.1FM The Drive.
RELATED: Chicago Neighbors In Coronavirus Seclusion Lift Spirits With Nightly Singalongs, Breathtaking Light Shows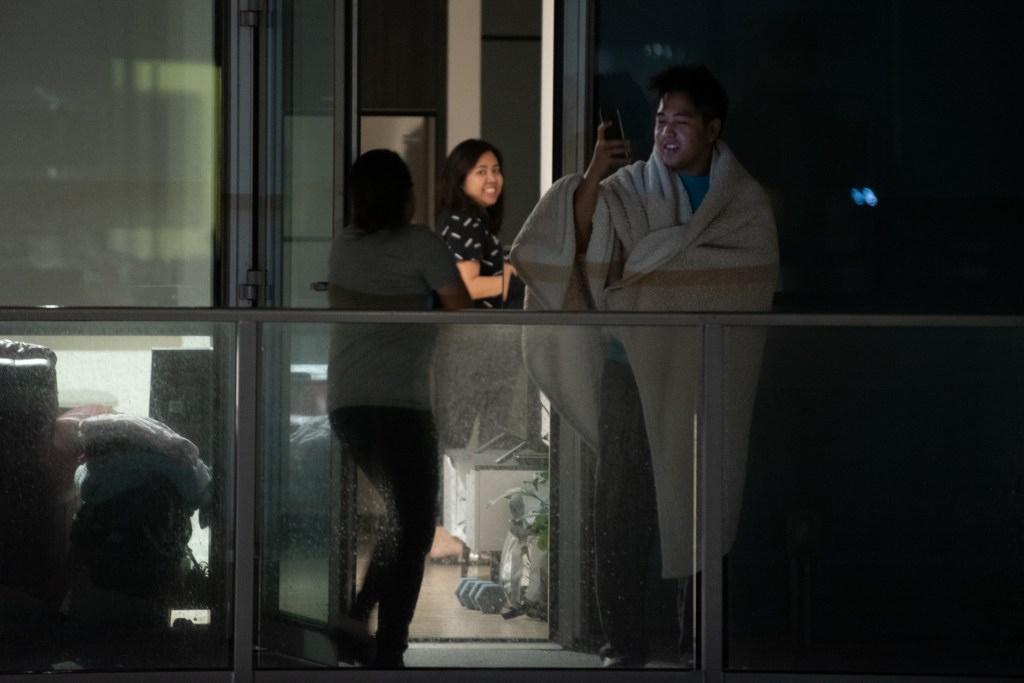 Laarni Livings, a Hello South Loop moderator, said more and more neighbors have joined in on the singalongs ever night.
"We're getting a lot of health care workers saying it's such a nice thing to do when they get home from work and they look forward to it," Livings said.
Because they are stuck at home, neighbors find creative ways to stage the light shows, by flashing the lights inside their units, waving their bright cellphones and spelling out messages in leftover holiday lights from their windows in the sky. The word hope and a heart were spelled out in lights Friday night.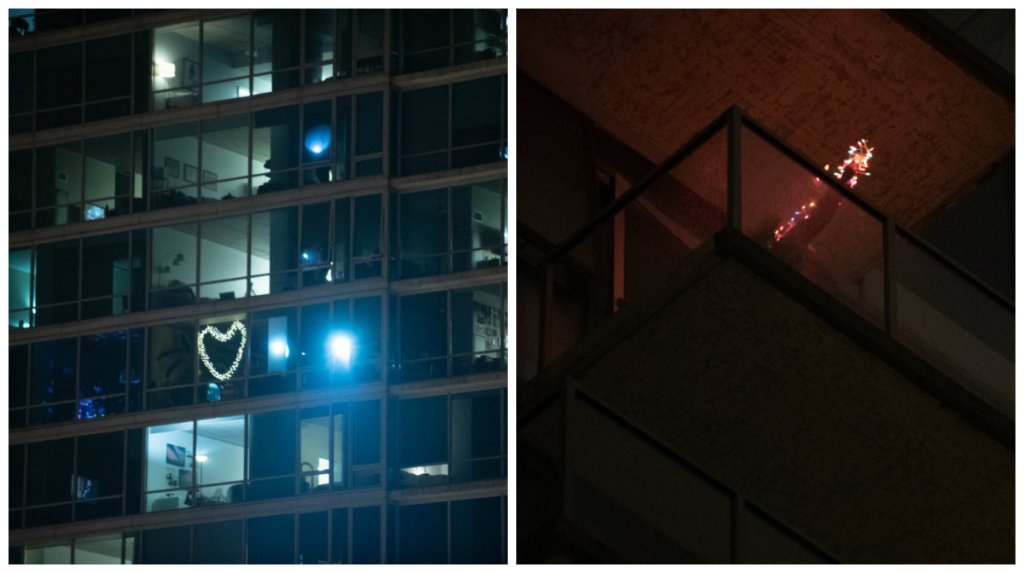 Laura Cooney's family used the steam coming off their rooftop to mimic the smoke at a rock concert as they sang along.
"We're trying to up our production value," said Cooney, who sings with her husband and two children. So far they've used an electronic disco ball, an amp and microphone, a trumpet and a drum set in their homemade performances.
For Chicagoans stuck at home under a stay at home order as coronavirus continues to spread, the singalong is "such a highlight of the day. It's really something to look forward to," Cooney said.
Past performances have included Bill Wither's "Lean on Me," and the Village People's "YMCA." The songs are chosen by a poll on Hello South Loop's Facebook page each night.
Wednesday night's singalong, to the tune of Gloria Gaynor's "I Will Survive," moved South Loop resident Joanna Klonsky to tears.
"I stood on my balcony and cried," Klonsky said. "While we have to stay physically distant from each other right now to keep each other safe and to keep ourselves safe, we are all trying to find ways to feel connected and inspired."
People are physically disconnected right now, South Loop resident Matt Ragas said, but something as simple as a song is unifying us.
"There's something to be said for just getting out on your balcony and seeing other people from a distance who are all coming together for the same thing," he said.
This daily South Loop singalong also coincides with the now weekly singalong founded by two Rogers Park residents. At 7 p.m. Saturday, neighbors will sing "ABC" by The Jackson 5. South Loop neighbors will host an encore performance at 8 p.m. Saturday, when it is dark enough to do the light show.
Check out more videos and photos of Friday night's singalong below: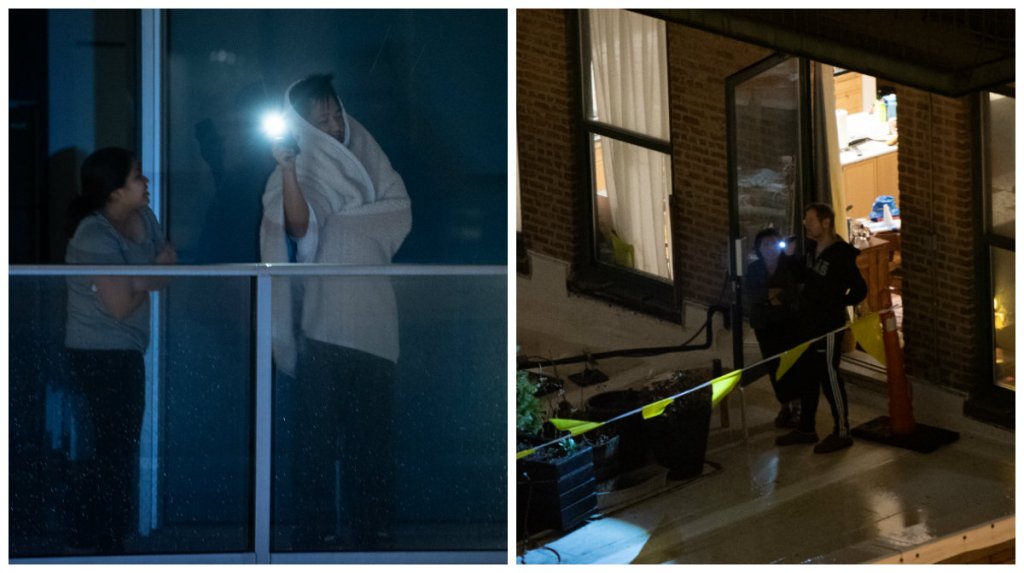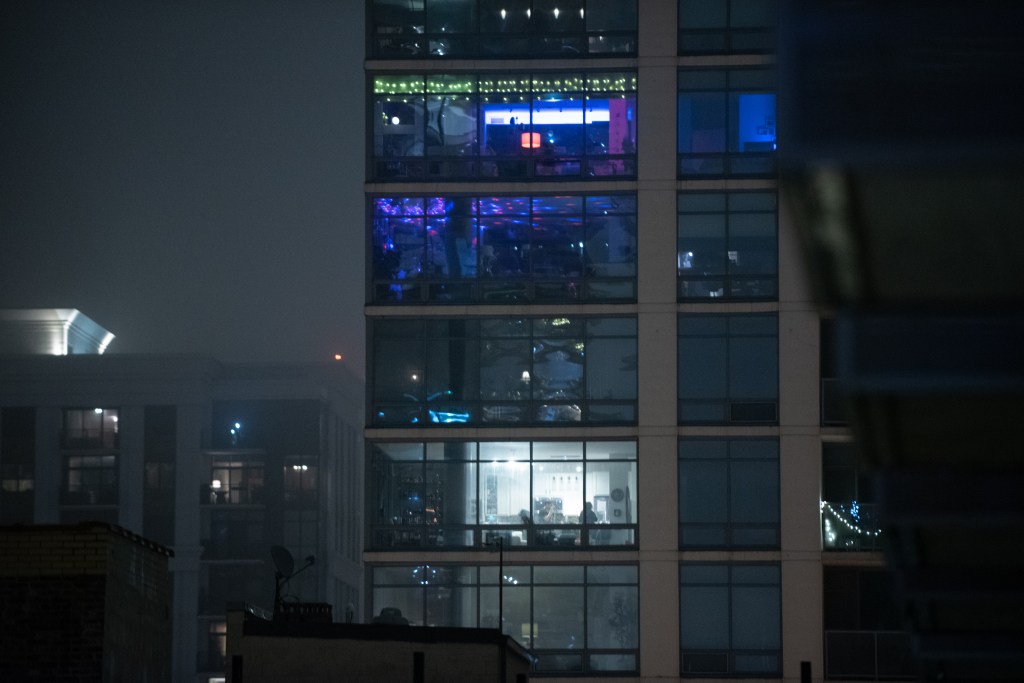 Reporter Mauricio Pena contributed to this report.
Block Club Chicago's coronavirus coverage is free for all readers. Block Club is an independent, 501(c)(3), journalist-run newsroom.
Subscribe to Block Club Chicago. Every dime we make funds reporting from Chicago's neighborhoods.
Already subscribe? Click here to support Block Club with a tax-deductible donation.