LOGAN SQUARE — Longstanding blues club Rosa's Lounge is keeping the music alive online during the coronavirus shutdown.
The team behind Rosa's Lounge, 3420 W. Armitage Ave., plans to launch the Live Music School on Sunday, a virtual initiative that will bring weekly music lessons and performances to students from the club's Facebook page. 
Tony Mangiullo, owner of Rosa's Lounge, enlisted musicians who play the club to bring the Live Music School to life, which aims to use music to stay connected, support artists and forget about the current troubles of the world.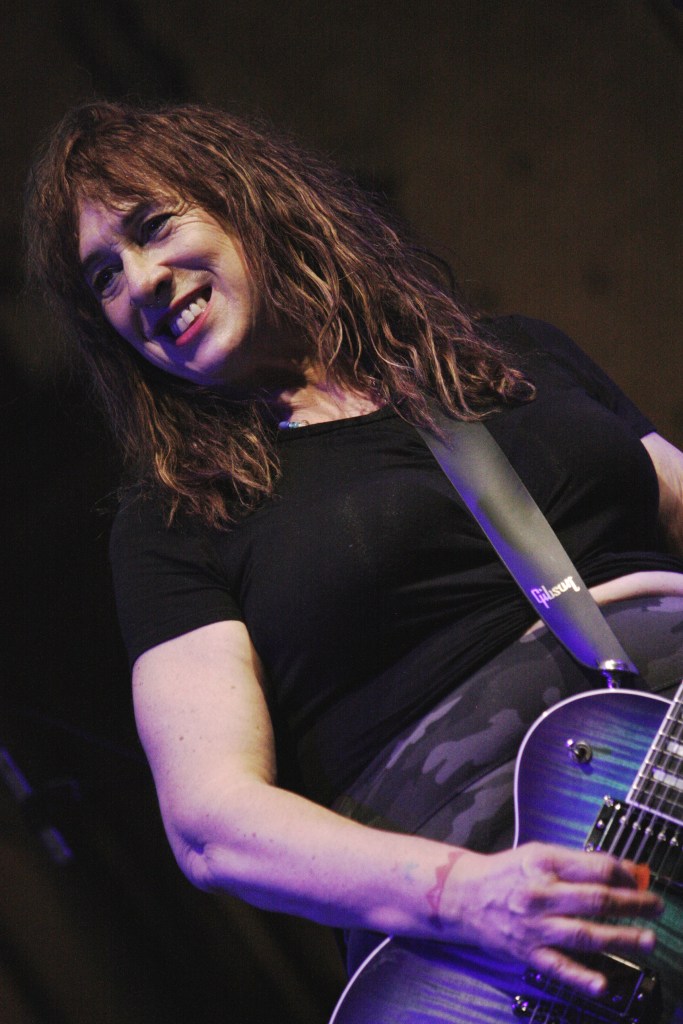 The virtual school is still in its early stages, but will include donation-based guitar lessons for kids and adults that range from beginner to more advanced levels taught by musician Joanna Connor.
"[We want] to be active and show effort in the meantime" that schools are closed, Mangiullo said. 
The Live Music School also gives musicians a chance to stay active.
"Everyone is scrambling to make money, especially people in my position," Connor said, who regularly plays at Kingston Mines, House of Blues and other Chicago venues. 
A full-time musician for 40 years, Connor relies on shows for income and has been badly hit by the venue closures. Also a music teacher, she decided to bring her skills to the screen and teach 20 to 30 minutes of guitar from her house in suburban LaGrange. She said while most of the lessons are geared toward students, anyone eager to learn or improve their guitar talent is welcome to tune in. 
"The idea [is to] keep the community engaged, keep the presence of [Rosa's Lounge] and musicians active," she said. 
Starting this Sunday at 11:30 a.m., Connor will teach a guitar lesson for kids until 12 p.m.; from 12:15 to 12:45, she will teach a beginner lesson for adults; from 1 p.m. to 1:30 p.m., she will teach a slide guitar seminar open to everyone. She'll then do a solo performance from 2 p.m. to 2:35 p.m. 
She plans to keep doing the lessons every Sunday until life goes back to normal and she starts playing regular shows again, though she is considering keeping the lessons going if there is enough interest. Although the livestreamed lessons are accessible to anyone, she hopes people will pay what they can to support her via PayPal. 
Mangiullo is worried about how long the shutdown of bars and clubs will last — and doesn't know how his club will make it until June if it lasts that long.
"We have been in business for 36 years, so it will be impossible to remotely think we will not be able to resurrect our business," he said. "But as much strength as we might have, eventually if you run out of money you don't have choices."
For now, he is choosing to use social media and efforts such as the livestreamed lessons to help Rosa's community stay afloat. He also set up a GoFundMe to support his employees and musicians, which has raised over $5,000 so far. 
"All of us are in such a strange new reality, it happened so suddenly," Connor said. "I think everybody needs something to occupy themselves with and to brighten up their day. Music is always a great healer and a great way to spend time, and [the virtual music school] helps the musicians. We have to make a living too so it's another way to benefit everybody."  
Block Club Chicago's coronavirus coverage is free for all readers. Block Club is an independent, 501(c)(3), journalist-run newsroom.
Subscribe to Block Club Chicago. Every dime we make funds reporting from Chicago's neighborhoods.
Already subscribe? Click here to support Block Club with a tax-deductible donation.