DOWNTOWN — The lakefront, the Riverwalk, The 606 and other popular public parks closed on Thursday to stop the spread of COVID-19, but that doesn't mean you can't go outside at all.
You just have to follow the rules.
"The problem isn't the activity, it's the congregation," Mayor Lori Lightfoot said Thursday.
So, what are the rules for heading outside during a pandemic? Here's what city officials had to say Thursday:
Go for a short walk or run, but maintain physical distance from others while doing so, preferably in your own neighborhood.
Walk your dog, but do not congregate at the dog park or beach.
Shop at grocery stores that remain open — unless you are sick — and practice social distancing.
Continue visiting the restaurants that remain open for pickup and delivery.
Just stay home as much as possible no matter what.
Juanita Irizarry, Friends of the Parks executive director, has been working to spread the word about proper park use in recent weeks. She suggested heading to a larger park and making sure there are no big crowds nearby before entering.
"Our own lives are at stake. While we do believe that the use of parks is important, the use of parks in a safe way at this time is extremely important," Irizarry said.
Friends of the Parks launched a social media campaign this week to encourage social distancing outdoors. Instead of heading to a park you know will be crowded, go to a lesser-known spot and share a photo by using the hashtags #HealthyParksHealthyChicago, #ParksAreOurFriends and #IsolationInspiration.
Other tips? Head out early — the streets and parks are less crowded between 6 and 9 a.m. than they are as the day progresses. If you have a backyard, bust out the grill or do an at-home workout outside. Bring your laptop to your porch or front stoop for some fresh air.
But the main rule? "You must stay at home. Period," Lightfoot said. Venturing out endangers others and could spread the virus, which has already infected nearly 1,000 Chicagoans.
Do not, under any circumstances, participate in contact sports, Lightfoot said. Doing so will result in a citation or potentially an arrest, Chicago Police Interim Supt. Charlie Beck said Thursday.
The police department gave 56 warnings to groups congregating and issued one citation (which led to an arrest) Wednesday, Beck said. Those warnings were issued to people playing soccer, basketball or gathering in large crowds.
"We will enforce this vigorously," Beck said. "We will do it to save your life. So please help us. I would love to say the next time we meet that we had total compliance and there were no citations or arrests, but I fear that won't be true. Please don't make one of those citations be yours."
The mayor's order bans lakefront access to all parkland in Chicago adjoining Lake Michigan, including walking, running and cycling paths, beaches and other recreational facilities.
The Chicago Park District is putting in place barricades and other security measures pursuant to the order, and you can see a full list of closures here.
"We had to take these drastic steps," Lightfoot said. "We've seen the numbers. We've seen the projections. This truly is about saving lives."
Gov. JB Pritzker said people who are continuing to gather during this pandemic are selfish. Throwing parties, playing contact sports or just going out for no reason is unacceptable, he said, adding that this virus "doesn't care if you're bored."
"If you do these things, you are spitting in the face of the doctors and nurses and first responders who are risking everything so that you can survive. We are quite literally in the middle of a battle to save your life."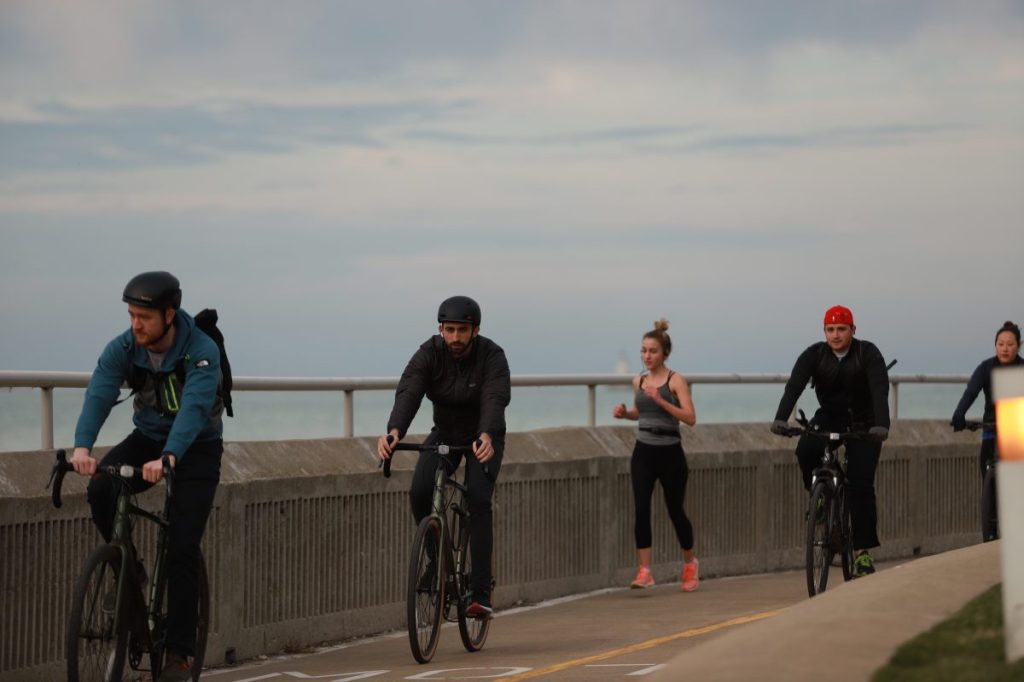 Block Club Chicago's coronavirus coverage is free for all readers. Block Club is an independent, 501(c)(3), journalist-run newsroom.
Subscribe to Block Club Chicago. Every dime we make funds reporting from Chicago's neighborhoods.
Already subscribe? Click here to support Block Club with a tax-deductible donation.