CHICAGO — Illinois saw a dramatic spike in the number of new cases of COVID-19 Thursday, with 673 cases diagnosed and seven more deaths in the last 24 hours.
There have now been 2,535 confirmed cases of COVID-19 in Illinois and 26 deaths, said Dr. Ngozi Ezike, the director of the Illinois Department of Public Health.
Cases have now been reported in 37 of Illinois' 102 counties, an increase of two since Wednesday.
Cases will continue to grow exponentially for some time, Ezike warned — but she said it's "good" they are "slightly under predictions" that were made at the start of the crisis.
"We know we're in a period of exponential growth, so we know the numbers are going to have these giant rises," Ezike said. "When we looked at our initial projections and forecasts, it did predict these large numbers. We're, fortunately, a little bit under" those projections.
And though individual hospitals, like Northwestern Hospital, are considering do not resuscitate orders for coronavirus patients, Ezike flatly rejected the notion there'd be a statewide DNR order in Illinois.
Meanwhile, Gov. JB Pritzker said the federal government approved his request for a federal major disaster declaration for Illinois. It will provide emergency funding to increase hospital capacity and resources to expand tele-health.
Pritzker and Ezike also stepped up their pleas people not to go outside unless the trip is essential.
"I'm begging you to think of your fellow man, woman and child," Ezike said. "The interconnectedness between all of us is so clear.
"I know that as the weather warms up, we are tempted to get together and socialize, but we need to look forward and work for the big picture. There's a lot at stake … . We have to reduce the number of deaths."
Pritzker particularly criticized Chicagoans who were seen flocking to the lakefront's beaches, trail and parks amid warm weather Wednesday. The large crowds by the lakefront led to the city shutting down the Lakefront Trail, lakefront-adjacent parks, the 606 and the Riverwalk on Thursday.
Officials sent a citywide emergency alert to cellphones Thursday afternoon, informing Chicagoans the trails and parks were closed until further notice.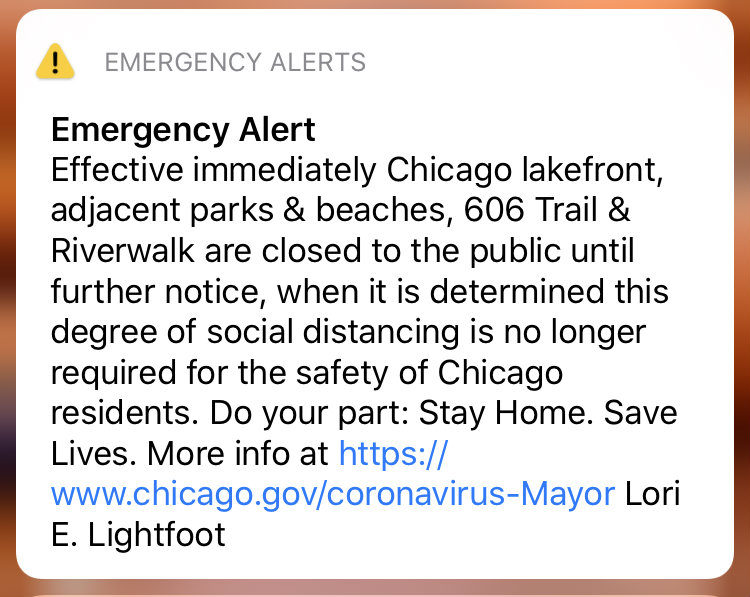 People congregating outside are "throwing all caution to the wind" and putting others at risk, Pritzker said.
If you are not social distancing, the governor said, "You are spitting in the face of the doctors and nurses and first responders who are risking everything so that you can survive. We are quite literally in the middle of a battle to save your life."
Pritzker reminded Illinoisans his stay at home order went into effect Saturday. The order shuts down "non-essential" businesses and urges people to stay at home as much as possible to prevent catching or spreading coronavirus.
People must enforce themselves and follow the order, he said.
"The virus could care less if you think I'm overreacting," he said. "It has infected infants. It has killed people in their 20s and 30s and 40s. It has forced doctors around the world to make terrible decisions about who will live and who will die."
Block Club Chicago's coronavirus coverage is free for all readers. Block Club is an independent, 501(c)(3), journalist-run newsroom.
Subscribe to Block Club Chicago. Every dime we make funds reporting from Chicago's neighborhoods.
Already subscribe? Click here to support Block Club with a tax-deductible donation.