ROGERS PARK — Le Piano is among many local businesses that have closed temporarily to help stop the spread of the coronavirus.
But while the Rogers Park jazz club is no longer open to the public, the inside of the business has been turned into a makeshift face mask production facility.
Le Piano, 6970 N. Glenwood Ave., has taken unused deli paper and other materials to create disposable protective face masks, which are now available at Rogers Park grocery stores.
After closing his business last week, Le Piano co-owner Chad Willetts said he began thinking of ways to provide a benefit to the community while earning some money for his out-of-work employees and artists. He then got the idea to produce protective face masks for local stores, using materials found around the club.
Since Saturday, about 1,200 face masks have been sent to three Rogers Park grocers. Willetts is seeking donations to help offset the cost of the masks and pay his employees and artists during this down time.
"The effort to sequester the virus is kind of undone when you go to the store," Willetts said. "We had thousands of sheets of deli paper. We came up with a prototype and got to work."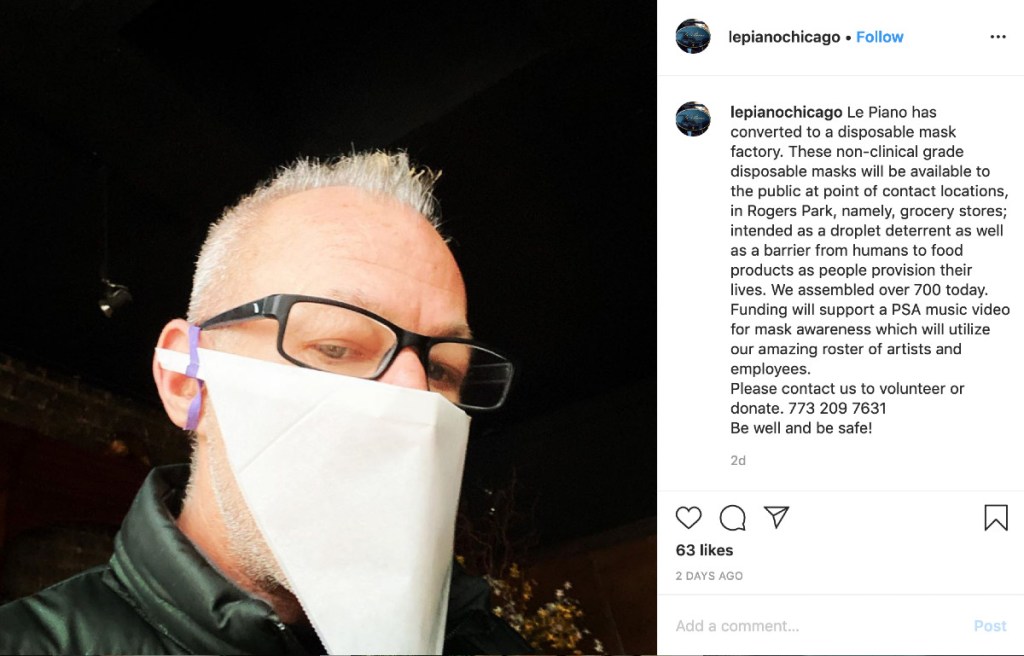 As the coronvirus sweeps across Chicago and the rest of the country, medical facilities are in critical need of protective equipment like face masks and gloves. The shortage has thrust private companies into mask and other medical equipment production.
Le Piano's masks are not medical grade. Instead, the masks are an effort to make grocery shopping in Rogers Park more sanitary, helping to prevent shoppers from getting "respiratory droplets" on food items and unintentionally passing on the virus, Willetts said. The masks are made of sheets of folded deli paper, rubber bands and staples.
A 2013 Cambridge University study shows that homemade protective masks vary in effectiveness, depending on the materials used. Homemade masks are considered better than no mask, according to the study.
"It could save a life," Willetts said.
The masks are available at Morse Market, Devon Market and Rogers Park Fruit Market, Willetts said. A photo taken at Devon Market showed only a few masks hanging from the display, indicating that they are being used by customers.
"I appreciate the effort," one Devon Market shopper said.
Willetts will continue making the masks indefinitely, he said. In the meantime, he is asking neighbors to help support the effort with donations. Those interested in donating can reach the business at 773-209-7631 or by emailing cwwilletts@aol.com.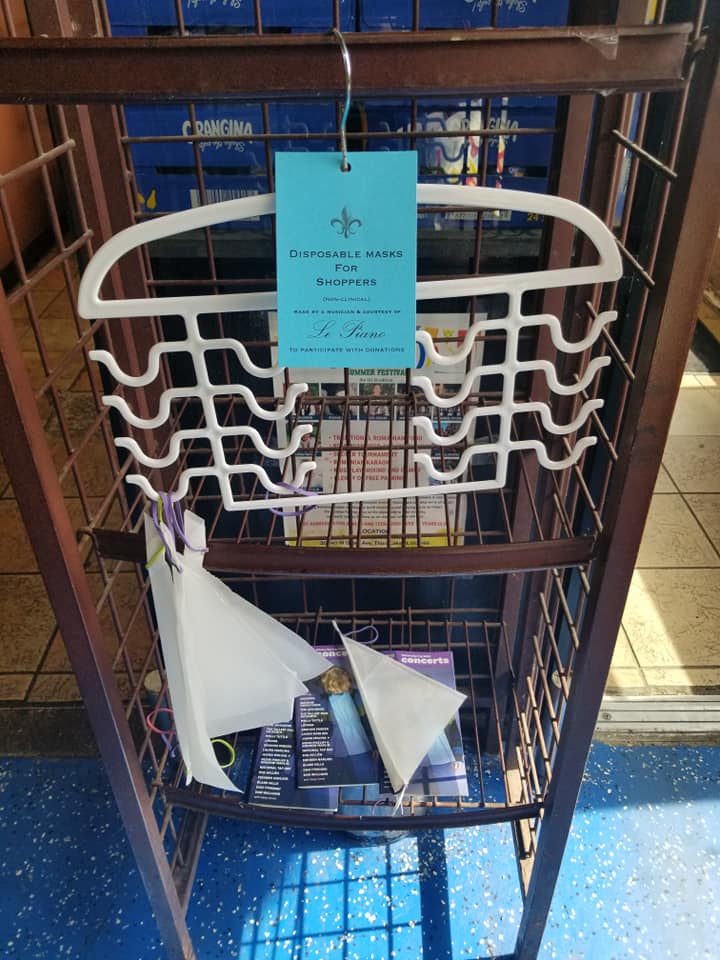 Le Piano opened in late 2018, offering a cozy bar, a French-inspired menu and an intimate performance space. Shutting the doors after Illinois' mandated dining room closure has been tough, Willets said.
"Going from making money to making no money, yeah, it hurts," Willetts said.
Beyond helping local shoppers and his employees and artists, Willetts said he hopes his mask-making efforts demonstrate to other companies that they can help out during the coronavirus pandemic.
"We really need masks for our front line" medical workers, Willetts said. "If a little jazz club in Rogers Park can make disposable face masks, larger manufacturers can consider using their space to help save lives."
Block Club Chicago's coronavirus coverage is free for all readers. Block Club is an independent, 501(c)(3), journalist-run newsroom.
Subscribe to Block Club Chicago. Every dime we make funds reporting from Chicago's neighborhoods.
Already subscribe? Click here to support Block Club with a tax-deductible donation.