CHICAGO — People who aren't complying with the state's stay at home order will start getting fined or even arrested, city officials warned Wednesday.
And if the city has to, it will close down public parks and the lakefront, Mayor Lori Lightfoot said during a news conference.
Lightfoot said the city's leaders don't want to take those steps, but they might be necessary because there have still been instances of people gathering in parks, playing contact sports and violating social distancing rules in other ways in public spaces.
The order, which was issued by Gov. JB Pritzker and went into effect Saturday evening, demands all Chicagoans to stay at home as much as possible. All businesses deemed non-essential have been shut down.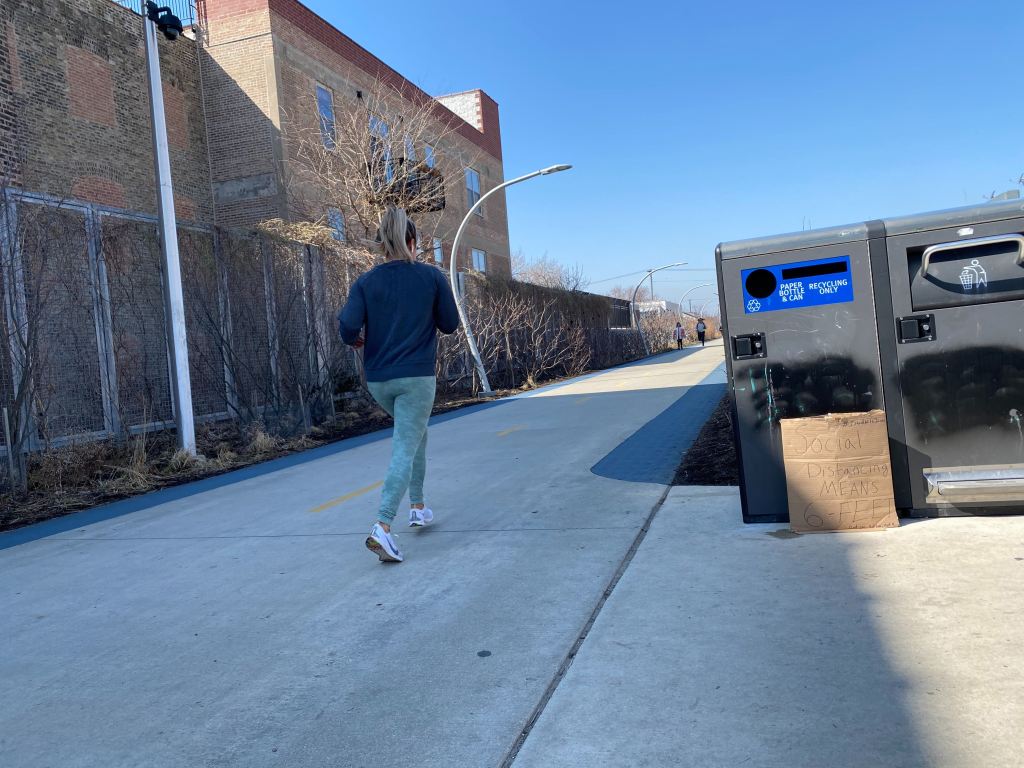 "For the most part, Chicagoans have been doing well at maintaining social distancing. But we are concerned with what we've seen in recent days — both indoors and outdoors," Lightfoot said. "I've personally been concerned about what I've seen in our parks: people playing basketball. And what I've seen along our lakefront: way too many people gathering like it's just another day.
"This is not another day."
Lightfoot said that even while on her way to the press conference, she saw people congregating on the lakefront trail and at beaches.
Continuing to gather in crowds is against state law under the stay at home order, Lightfoot said, and it will lead to further spread of the coronavirus and more deaths.
It's still OK to leave home to go on walks or to get essentials, like groceries. But walks should be short and kept near the home, Lightfoot said, and people should avoid long bike rides and runs along the lakefront. She also said playgrounds are shut down and people should not play on them.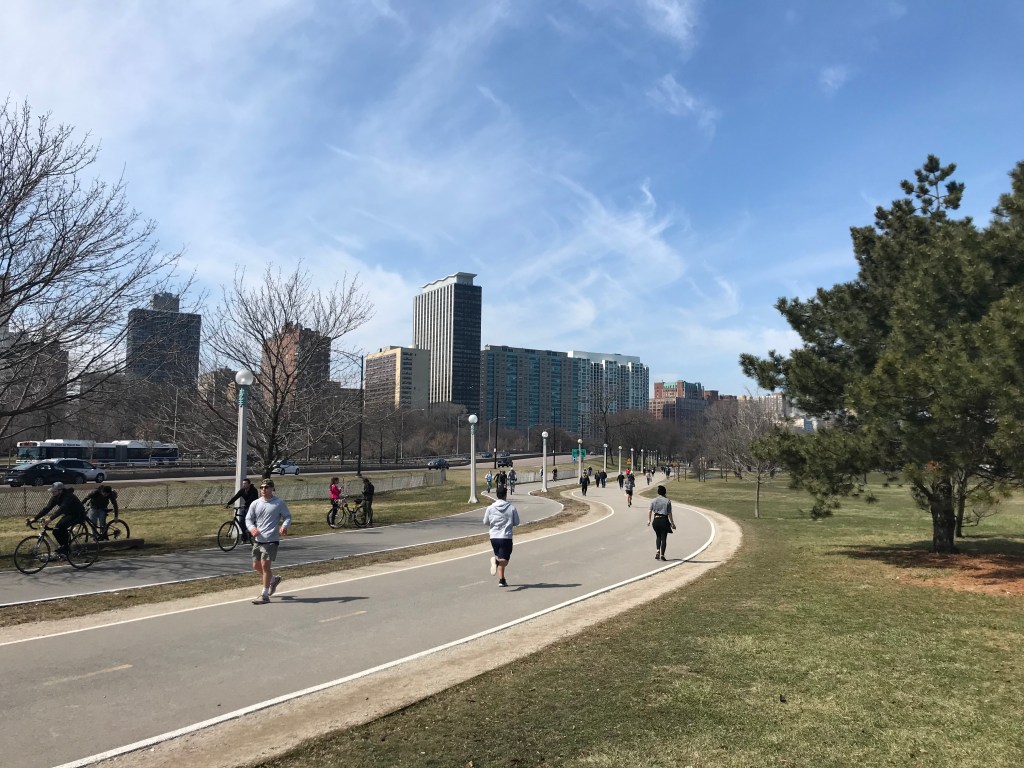 People shouldn't be playing games with crowds and shouldn't be playing contact sports, like soccer and basketball, said Chicago Park District CEO Mike Kelly. Those walking or running on city paths should stay 6 feet from other people, even if that means having to step off to the side.
"While the green space is open and it's available, let's not all rush out at the same time to the same spots," Kelly said. "Stay at home and keep your distance."
In short, being outside or visiting a park should be just a "brief respite" before people return home, Lightfoot and Kelly said.
"Do not let the warming weather let your guard slip like today," Lightfoot said. "… If you are not abiding by these very clear but necessary stay at home orders, we will be forced to shut down our parks and the entire lakefront if people continue to flout these social distancing guidelines."
Shutting down parks and the lakefront is the last thing Lightfoot wants to do, she said.
"But make no mistake: If people don't take this in the serious way in which they must, I'm not going to hesitate to pull every lever at my disposal to force compliance if necessary," he said. "But let's not get to that point. We don't need to. Stay at home."
Charlie Beck, interim superintendent of the Chicago Police Department, said he told the department's chiefs on Wednesday officers can and should start citing people who don't abide by the stay at home order.
The Police Department wants to avoid taking that step, Beck said, and officers will first warn people if they're not practicing proper social distancing.
But if people don't break up gatherings or practice social distancing after a warning, they'll be cited and fined for up to $500 and can even be arrested, Beck and Lightfoot said.
Overall, though, officers have seen "great cooperation from the public," Beck said.
Dr. Allison Arwady, head of the Chicago Department of Public Health, warned people continuing to gather in parks and beaches will make it difficult for Chicago to "bend the curve" and lessen the number of coronavirus cases here.
"If you do not need you to be out, I need you to stay home," Arwady said.
So far, there have been 730 confirmed cases of coronavirus in Chicago, as well as five deaths. Throughout Illinois, there have been 1,535 cases of the virus.
Symptoms
Coronavirus can be deadly, but the vast majority of cases have been mild. Those most at risk from the virus are people who are elderly or who have underlying health conditions.
Symptoms of coronavirus can appear two to 14 days after a person has been exposed to the virus, according to the Centers for Disease Control. People with no symptoms may have the virus and spread it to others.
The virus spreads between people through coughing and sneezing, according to the Illinois Department of Public Health.
The most common symptoms:
Fever
Cough
Shortness of breath
People have also experienced body aches, nasal congestion, runny nose and sore throat, according to Harvard Medical School.
If you or someone else has difficulty breathing, persistent pain or pressure in the chest, become confused, cannot be roused or develop a bluish face or lips, get immediate medical attention, according to the CDC.
How To Protect Yourself
The CDC only recommends those are already sick wear facemasks because they help you avoid spreading the virus.
Here's what you can actually do to prevent getting ill:
The CDC and other officials have said people should wash their hands often, including before, during and after eating; after using the bathroom; and after blowing your nose, coughing or sneezing.
The CDC has a guide here for how to properly wash your hands. Remember: Wash with soap and water, scrubbing your hands for at least 20 seconds.
If you can't wash your hands with soap and water, you can use an alcohol-based hand sanitizer, according to the Illinois Department of Public Health.
Avoid touching your face, especially your eyes, nose and mouth, with unwashed hands.
Clean and disinfect objects and surfaces you touch frequently, like cellphones and light switches. Here are tips from the CDC.
Stay home when you're sick and avoid close contact with people who are sick.
If you have to sneeze or cough with a tissue, throw it out immediately after using it, according to the CDC.
What To Do If You Think You're Sick
Even if you're not showing symptoms, the Chicago Department of Public Health recommends people coming from high-risk countries (here's a CDC list) self-quarantine for 14 days after returning home.
If you do have symptoms of coronavirus, contact your primary doctor or a health care facility before going in. Explain your symptoms and tell them if you've come into close contact with anyone with coronavirus or traveled to an area where COVID-19 is widespread (here's a CDC list) within the last 14 days, according to the Illinois Department of Public Health.
From there, the experts will work with your local health department to determine what to do and if you need to be tested for coronavirus, according to the Illinois Department of Public Health.
And, of course, if you think you're sick with coronavirus, don't risk exposing other people to the virus. Anyone who feels unwell has been ordered to stay home or risk getting a $500 fine.
Those with questions and concerns about coronavirus can call the Illinois Department of Public Health at 800-889-3931.
Block Club Chicago's coronavirus coverage is free for all readers. Block Club is an independent, 501(c)(3), journalist-run newsroom.
Subscribe to Block Club Chicago. Every dime we make funds reporting from Chicago's neighborhoods.
Already subscribe? Click here to support Block Club with a tax-deductible donation.