RAVENSWOOD — Koval Distillery delivered over 100 gallons of its free hand sanitizer to Chicago Police and O'Hare Airport's air traffic controllers Tuesday.
The award-winning distillery, known for its whiskey and gin, has been producing hand sanitizer since last week to help Chicago medical facilities and first responders who don't have enough to fight the global coronavirus pandemic.
The hand sanitizer isn't for the public. It's being donated to medical professionals, retirement homes and first responders for free. The first deliveries of Koval's hand sanitizer went out Monday to the Town Hall (19th) Police District and the Admiral on the Lake, 929 W. Foster Ave., retirement community.
"We wanted to make sure that we're getting it out to the Chicago Fire Department too, basically people who don't have access to a sink to wash their hands who are dealing with this virus," said Sonat Birnecker Hart, founder and president of Koval. "Tomorrow we expect to have 450 gallons of hand sanitizer out the door to the medical community too." 
The distillery wants to give medical professionals and first responders the badly-needed sanitizer for free, so it launched a GoFundMe to cover expenses last Thursday.
By Wednesday, the campaign had raised more than $45,000. Though its initial goal was $30,000, its been increased to $60,000 to keep production going.
The GoFundMe donations have come from as far away as Taiwan, the state of Washington and even England, Hart said.
The law firm Edelson PC donated $15,450, and that generosity pushed us well over our original goal of $30,000," Hart said.
"This will let us bring hand sanitizer directly to the Howard Brown Health Center, the Village of Melrose Park and Advocate Christ [Medical Center] and many other organizations that are on the front lines battling COVID-19," Hart said. "We have received hundreds of sanitizer requests from people in need, and the inquiries are not showing any signs of stopping."
In addition to the GoFundMe, Hart said many Chicago area breweries like Urban Renewal, Metropolitan and Temperance Brewing have also contacted her to offer additional containers for storing the hand sanitizer and to connect her with vendors who have the ingredients needed to make the World Health Organization's recipe for it.
"It takes a village, the people supporting us and people who are volunteering to bring this product to the people who need it most," Hart said. "I'm so proud of my team, they've worked wonders to get this done in record time while also being careful with social distancing. They're all superheroes."
RELATED: Chicago Distilling Company Making Hand Sanitizer, Now Taking Online Orders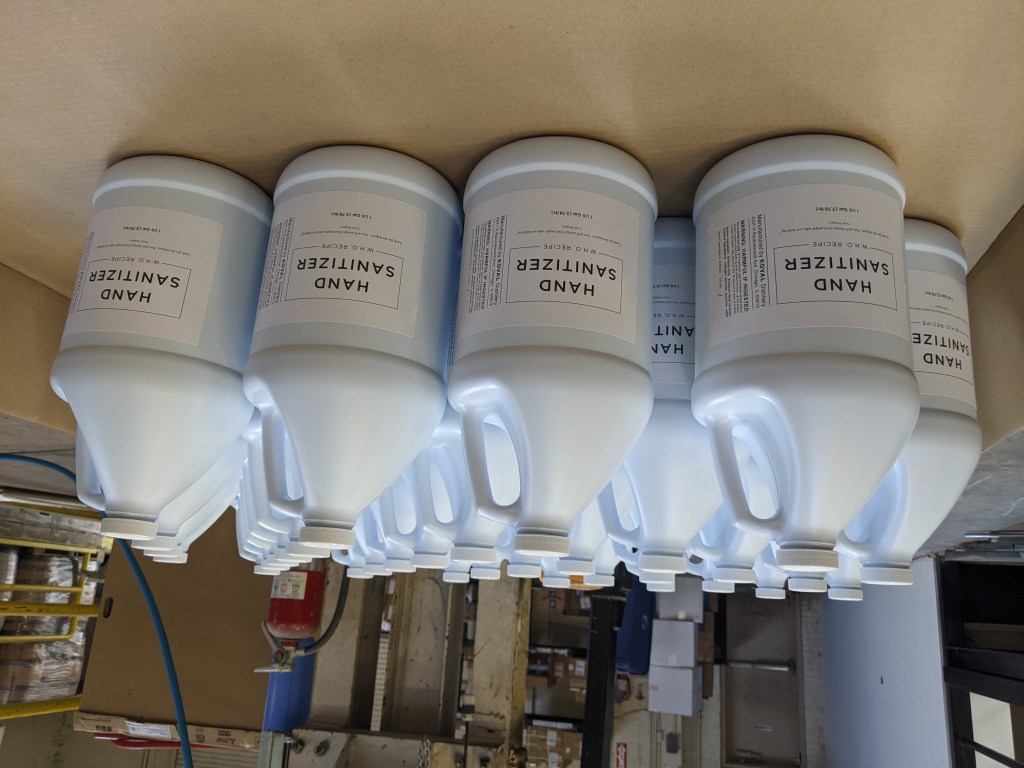 Hoarding hand sanitizer has caused shortages nationwide. Purell announced it is increasing production at its two Ohio manufacturing facilities.
While production of hand sanitizer has increased, it's still hard to order it online at places like Amazon, where a product listing for Amazon Brand hand sanitizer says it'll be out of stock for the foreseeable future.
"It's amazing to be able to do something for the city we all love so much and to help all the people out there helping to protect us from this virus," Hart said.
RELATED:
Koval Distillery Now Making Hand Sanitizer For Health Care Workers, Retirement Homes
Koval Distillery Eyes Spring Opening For New Tasting Room And Patio
Koval 'Excited' To Make Ravenswood Its Permanent Home
Koval Distillery Cocktail Classes Pours It On
Block Club Chicago's coronavirus coverage is free for all readers. Block Club is an independent, 501(c)(3), journalist-run newsroom.
Subscribe to Block Club Chicago. Every dime we make funds reporting from Chicago's neighborhoods.
Already subscribe? Click here to support Block Club with a tax-deductible donation.