PORTAGE PARK — The owners of a lamp store that moved to Chicago last year after losing everything to Hurricane Maria in Puerto Rico had their Portage Park shop burglarized and ransacked Tuesday.
Home Line Decoration's front door at 4358 N. Cicero Ave. was broken and $6,000 worth of imported lamps and rugs were stolen. The family-run shop sells handmade, intricately designed lamps imported from Turkey.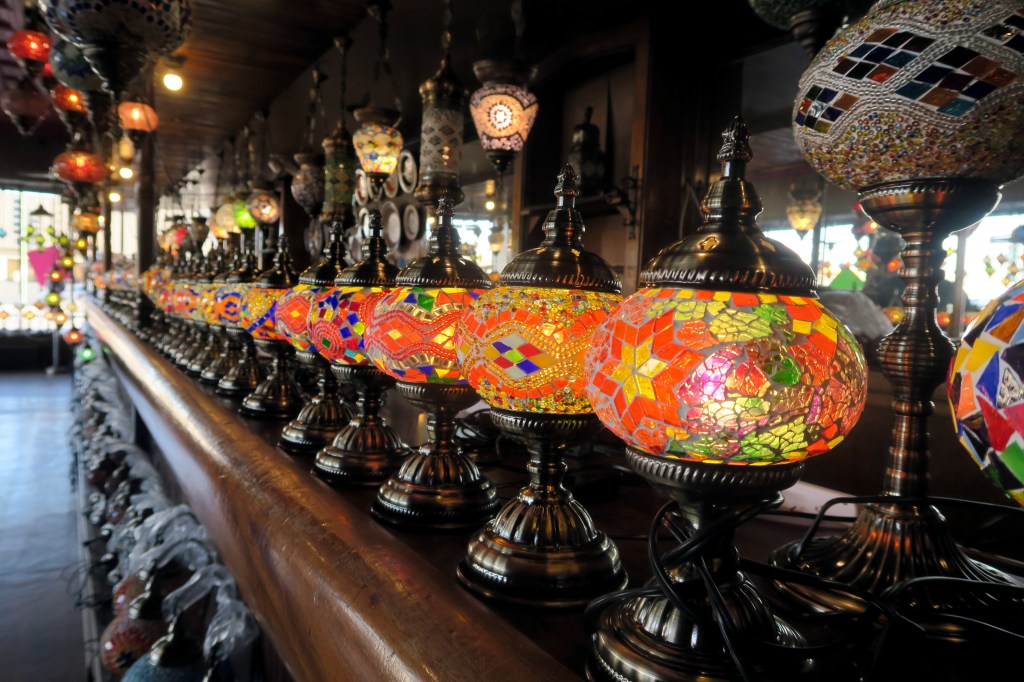 Yousef Barakat, a Home Line owner, had police stop by his home around 6:30 a.m. Tuesday to tell him about the break-in.
He went by the shop and found the glass front door shattered and his most recent shipment of rugs and lamps ransacked.
"What can you do? I got this shipment last week. It's the first big one I've gotten from overseas since last year. When the governor told everyone to stay at home I locked up my shop and was home with my family," Barakat said. "Then I come in today to check up on this and see all this. Thank God we have our lives and nothing happened to me or my family."  
Police confirmed the break-in and theft. They are asking anyone with information to contact detectives at (312) 744-8261 or submit a tip anonymously online at cpdtip.com.
RELATED: After Losing Everything To Hurricane Maria, Turkish Couple Rebuilds In Chicago — Bringing Handmade Lamps And Rugs To NW Side
Barakat was also contacted by Ald. Jim Gardiner (45th) after the break-in.
"He offered to help out in any way he could, saying he could try and connect me with a contractor to fix the door," Barakat said. "I am one of millions of people dealing with this shutdown. Other people have lost much more than me during this, but I keep thinking thank God my family is safe."
Gardiner said he connected Barakat with Arlington Glass and Mirror, 4547 N. Milwaukee Ave.
"We're fixing that door for free. We'll be out there tomorrow morning," said Alex Peric, Arlington Glass's owner. "I'm from the neighborhood, born and raised. I went to Farnsworth Elementary School and Taft High School, so I'll do whatever I can for my neighbors during all of this." 
Barakat and his wife Kholoud Ghaith opened the shop in 2019.
The couple came to the United States from Turkey in the '90s and settled in Chicago before heading to Puerto Rico 14 years ago to open their own store.
But when Hurricane Maria devastated the island in 2017, Barakat said they lost their home, their store in the island's tourist area in Old San Juan — practically everything. So, they packed up what was left and returned to Chicago in 2019 to open up Home Line at the corner of Montrose and Cicero. 
Gardiner said city officials must do what they can for small business owners who are vulnerable during the stay at home order instituted to slow the spread of the coronavirus.
While Barakat doesn't have an online store for his shop, his store does have large windows that face Montrose and Cicero avenues. He's asking potential customers out on their walks to window shop if they happen to be in the area and call him.
"You can't come in and shop, but if you see something in the window that you like give me a call. If you end up buying it over the phone I'll arrange for it to be dropped off at your doorstep," Barakat said.
Customers can call Home Line Decoration at (312) 539-5633 or visit its Facebook page here.