UKRAINIAN VILLAGE — Christy and John Sims spent the last two years planning their wedding.
They hired a caterer, a baker, the Chris Sarlas Orchestra. They expected 230 guests at their reception, to be hosted at the Union League Club of Chicago. She had a white dress, he had a navy suit.
But on March 14, as they watched coronavirus spread across the United States and terrorize Italy, the couple decided to cancel their wedding.
Instead, at 2 p.m. Saturday, they stood on their front porch in Ukrainian Village and exchanged vows in a simple ceremony.
They were joined by immediate family members and their best friend, who officiated. Their dog, Althea, posed for a photo.
"That's what made it so perfect and so romantic," Christy Sims said. "It didn't seem like we threw this together last minute. It seemed like this was the wedding we had been planning for two years."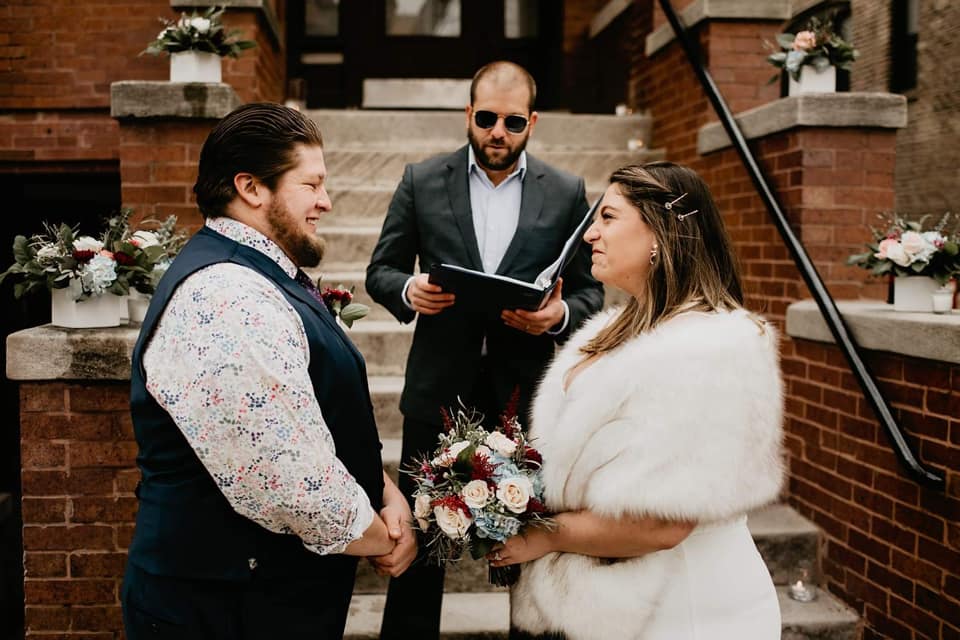 The Sims weren't the only Chicagoans who exchanged nuptials in the midst of a global pandemic.
At 3 p.m. Saturday, Anne and Pat Kelly married at Old St. Patrick's Church, 700 W. Adams St., in West Loop.
The River North couple booked the popular church in April 2019, shortly after Pat Kelly proposed.
Nearly a year later, just one week before their wedding, the couple decided to call off their reception with an expected 200 guests. They also canceled their honeymoon in Aruba.
But they didn't want to cancel their wedding ceremony. Remembering that Old. St. Pat's livestreams Sunday masses, they asked if they could livestream their wedding.
The church obliged. More than 200 tuned in.
"It wasn't what we planned, but it was still beautiful and perfect," Anne Kelly said. "We're married and super happy and that's what matters."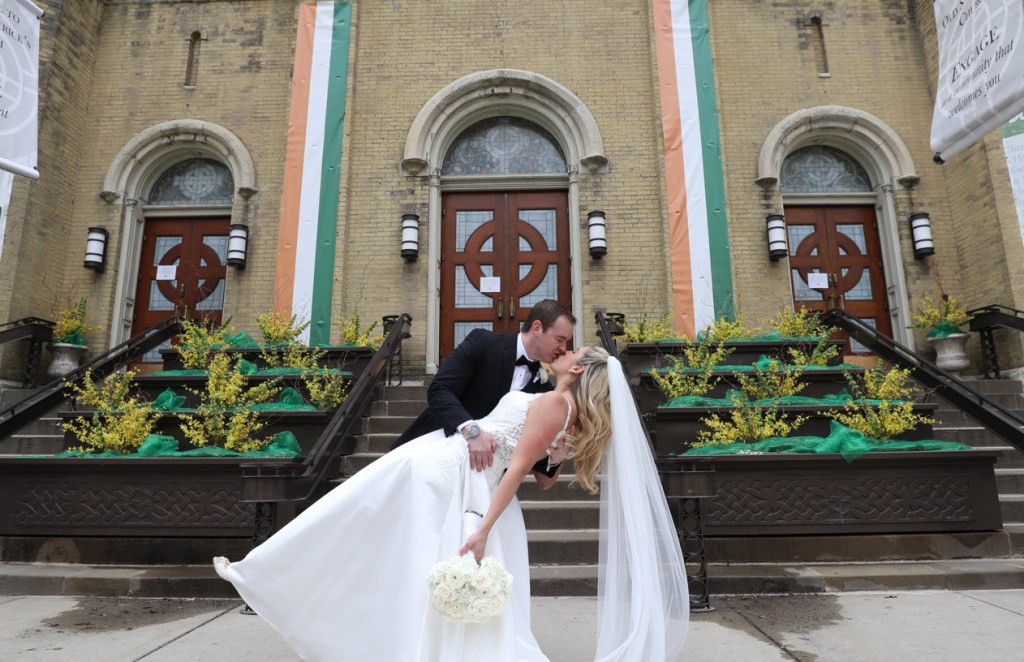 In keeping with social distancing guidelines, the couple limited ceremony guests to 10 people, including immediate family members, two bridesmaids and two photographers from ZR Weddings.
"It was surreal in the sense, that every day [before the wedding], it felt more unrealistic," Pat Kelly said. "To actually get there, it was like, wow, we were able to pull it off. We're here."
At 10:30 a.m. Wednesday, another Chicago couple, who want to remain anonymous, wed outside Jeff Solin's house in Bucktown.
Solin, an ordained minister through Dudeism: Church of the Latter Day Dudes, married the couple. He also used a 3D printer to create a pair of silver rings for them to exchange.
"It was a huge honor to even play a small role, or some role at all, in helping people express their love for each other," Solin said. "It was super random, [we were] strangers. I thought that was a really cool kind of twist on it."
Solin stood at least 6 feet away and wore gloves. He later chronicled the wedding in a Twitter thread.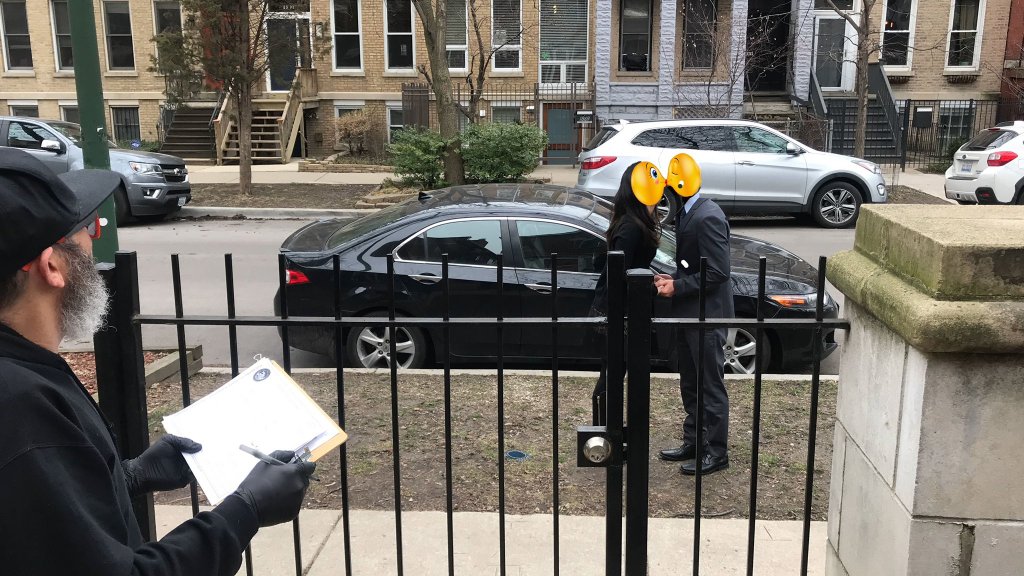 Like Solin and the Kellys, the Sims took social distancing seriously.
Guests were allowed inside their Ukrainian Village apartment only to use the bathroom. Once inside, they were asked to use Lysol wipes on everything they touched.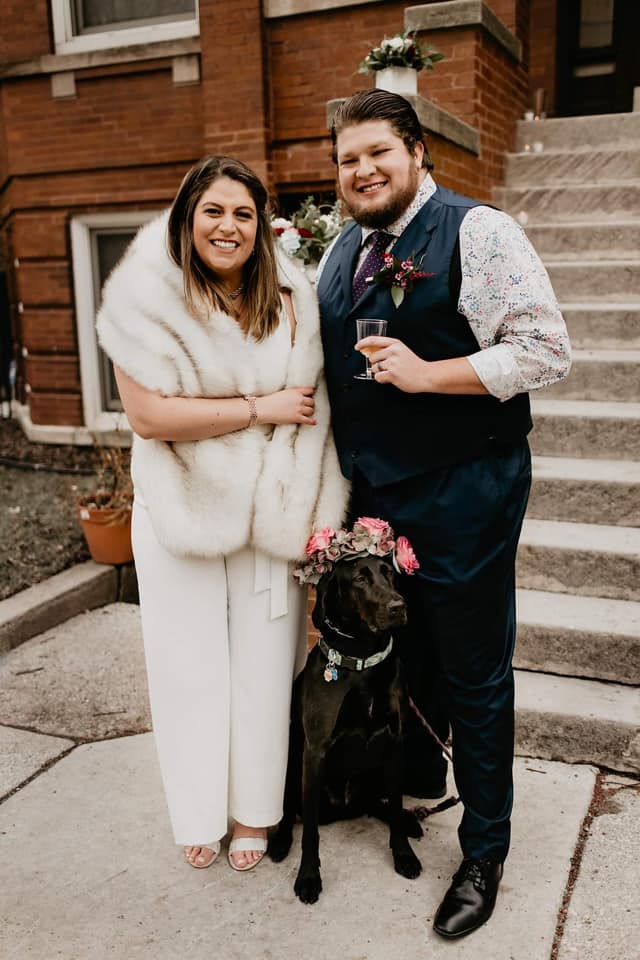 Their photographer, Melanie Kane, kept her distance.
Grandparents were asked to stay home, but messages they had written to the couple were read aloud during the ceremony.
Friends from far away videotaped themselves toasting to the Sims and compiled a YouTube video, which was played after the ceremony.
The simplicity of the ceremony coupled with the uncertainty of the global pandemic allowed Christy Sims to reflect on what's important, she said.
"I just haven't felt happy like this in a long time," Christy Sims said. "Everything we worked for was gone. Then it made us realize this day isn't about all of that. It's not about the white dress and the big party. It's truly about us and getting married."
Block Club Chicago's coronavirus coverage is free for all readers. Block Club is an independent, 501(c)(3), journalist-run newsroom.
Subscribe to Block Club Chicago. Every dime we make funds reporting from Chicago's neighborhoods.
Already subscribe? Click here to support Block Club with a tax-deductible donation.