PULLMAN — In the midst of the coronavirus pandemic, Lexington Betty Smoke House, the Pullman neighborhood's newest restaurant, took a moment to donate hot meals to the the local police district and a local polling place in a sign of support.
Dominique Leach's smokehouse opened just last month in the One Eleven Food Hall at 756 E. 111th St. in Pullman. Leach said now is the time to help her neighbors.
And one of those neighbors is the Pullman (5th) District police station at 727 E. 111th Street, right across from the smokehouse. She surprised officers there last week with a delivery.
"We had macaroni brisket, sliders, chicken and smokey gooey sausage," Leach said. "They all immediately grabbed plates and napkins."
Like every restaurant in Illinois, Lexington Betty was affected by the restrictions put in place by Gov. JB Pritzker prohibiting restaurants to be open for dine-in customers. Leach's sales slowed down considerably, but she had food ready to cook. 
"I didn't want to throw the food away so I decided to use it as an option, the ability to feed the front line and it can be a great reminder for us to support them and for them to support us during this time."
Apart from the police department, Leach and her team also donated meals on Tuesday to a local polling station at the Jesse Owens Community Academy, 12450 S. State St.
"They reached out to us and said that they were having a problem with finding volunteers," said Leach. "I feel like they were extremely receptive and they accepted it with grace."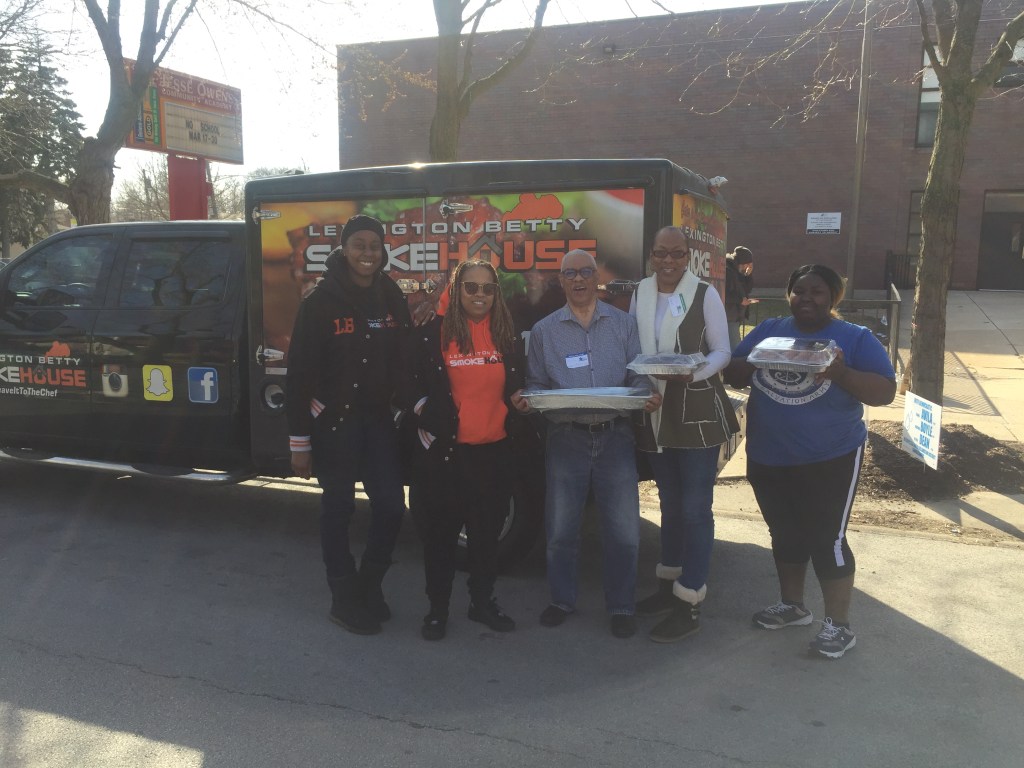 According to Leach, her catering business took a big hit, leaving behind hundreds of meals.
"All of our catering was canceled this month, every last one," said Leach. "We were sitting on inventory that was not gonna be sold with both restaurants being closed."
Leach said that the impact of the virus came into perspective as sales began to deplete.
"Just to give an example what would typically be a $1,000 day was a $200 day, we're making 20 percent of what we would usually be made if the doors were open and everything was normal," said Leach. "It's apparent that everyone's officially taken this seriously and Pullman is so quiet right now."
Moving forward, Lexington Betty will be open for delivery and is offering a family meal for the price of $45. According to Leach, each delivery will include a small sanitizer packet.
"We've been doing our part by wearing gloves and washing our hands, excessively," said Leach. The city wants "staff at restaurants to wash their hands every 15 minutes, and so I bought a timer that reminds the staff every 15 minutes to stop what they're doing and wash their hands, just for the sake of precaution."
With each delivery, Leach said that the necessary precautions to keep everyone safe will be put into place, this includes, preparing all food with gloves.
"We've been putting in all of our cargo bags, some coupons that we got made into individual little sanitizer packets," said Leach. "I just hope we're able to help a family out that really needs a hot meal and we're going to use this time to hopefully build clients and if nothing else, keep hope alive in the community that things will get better."
Lexington Betty Smokehouse can be reached at (773) 663-6190 or (773) 749-8511.