WICKER PARK — A beloved barista at La Colombe in Wicker Park has died from what his family believes is complications from diabetes.
Max Johnson died in his Avondale apartment on March 18, according to his mother Jodi Johnson, who said a cause of death is pending and is believed to be related to his fight with diabetes.
The Iowa native was 29. 
Jodi Johnson said on Feb. 3, the night of the Iowa caucuses, her son was hospitalized in the ICU. "He had had an insulin reaction which is more likely caused by taking too much insulin, not not enough," Jodi Johnson said. 
La Colombe's regional manager Evan DeVries described Johnson as "an iconic member of our community and the ultimate sweetheart of sweethearts."
"Charming, witty, funny, kind, he was all the above. We are completely devastated by his passing" DeVries wrote in a statement on behalf of the Philadelphia-based coffee chain. 
Johnson's friends created a public eulogy page for him that can be contributed to here.
On Sunday, Jodi Johnson said her son struggled with Type 1 diabetes. "There are so many opportunities to miscalculate [insulin]. This is a deadly disease, you don't get a second chance," she said. 
According to Johnson, in the past few years her son had been buying over-the-counter generic insulin from Walmart but was not under the care of a regular doctor. Until age 26, he was covered under his father's health insurance. 
Johnson joined the La Colombe team in October 2015 and moved to Iowa City in August 2018 to be closer to his family and to take a break from Chicago. In Iowa he worked various jobs including bartending. 
As University of Iowa students cleared out for spring break, Johnson headed to Chicago where there was more opportunity. He returned on March 15 and was scheduled to work at the cafe at 1552 N. Damen Ave. this week. 
"Everyone was thrilled that he was coming back, instead we lost him again," DeVries said. 
Kurt Kramer, a Wicker Park resident, photographer and regular patron of La Colombe, last week posted a portrait he took of Johnson in November 2017.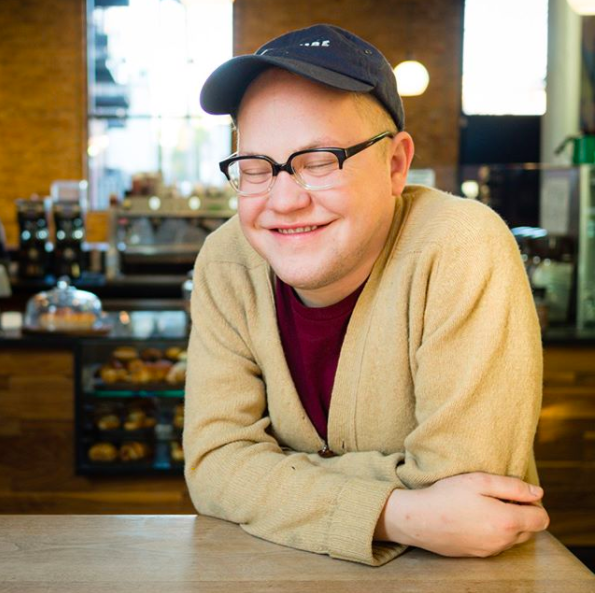 Alice Howe, a former La Colombe employee who now works as a program specialist for the Special Service Area No. 33 and manages the local farmers market, described Johnson as "extremely lovable and artistic," a sweet person who brightened up everyone's day. 
"We would start the day at 6 a.m. together and he would be goofy and jamming to nostalgic music. Music and poetry were his two big things," Howe said. 
In 2017, Johnson and his roommates were the victims of a house fire and lost all of their belongings. 
During that time Johnson lived with Howe for a few weeks. "We got closer. People really loved him. Customers from La Colombe brought him cards and gifts and money to support him," Howe said. 
Ellen Woodward, a close friend, said Johnson was willing to be vulnerable and share super personal details in front of an audience while performing poetry, bravery that impressed her and others. 
"He was unafraid to be honest about what he saw. I think that's why so many people felt so close to him, he really paid attention and understood and accepted people with all their complexities and flaws. Which takes a lot of strength and love and humor," Woodward said. 
In August 2015, Woodward invited Johnson to a Cubs game against the Atlanta Braves. In the first inning, a line drive foul ball hit by Kyle Schwarber slammed into her head. Woodward was featured in various news outlets being carried away in a stretcher. Getty Images' photographer Jon Durr captured Johnson comforting Woodward as concern erupted in the stands. 
Joe McGuire, another close friend, recalled Johnson's excitement about going to that game and bragging about the seats.  
Born October 5, 1990, in Sioux City, Iowa, Johnson attended various elementary and middle schools. As a senior at North High, Johnson took classes at Briar Cliff University where his mother recalls instructors being impressed with his writing, particularly poetry. Read one of his poems was published in "TL;DR," an online magazine. 
Though he'd never visited the University of Iowa campus and wasn't necessarily a Hawkeye fan, Johnson surprised his traditionally-Iowa State family by selecting University of Iowa for college. 
"He wasn't much of a joiner in high school, but he blossomed at the University of Iowa, where he rose the ranks to become director of KRUI, the college music station," Jodi Johnson said. 
McGuire, who lives in Lakeview, met Johnson when they worked together at the radio station. 
"We were around each other all the time and going to concerts, he was like an encyclopedia of music," McGuire said. 
The friends moved to Chicago together in 2015 and hung out frequently, going to shows at the Empty Bottle and being part of a writing group that met weekly. 
McGuire especially liked going to Wicker Park bars with Johnson because Johnson knew all the bartenders, who earlier in the day were customers at La Colombe. "It was like we were in the movie 'Goodfellas' but with hipsters, all the bartenders knew him, he was like a gangster." 
For Johnson, life was a series of chapters and he was ready for a new one. 
"Chicago was his next chapter back. …  He was such a good audience, a good person to play off of, it was suddenly, 'Who am I, why do I make these jokes? It was because of him. We became better people being around him, he was a real one. … His influence will live on," McGuire said. 

Due to the coronavirus, celebrations of Johnson's life will be in October around the time of what would have been his 30th birthday. In addition to his mom and many friends, Johnson is survived by his father Evan Johnson, younger sister Jae Johnson, older brother Sam Johnson and a half sister Heather Johnson.
His mother, in collaboration with one of Johnson's friends, plans to set up a scholarship fund in her son's name. Inquiries and donations can be emailed to Jodi Johnson Jodojet@gmail.com.