STREETERVILLE — The morning after Mayor Lori Lightfoot said the city would suspend issuing most parking tickets during the coronavirus pandemic, Streeterville residents woke up to $70 parking tickets nonetheless.
Lightfoot announced the measure on Wednesday afternoon in a conference call with reporters, saying "government has an obligation to ensure we are there for our residents at times of financial need and crises."
The city would suspend ticketing until at least April 30, beginning on Wednesday, she said. Chicago would work with the private companies that now own and enforce the city's parking meters, she said, to ensure ticketing only occurs when public safety is threatened.
But a Streeterville resident told Block Club she got a ticket at 8:43 a.m. Thursday while parked in a legal metered spot in the 300 block of East Huron Street.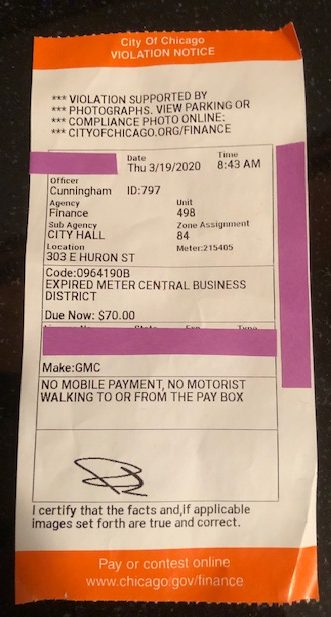 "It's a little frustrating. I know there's a lot bigger problems going on, it's just, I think, another annoyance for people to have to deal with that," said the woman, who asked that her name not be used.
"I would've gone out first thing in the morning and paid the meter."
She said her car was among six to eight other vehicles on Huron Street between McClurg Court and Fairbanks Court to receive a ticket. 
"I had not paid the meter because the mayor put forth that it was not required," she said. "Before I parked I even looked it up just to make sure and reread it."
The woman rented the car to travel to Ohio to bring her daughter home after the university she attends was closed due to the coronavirus.
"Since I had a rental car, I've been collecting stuff, and had a bunch of stuff to take to the Salvation Army," she said. She wanted to park near her home to make loading up the donations easier.
"I was surprised more than anything else, because I knew, I knew I was right," she said.
On Thursday afternoon, another car on the block was adorned with the familiar orange ticket on its rain-soaked windshield. Nearby, an OEMC traffic monitor who didn't give her name, said she had witnessed an enforcement officer writing a ticket in the area earlier in the day.
The Streeterville neighbor said she hasn't decided if she'll contest the ticket, but she's worried other ticketed cars belong to workers in the area that may struggle to pay.
"In the grand scheme of things its the least of my concerns right now, but at the same point, I think it's going to impact other workers," she said.
On Thursday a representative for Chicago Parking Meters LLC, which owns the city's parking meters referred all questions to the city.
On Friday, the mayor's office said people are still required to pay meters, said Kristen Cabanban, Director of Public Affairs with the Office of Budget and Management.
"While the city's parking enforcement efforts have been scaled back to prioritize safety-related violations, people should still pay for metered parking during this period," Cabanban said in an email.
Cabanban said a safety-related violation "is one that could potentially pose a safety risk to other motorists or pedestrians."
"These types of violations include, but are not limited to parking in front of a fire hydrant; blocking an alley, street or crosswalk; parking in a disabled parking space without a disabled placard or license plate."
While an unpaid meter does not pose a safety risk, "failure to do so may result in a ticket," she added.
LAZ Parking, which is contracted by CPM to enforce meter violations, did not immediately respond.
Block Club Chicago's coronavirus coverage is free for all readers. Block Club is an independent, 501(c)(3), journalist-run newsroom.
Subscribe to Block Club Chicago. Every dime we make funds reporting from Chicago's neighborhoods.
Already subscribe? Click here to support Block Club with a tax-deductible donation.