THE LOOP — Everyone in Illinois who doesn't work at an essential business is ordered to stay at home starting 5 p.m. Saturday as officials try to combat the growing spread of the novel coronavirus, Gov. JB Pritzker announced Friday.
The stay-at-home executive order allows people to go to grocery stores, pharmacies, hospitals, gas stations and other businesses considered essential. Residents can still go running, hiking or take walks. They can also get carry-out food at restaurants.
RELATED: Here's What's Open And What's Closed Under Stay-At-Home Order
But it marks the latest and most drastic move made to date by the governor, who said he consulted with a group of experts to reach his extraordinary decision, which follows similar actions taken in big cities around the country.
"What action can I take to save the most lives? They've come back to me with one inescapable conclusion: To avoid the loss of potentially tens of thousands of lives, we must enact an immediate stay-at-home order for the state of Illinois," he said.
The executive order lasts until April 7, he said, but added: "I'm not going to tell you I know the end of April 7, that this is, in fact, the end date. We believe that that gives us time to see whether or not this social distancing and this stay-at-home is having the desired effect of bending the curve."
Mayor Lori Lightfoot called it "a make or break moment for our city and state."
But, appearing alongside the governor in the Thompson Center at a daily coronavirus news conference, the mayor said, "This is not a lockdown or martial law."
Illinois now has 585 confirmed cases of COVID-19 and five deaths. That's an increase of one fatality — a Cook County woman in her 70s — and 163 cases since Thursday. The virus has now been identified in 25 counties in the state.
In Chicago, there have been 212 confirmed cases of coronavirus.

Pritzker said his order does not change the actions of people in essential jobs, and it's something many others have already been following in recent days.
"Many, many people will still go to work," Pritzker said. "For the vast majority of you already taking precautions, your lives will not change very much."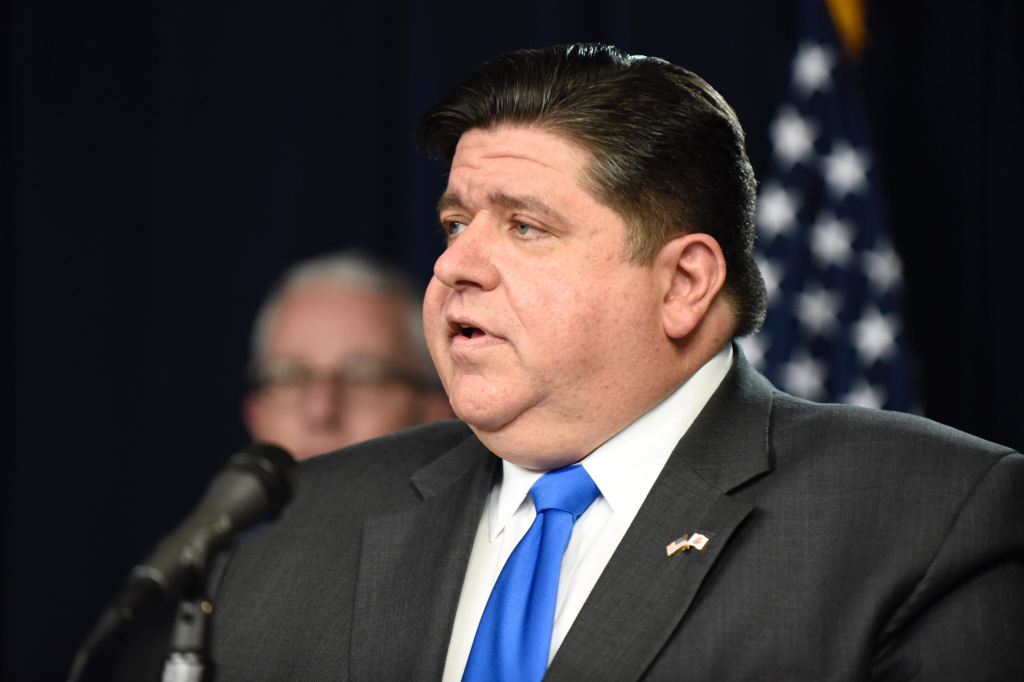 Even when outside, people should try to practice social distancing by staying at least 6 feet from others, officials said.
But all non-essential businesses must stop operating, and anyone able to work from home must do so, he said.
The order will close gyms, retail stores and salons, among other businesses.
RELATED: Here's What's Open And What's Closed Under Stay-At-Home Order To Curb Coronavirus Outbreak
"I fully recognize that in some cases, I am choosing between saving people's lives and saving people's livelihoods. But, ultimately, you can't have a livelihood if you don't have your life," the governor said.
Essential businesses and agencies — like grocery stores, gas stations, newspapers, police stations and hospitals — will remain open and employees can report to work. School districts will continue to provide meals.
All Chicago park facilities and libraries will be closed beginning at 5 p.m. Saturday, Lightfoot said. She said people can still walk in the parks, but people are not to congregate.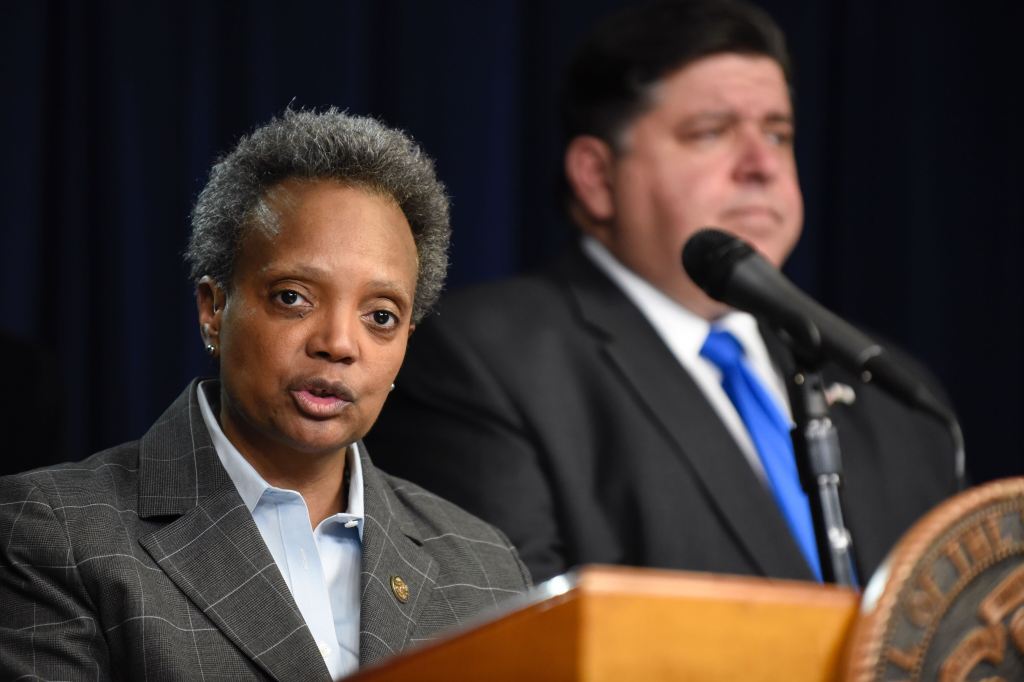 Police will monitor for violations of the stay-at-home order and "take action when necessary, but that is not an option anyone prefers," Pritzker said.
The mayor said police officers will talk to people first.
"Our Police Department is going to be instructed that if they see someone on the street, they can engage them in a conversation," Lightfoot said. "If they are not supposed to be out, they can give them an admonition to go home. For most people, that will be enough."
Officers will be encouraged to talk to people or businesses in violation of the order first about going home or shutting down. The next step would be getting a cease-and-desist order or a charge of reckless conduct, the governor said.
"We anticipate that people will follow this order. There can be consequences on the local level, rescinding licenses if it's a business," Pritzker said.
Lightfoot urged people to remain connected, despite the restrictions.
"While this is a period of physical isolation, we should maintain in contact with our families, friends and neighbors," Lightfoot said. "Please call and check in with seniors, people who are vulnerable. … It is critically important we not lose our sense of community."
The order will be an extension of what Lightfoot, Pritzker and other officials have urged for more than a week: Everyone should stay home and away from other people, especially if they feel ill, and work from home if possible.
"What we're hoping to do in Chicago … we're gonna try to educate people into compliance," Lightfoot said. "The reality is, if you look at what's happened over the arc of the last 10 days, people are staying at home. They're teleworking. They're really paring down, as we are in city government, to the bare essence."
The governor already shut down the state's schools, restaurants and bars starting earlier this week. And the city ordered anyone who was sick to stay home or risk being fined starting Thursday.
Officials are scrambling to stem the tide of cases, hoping to reduce fatalities and the economic impact of the virus. In other places, shelter-in-place orders and mass quarantines have led to reductions in the number of coronavirus cases.
Earlier this week, New York Mayor Bill de Blasio told that city's residents they should prepare for a shelter-in-place order.
And on Thursday night, California Gov. Gavin Newsom issued a shelter-in-place order for all of California. The San Francisco area had already been one under such an order.
Here's what shelter in place has looked like in San Francisco.
Read the order:
Symptoms
Coronavirus can be deadly, but the vast majority of cases have been mild. Those most at risk from the virus are people who are elderly or who have underlying health conditions.
Symptoms of coronavirus can appear two to 14 days after a person has been exposed to the virus, according to the Centers for Disease Control. People with no symptoms may have the virus and spread it to others.
The virus spreads between people through coughing and sneezing, according to the Illinois Department of Public Health.
The most common symptoms:
Fever
Cough
Shortness of breath
People have also experienced body aches, nasal congestion, runny nose and sore throat, according to Harvard Medical School.
If you or someone else has difficulty breathing, persistent pain or pressure in the chest, become confused, cannot be roused or develop a bluish face or lips, get immediate medical attention, according to the CDC.
How To Protect Yourself
The CDC only recommends those are already sick wear facemasks because they help you avoid spreading the virus.
Here's what you can actually do to prevent getting ill:
The CDC and other officials have said people should wash their hands often, including before, during and after eating; after using the bathroom; and after blowing your nose, coughing or sneezing.
The CDC has a guide here for how to properly wash your hands. Remember: Wash with soap and water, scrubbing your hands for at least 20 seconds.
If you can't wash your hands with soap and water, you can use an alcohol-based hand sanitizer, according to the Illinois Department of Public Health.
Avoid touching your face, especially your eyes, nose and mouth, with unwashed hands.
Clean and disinfect objects and surfaces you touch frequently, like cellphones and light switches. Here are tips from the CDC.
Stay home when you're sick and avoid close contact with people who are sick.
If you have to sneeze with a tissue, throw it out immediately after using it, according to the CDC.
What To Do If You Think You're Sick
Even if you're not showing symptoms, the Chicago Department of Public Health recommends people coming from high-risk countries (here's a CDC list) self-quarantine for 14 days after returning home.
If you do have symptoms of coronavirus, contact your primary doctor or a health care facility before going in. Explain your symptoms and tell them if you've come into close contact with anyone with coronavirus or traveled to an area where corona is widespread (here's a CDC list) within the last 14 days, according to the Illinois Department of Public Health.
From there, the experts will work with your local health department to determine what to do and if you need to be tested for coronavirus, according to the Illinois Department of Public Health.
And, of course, if you think you're sick with coronavirus, don't risk exposing other people to the virus. Anyone who feels unwell has been advised to stay home.
Those with questions and concerns about coronavirus can call the Illinois Department of Public Health at 800-889-3931.
Block Club Chicago's coronavirus coverage is free for all readers. Block Club is an independent, 501(c)(3), journalist-run newsroom.
Subscribe to Block Club Chicago. Every dime we make funds reporting from Chicago's neighborhoods.
Already subscribe? Click here to support Block Club with a tax-deductible donation.