BUCKTOWN — As thousands of Chicagoans are forced to learn how to work from home, they are presented with another challenge — how to work out from home.
Gyms including Chicago Athletic Club, Planet Fitness and Midtown Athletic announced closures this week amid the spread of Coronavirus in Illinois and Cook County.
Rae Reichlin is a trainer at Rockwell Barbell, a powerlifting gym at 2861 N. Clybourn Ave. She's also the founder of Ladies Who Lift, an all-female strength training class and program.
Reichlin has been sharing instructions for "at home" workouts on her Instagram for years — but the COVID-19 outbreak has the gym rats flooding her account for tips and workouts.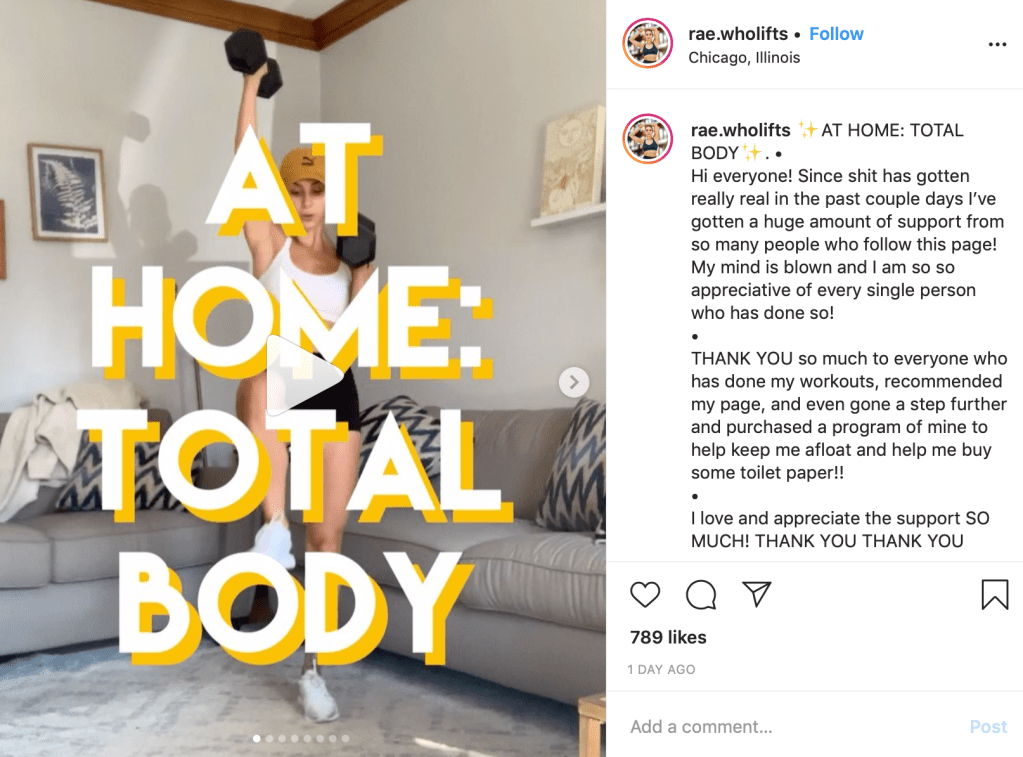 As the spread of coronavirus has shut down bars and restaurants, strained hair salons and forced a Wicker Park bookstore to close, Reichlin said she hopes people remember that fitness professionals are affected by the crisis, too.
"Trainers are a small business," Reichlin said. "Making content takes so long, it takes so much energy."
Here are Reichlin's top tips for how people can have an effective home workout.
Dedicate yourself to your 'gym time'
Reichlin's No. 1 piece of advice is to make sure you're treating your home work out as if it's time at the gym. That means no distractions, no breaks, no thinking about what's for dinner.
"The mentality of being in the gym is a huge part of why [people] have success in the gym," she said. "Put your hair up, get ready the exact same way."
She encourages her clients not to interrupt their workouts with chores, like unloading the dishwasher or changing the laundry. It's also a good idea to let your roommates and family members know when your "gym time" will begin and end.
"I don't want your brain thinking about the laundry, the dishes," she said. "I don't want you petting the dog. I want you there. … Take it just as seriously as you would your gym workout."
Learn to improvise
For weight lifters who don't have access to what they typically use at the gym, Reichlin suggested a few ways to maximize a home workout.
For example, someone who usually lifts 12-pound weights at the gym but only has access to 5-pound weights at home can make their workout more strenuous by increasing repetitions, increasing sets and decreasing rest periods between sets.
People can also try "isometric" workouts, such as wall sits.
Basic movements such as squats can be made more difficult if a "tempo" method is applied.
Instead of lowering, holding and raising your squat over the course of three seconds, try lowering for three seconds, holding for two seconds and raising for three seconds.
Or, try a "one in one-fourth squat" by going all the way down, raising a quarter of the way up, going back down, then rising all the way up.
"It's going to feel a lot harder than a normal squat," Reichlin said. "There's a bunch of ways you can change up your workout to make things harder even if you have limited equipment."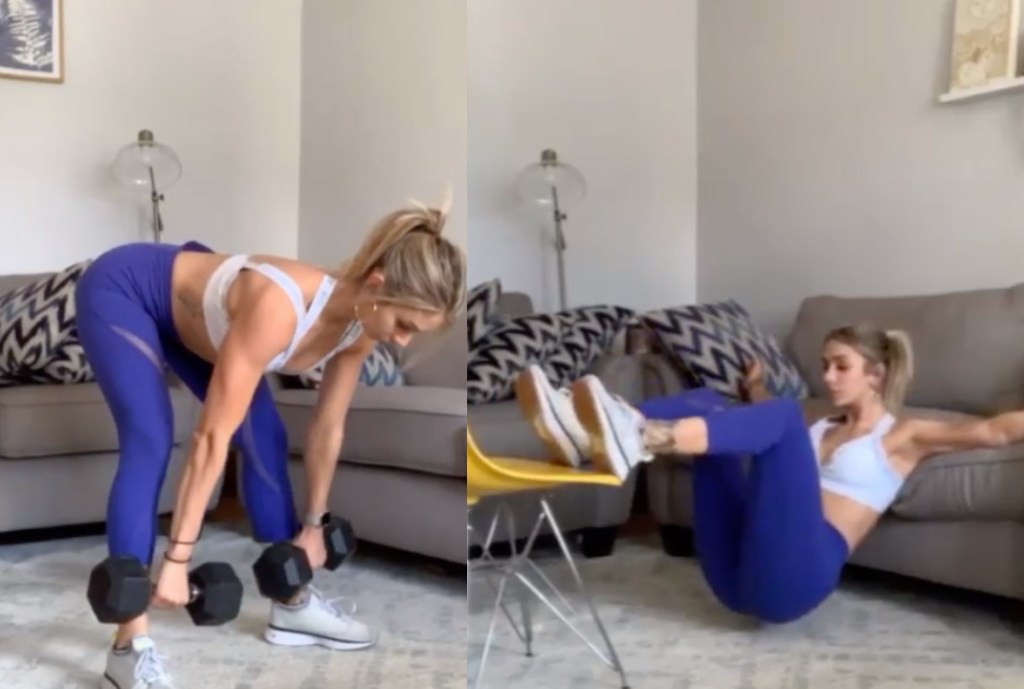 Have a plan
Having a plan is one of the most important pieces of the home workout puzzle, Reichlin said. Once you have a plan, write it down. And stick to it.
"You go into Instagam and you type in 'home workouts' and so many things come up," she said. "The hour you put aside goes by, and you're still scrolling."
Feeling overwhelmed? Reichlin has created monthly workout plans, which get rave reviews from clients across the country.
The $45 in-home program, for example, gives her clients programmed workouts for a full month.
There's also the $60 customized program, which includes a month-long personalized training program for each client and Reichlin's video-based notes on form.
"I try to push my programs as much as possible because that's what I think is best," Reichlin said. "I'm going to keep posting free content on Instagram, but there's only so much that I can do."
Learn more about Reichlin's programs here.
Block Club Chicago's coronavirus coverage is free for all readers. Block Club is an independent, 501(c)(3), journalist-run newsroom.
Subscribe to Block Club Chicago. Every dime we make funds reporting from Chicago's neighborhoods.
Already subscribe? Click here to support Block Club with a tax-deductible donation.