HYDE PARK — University of Chicago students who must move off-campus because of coronavirus precautions say they're being left "out in the cold" by the school's administration, as a new financial aid status will leave their checks lighter than expected.
On-campus students forced to move off-campus for the spring quarter will now be classified as "distance learners," a new student aid status.
Undergraduate distance learners on a full-ride scholarship can expect to receive about $2,300 less for the spring quarter than their "off-campus" counterparts, according to information released by University of Chicago.
The university announced last week it would transition to remote learning for the spring quarter through June. The university is mandating students leave on-campus housing by 5 p.m. Sunday.
Financial aid is paid out at the beginning of each quarter. Most students are enrolled for three quarters annually.
The university estimates distance learners' annual room and board to be $7,017 cheaper per year than that of "off-campus" students.
The spring quarter would be one-third of that, or $2,339 — so distance learners' compensation will be $2,339 less.
Second-year mathematics student Juan Fuentes is a full-ride Odyssey Scholar, awarded to students from "lower-income families" or who are the first in their families to attend college.
Fuentes has lived on-campus, and planned to move off-campus for the next school year. But the university's measures to contain coronavirus forced him to find off-campus housing sooner — he'll be classified as a distance learner.
It was "fantastic" when his landlord for the next year allowed him to move in early, until he learned he wouldn't receive off-campus financial aid status, he said.
Fuentes relayed his conversations with the financial aid office with other students in similar situations on UChicago Mutual Aid, a Facebook group organized in response to the drastic emergency measures at the university.
He came into contact with many other "really annoyed" Odyssey Scholars in the process.
"At first … [financial aid] was like, 'We don't have enough information.' That's fine. But then their [follow-up] emails are ambiguous," he said. "They're being direct with information now that they have it, but this isn't a favorable situation."
The university has often been unclear with students on the logistics of distance learning, second-year creative writing student Elizabeth Chen said.
She's one of 10 to 15 organizers behind UChicago Mutual Aid, all of whom are "trying to balance our own lives and responsibilities as students with the urge to help others."
Beyond serving as a campus-wide platform for information (and venting), UChicago Mutual Aid has brought supplies and services to students in a world ground to a halt by COVID-19 precautions.
Chen said she understands university officials are "trying to figure things out too," but it's disappointing that they seem to come up with solutions only "after we've already spent days trying to figure out how to help."
"It's as if we have to play the part of student and administration at once," Chen said. "Since we don't actually have administrative power, there's a lot of time spent on trying to do what we can, being rejected, and then having to discuss other options to try."
Students facing their own uncertainties have stepped up to help others in a time of need, said organizer Tricia Nicholson, a third-year neuroscience student.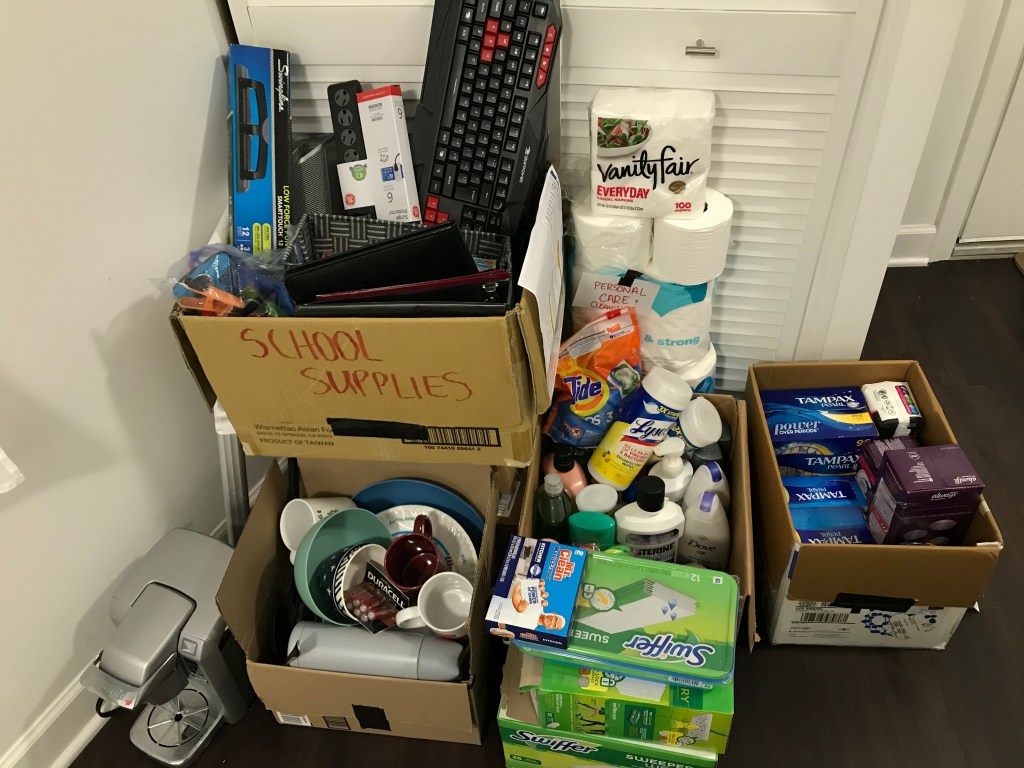 To access donated supplies, students can browse the group's inventory and fill out a confidential form. Organizers will arrange a package to be delivered to the student.
Clothing donations will be available for delivery once they are sorted and sized. Nicholson does all cataloguing by hand — "it's a large task for one person, especially while studying for finals and while my financial security hangs in the balance," she said.
Supplies will be available all quarter in case students continue to struggle through the coming months, Nicholson said.
"With our laptops and a couple volunteers' cars, we've been able to have a massive food drive and supply drive," Nicholson said. "This has been a small community of students supporting the entire student body, while the university administration seems like it's taking a back seat."
Members have rallied around other issues related to the COVID-19 pandemic, from raising funds for residence hall staff to starting a virtual book club to stave off boredom and loneliness.
The group, created March 12, had more than 4,400 members as of Tuesday morning.
University of Chicago spokeswoman Colleen Mastony did not explain why annual housing and meals costs for distance learners who live off-campus would be $7,017 more than those for "off-campus" students.
The spring portion of a $1,656 "student life fee" is waived for distance learners, she said. It's reflected in an identical increase in compensation for "personal expenses."
"Distance Learning is new under this emergency circumstance, and Financial Aid has prepared information for students who will be living at home," Mastony said in a statement. "Compensation for personal expenses is slightly higher this quarter to take into account new expenses like computer equipment."
Students can apply for emergency funding through the university bursar. A list of frequently asked questions about spring financial aid is on the university's website.
Those who need on-campus housing, dining, health or other support mechanisms can apply via the Housing and Residence Life portal, Mastony said.
Block Club Chicago's coronavirus coverage is free for all readers. Block Club is an independent, 501(c)(3), journalist-run newsroom.
Subscribe to Block Club Chicago. Every dime we make funds reporting from Chicago's neighborhoods.
Already subscribe? Click here to support Block Club with a tax-deductible donation.