ANDERSONVILLE — Despite the mandated closure of dining rooms and bars, Clark Street in Andersonville had a bit of foot traffic early this week.
That's because Lost Larson, the bakery and cafe at 5318 N. Clark St., had turned its storefront windows into a to-go operation.
The unique practice worked well for Lost Larson, which sold out of baked goods on Tuesday. But the success of the venture was soured when a pair of thieves stole the employee tip jar from the storefront's window.
The theft happened just before 1 p.m. Tuesday, right when Lost Larson was set to close up. According to Lost Larson owner Bobby Schaffer, two young thieves grabbed the tip jar right in front of staff and waiting customers before running off.
One of the accused thieves even left a customer take their photo, which shows the person wearing matching blue-hued camouflage jacket, hat and a personally decorated medical face mask.
"It was really sad since the community had been so generous today," Schaffer said on Tuesday. "It was pretty disheartening and brazen by them."
The coronavirus outbreak has dealt a massive blow to the hospitality industry, with the state of Illinois mandating take-out only service and the closure of bars and gatherings of 50 or more people. The move has left restaurants grappling with ways to stay open while also protecting the health of their staff and customers.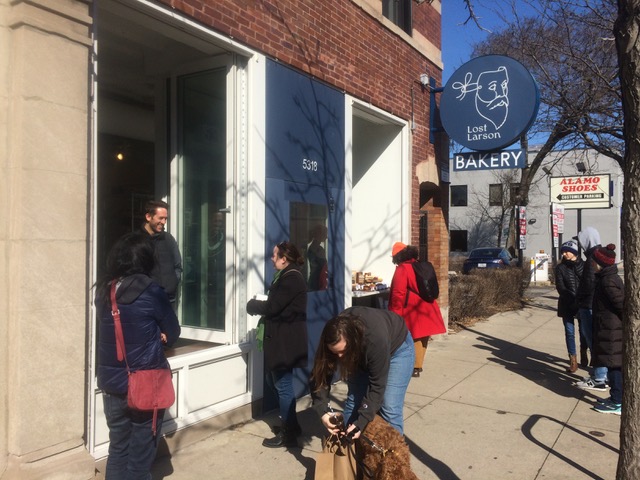 Lost Larson decided to use its two large storefront windows as a makeshift take-out operation. A menu was placed near the northernmost window where a worker took orders, and the window was full of products for sale. The southern window was where customers picked up their order.
Lakeview resident Anders Utterstrom visited Lost Larson's walk-up operation Tuesday. The rest of the street was empty, but to Utterstrom's surprise, the sidewalk outside Lost Larson was fairly busy.
"I think it was a brilliant move by Lost Larson," Utterstrom said. "I didn't think they were going to be open, but … it looked like they had some business."
The take-out experiment proved successful, but Lost Larson decided to close Wednesday and remain so indefinitely. Schaffer said he decided to close out of an abundance of precaution for staff.
That means the last day of business for Lost Larson ended with the staff's tip jar being stolen.
To make up for it, Schaffer launched a GoFundMe account for Lost Larson's staff. Funds raised will go towards paying staff during the closure, he said.
By Wednesday afternoon, over $3,500 was raised for the staff.
"We could use your support of our staff at this critical time so that we can continue to pay them and help them get through this situation," the GoFundMe reads.
To give to the fund, click here.
Block Club Chicago's coronavirus coverage is free for all readers. Block Club is an independent, 501(c)(3), journalist-run newsroom.
Subscribe to Block Club Chicago. Every dime we make funds reporting from Chicago's neighborhoods.
Already subscribe? Click here to support Block Club with a tax-deductible donation.