CHICAGO — A 61-year-old woman from the Auburn Gresham neighborhood has died from the novel coronavirus, becoming the first victim of the COVID-19 virus in the state, Gov. JB Pritzker announced Tuesday.
The woman had underlying health conditions and had been in close contact with another person who had contracted the virus, officials said. She died at University of Chicago Medical Center, where she had been since falling ill.
The Cook County Medical Examiner's Office identified her as Patricia Frieson, 61, of Auburn Gresham.
The state's total number of COVID-19 cases is now at 160, up 55 from Monday. Officials said the spike is due, in part, to increased testing becoming available. But Pritzker said they are still in need of more tests and are "not getting help from the federal government."
"I am deeply saddened by the news that we've dreaded since the earliest days of this outbreak: the first COVID-19 related death in Illinois," Pritzker said. "All of Illinois stands with this patient's family and loved ones in mourning her loss and honoring her memory. May her memory be a blessing.
"There are going to be moments during the next few weeks and months when this burden feels like it is more than we can bear — this is one of those moments, but we will get through this together."
Dr. Ngozi Ezike, director of the Illinois Department of Public Health, said Illinois hoped to avoid deaths but "of course we did anticipate it, as well as many additional cases that are yet to come."
"More than this just being our first case, this is someone's loved one, someone's child, someone's parent, a vital part of a community," she said. "And COVID-19 ended this life."
Also, the governor announced 22 people at a longterm care facility in DuPage County have tested positive, including 18 patients and four staff members.
The first patient at the Chateau Center in west suburban Willowbrook was diagnosed on Saturday and the cases have spread. The victims are being isolated at a hospital or at the center. State and federal teams are on site monitoring the residents, checking as often as every two hours, Ezike said.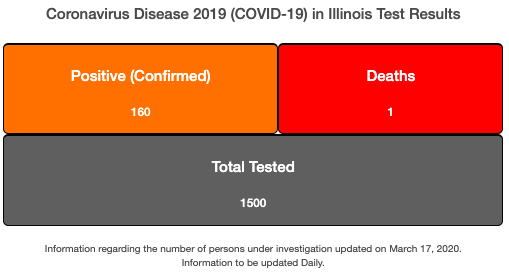 Meanwhile, the governor's office's push to still hold the election as usual left officials scrambling to set up new polling places and find election judges to replace elderly people, who are more at risk from coronavirus.
Other states moved back their elections, citing concerns it could lead to the spread of coronavirus. But Pritzker repeatedly pushed back against that in Illinois.
Now, Chicago is facing what one official called "extremely low" turnout.
RELATED: Voting In Chicago 2020: Here's Everything You Need To Know For Election Day
Polling places are having voters wait outside to prevent people being crowded together inside, election judges are supposed to maintain distance from voters, there will be hand sanitizer available and screens will be wiped down between uses, Pritzker has said.
Those who did not want to brave potential crowds opted to vote by mail or vote early this year, officials said. Multiple counties broke records for those, the governor said this week.
As of Monday night, nearly 118,000 vote-by-mail ballots had come in and more than 171,000 people had voted early — including 25,781 just on Monday.
Chicagoans are also contending with Tuesday being the first day all schools are closed and restaurants and bars are shuttered. Some eateries will still offer curbside pickup, delivery and drive-thru services, but others have shut down altogether.
Pritzker also banned all gatherings of 50 or more people in Illinois and has encouraged people to limit gatherings to 10 people.
What's Happening In Chicago
• Restaurants and Bars: Eateries around the city closed their dining rooms — or closed completely — Monday night. Some will still offer drive-thru, curbside pickup and delivery options.
And restaurant owners and chefs are teaming up to ask to the state to help them and their staff members, who face financial difficulties with the closures.
• Chicago Public Schools: Schools closed starting today.
The district will hand out three days of food for all children in a family 9 a.m.-1 p.m. daily at every school. Those needing emergency delivery can call 773-553-KIDS.
• Artists: Local musicians and artists are suffering because of the bans on public gatherings, but Chicagoans have started streaming live shows to help those in need.
• Salons: Many salons are closing up shop voluntarily as coronavirus spreads, but others have remained open so they can pay stylists.
• LGBTQIA: The Brave Space Alliance is creating a crisis pantry for queer and trans residents on the South Side.
• O'Hare Airport: The airport was overwhelmed with crowds over the weekend, leading to some people waiting seven or more hours to be cleared of coronavirus and able to go home.
But Lightfoot and Pritzker have appealed to federal authorities, who agreed to send in more personnel and "deputize" Fire Department EMTs so there'd be more people available to screen travelers.
• Blood Donations: Blood donation organizations have said there is an urgent shortage of blood for people in need. Pritzker urged people to donate blood if they feel well — and said not doing so could cause a second health crisis.
• Grocery Stores: Officials have repeatedly urged Chicagoans not to hoard and stockpile food and home supplies at the city's extremely busy stores.
"Buy what you need, but please be reasonable. Think of your friends and your neighbors. There is enough food to go around, but we need people to not be selfish," Pritzker said.
Jewel-Osco is hiring as demand for groceries has skyrocketed.
• Shelters: Animal shelters like PAWS Chicago and One Tail at a Time are seeking more foster families as they worry their shelters won't have enough staff and could be overwhelmed due to the virus.
• Helping Hands: People around the city are doing good deeds, like buying groceries for older folks.
• Chicago Attractions: Most major attractions — from the Lincoln Park Zoo to Navy Pier and even the Bean — are closed.
• Incarcerated People: The Cook County Sheriff's Office is taking more precautionary measures to protect staff and detainees, it announced in a news release.
That means all non-staff members, including visitors and attorneys, will be screened for coronavirus. Those with symptoms will be denied entry.
Visitors will only be able to visit one person once a week for 15 minutes until further notice, as well, and staff are ramping up their cleaning efforts.
• Helping Seniors: My Block, My Hood, My City is collecting disinfectant supplies to pass out to people who are elderly or who have disabilities. Food pantries on the West Side are offering pick up and delivery options for those in need. I Grow Englewood is seeking donations for elderly residents as well.
Are you having trouble accessing a COVID-19 test? Email us at newsroom@blockclubchi.org
Symptoms
Coronavirus can be deadly, but the vast majority of cases have been mild. Those most at risk from the virus are people who are elderly or who have underlying health conditions.
Symptoms of coronavirus can appear two to 14 days after a person has been exposed to the virus, according to the Centers for Disease Control. People with no symptoms may have the virus and spread it to others.
The virus spreads between people through coughing and sneezing, according to the Illinois Department of Public Health.
The most common symptoms:
Fever
Cough
Shortness of breath
People have also experienced body aches, nasal congestion, runny nose and sore throat, according to Harvard Medical School.
If you or someone else has difficulty breathing, persistent pain or pressure in the chest, become confused, cannot be roused or develop a bluish face or lips, get immediate medical attention, according to the CDC.
How To Protect Yourself
The CDC only recommends those are already sick wear facemasks because they help you avoid spreading the virus.
Here's what you can actually do to prevent getting ill:
The CDC and other officials have said people should wash their hands often, including before, during and after eating; after using the bathroom; and after blowing your nose, coughing or sneezing.
The CDC has a guide here for how to properly wash your hands. Remember: Wash with soap and water, scrubbing your hands for at least 20 seconds.
If you can't wash your hands with soap and water, you can use an alcohol-based hand sanitizer, according to the Illinois Department of Public Health.
Avoid touching your face, especially your eyes, nose and mouth, with unwashed hands.
Clean and disinfect objects and surfaces you touch frequently, like cellphones and light switches. Here are tips from the CDC.
Stay home when you're sick and avoid close contact with people who are sick.
If you have to sneeze with a tissue, throw it out immediately after using it, according to the CDC.
What To Do If You Think You're Sick
Even if you're not showing symptoms, the Chicago Department of Public Health recommends people coming from high-risk countries (here's a CDC list) self-quarantine for 14 days after returning home.
If you do have symptoms of coronavirus, contact your primary doctor or a health care facility before going in. Explain your symptoms and tell them if you've come into close contact with anyone with coronavirus or traveled to an area where corona is widespread (here's a CDC list) within the last 14 days, according to the Illinois Department of Public Health.
From there, the experts will work with your local health department to determine what to do and if you need to be tested for coronavirus, according to the Illinois Department of Public Health.
And, of course, if you think you're sick with coronavirus, don't risk exposing other people to the virus. Anyone who feels unwell has been advised to stay home.
Those with questions and concerns about coronavirus can call the Illinois Department of Public Health at 800-889-3931.
Block Club Chicago's coronavirus coverage is free for all readers. Block Club is an independent, 501(c)(3), journalist-run newsroom.
Subscribe to Block Club Chicago. Every dime we make funds reporting from Chicago's neighborhoods.
Already subscribe? Click here to support Block Club with a tax-deductible donation.