IRVING PARK — Chicago's coffee shops on Monday began converting to "to-go only" status to comply with Gov. JB Pritzker's order banning all dine-in services at the state's bars and restaurants.
The closures, which begin at the end of the day Monday, will stay in place through at least March 30. The move came as Illinois' number of positive COVID-19 cases jumped to 93 on Sunday, up 27 from Saturday. 
The governor's order allows for delivery and "curbside pickup," although the specific rules for how such pickup will be allowed is still unclear. The Illinois Restaurant Association said Sunday is helping to hash out the details for what constitutes "curbside pickup."
Some coffee shop workers were frustrated at a lack of guidance on how to comply with the order. A city official Monday afternoon said more clarity was expected to be delivered soon.
At the nearly empty Cafe Urbano, 4176 N. Elston Ave., employees were preparing for the changes.
"No one can just hang out in the cafe like they usually do. The best way to support us right now is to come by and pick up a cup of coffee but you can't stay," said Sarah, an employee at Urbano Monday over the phone. "But obviously take precautions, don't be a part of the problem with spreading this s— around which has caused all this to begin with."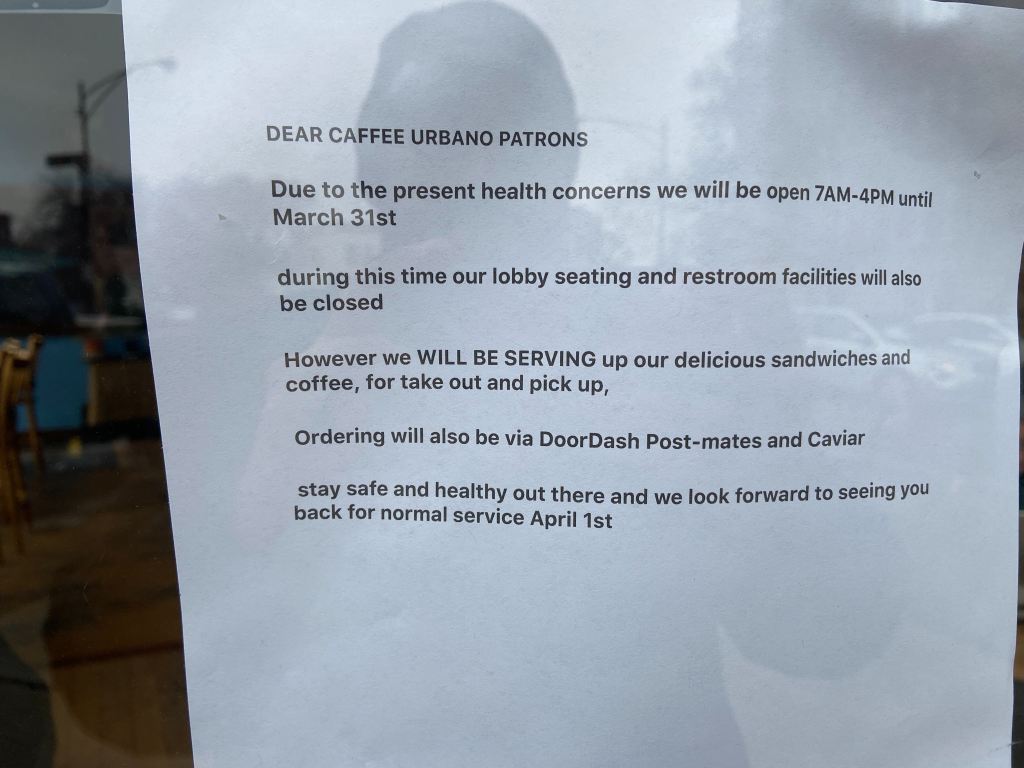 Botanical Cafe, 3740 N. Lincoln Ave., is also only serving to go orders.
"We can only do that right now. Our bakery, West Town Bakers, is actually closing due to all this," said Delaney Ballard, one of the cafe's owners. "We'll still have our whole menu of drinks, salads and snacks but unfortunately nothing that uses bread or pastry."
Botanical isn't yet doing any deliveries during the dine-in ban.
"We're looking into how delivery would work, but right now we're not doing it. It's harder with coffee shops because with our drinks, by the time they're delivered they won't be hot. Drinks are so easy to spill if they aren't packaged right for take out," Ballard said. 
Ballard's cafe doubles as a plant shop. She said a new shipment of plants will be arriving this week.
"We'll still be selling our plants during the dine-in ban. We'll have them in stock on Wednesday," Ballard said. "Some customers have been asking about our plants since they're working from home for who knows how long and want to have something to add a little green to their home office."
Coffee Joint, 2059 W. Irving Park Road, is accepting both delivery and curbside pickup orders during the dine-in ban.
"People can also still buy gift cards to support us or our bags of coffee beans," said Gato Balodis, Coffee Joint's owner. 
Ground Up Cafe, 900 W. Van Buren St., will be accepting curbside pickup orders alongside deliveries due to the dine-in ban.
"Due health concerns, we are only serving our amazing coffee & specialty baked goods 'for to go.' This will minimize contact with plates, cups, and other washed items that can spread illness," said Ground Up, in a Facebook post.
The business also encouraged customers to support Ground Up by buying their whole bean coffee in shop or online.
"We are also available on @postmates and @ritual_chi and will be soon adding other delivery/pick up options to our shop," Ground Up said.
The Coffee Studio, will offer takeout and curbside pickup starting Tuesday. They also have a mobile app where customers can place an order in advance.
"We are also exploring delivery options, and will share new options as soon as we can, so please keep checking back!," said Coffee Studio, in a Facebook post.
Cafe Jumping Bean, 1439 W. 18th St., also said they were only taking to go orders in a Facebook post.
South Shore Brew, 7101 S. Yates Blvd., also announced it would be only be taking grab-and-go orders from 7 a.m.to 3 p.m. due to the dine-in ban. Customers should call 773-437-3906 to place their orders.
Block Club Chicago's coronavirus coverage is free for all readers. Block Club is an independent, 501(c)(3), journalist-run newsroom.
Subscribe to Block Club Chicago. Every dime we make funds reporting from Chicago's neighborhoods.
Already subscribe? Click here to support Block Club with a tax-deductible donation.