BUCKTOWN — Before Gov. JB Pritzker ordered the closure of all Illinois bars and restaurants amid a growing Coronavirus outbreak, some Chicago chefs and business owners were already weighing the pros and cons of closing.
On Sunday, a group of about 50 industry leaders met in Bucktown at Chef's Special, 2165 N. Western Ave., to strategize next steps.
In a statement released Sunday night, the chefs and restaurant owners called on Pritzker to give emergency unemployment benefits to all hourly and salaried workers, eliminate payroll tax for business owners and call for rent and loan abatement for workers.
"We will not survive this closure without immediate, decisive action from the government," the statement said.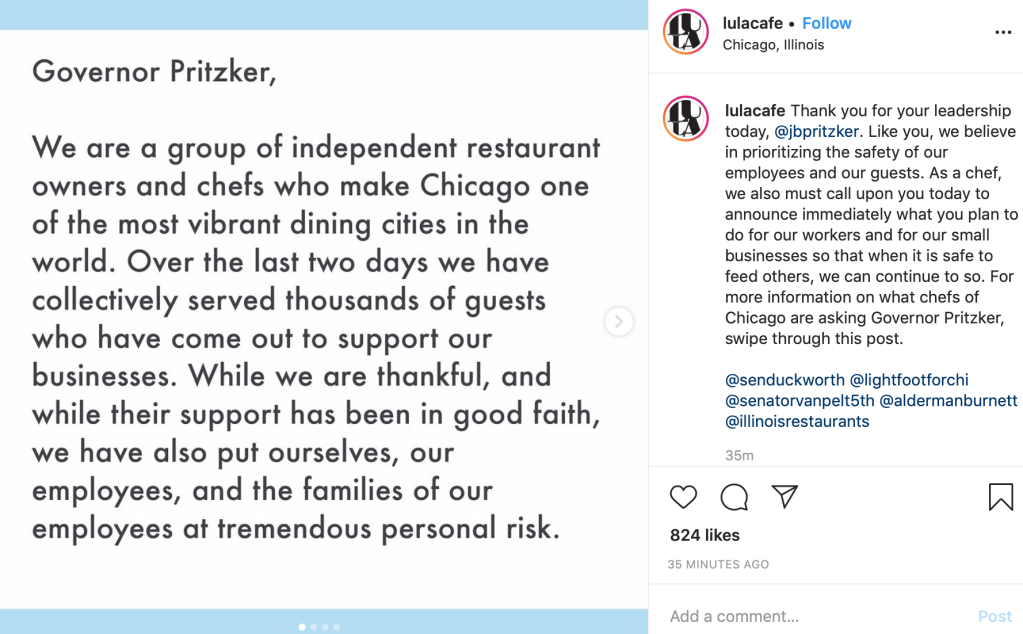 Chef Jason Vincent, co-owner Chef's Special — and Giant, in Logan Square — said first and foremost the goal is to protect workers.
"Our most important thing is to take care of our employees," Vincent said. "Every one of us is going to do that."
But there are steps that can be taken to protect the business owners, too, he said. Payroll taxes, rent and mortgage payments are examples of financial hurdles facing the industry.
"If you have a mortgage or you have a loan and you default on it, it affects your liquor license," he said. "If I get a parking ticket, it affects my liquor license. We don't want to have to choose between our liquor licenses and our employees. It's not a fair choice for us to make."
Sam Toia, chair of the Illinois Restaurant Association, told Block Club on Sunday he was working with officials on creating an emergency fund specifically for restaurant workers. 
Toia said he hoped to have more details on Monday. 
"We'll get through this," he said. "It's a crisis. As long as we're all communicating, we'll get through this crisis." 
Toia also said the IRA is helping to hash out the details for what constitutes "curbside pickup." 
If the language is too restrictive, he said, it could result in some city businesses losing delivery revenues. 
Pat Doerr, managing director of the Hospitality Business Association of Chicago, said he understood the action needed to be taken, but told Block Club it couldn't come at a worse time for bars and restaurants just emerging from their worst months of January and February. 
The HBAC is calling on the city and state to waive "taxes, permits, and license fees by small businesses between now and June 1," Doerr said. 
"People would still file their returns, they just wouldn't have the money pulled from their bank account or paid by check for a month, or two, or three," he said. "That would be critical short term liquidity for people trying to take care of paid time off and sick leave."
Per the governor's order, carry-out and curbside pick-up services will continue to be allowed.
Joe Basilone co-owns Perkolator Coffee in Portage Park, 6032 W. Irving Park Road, with his wife, Melissa.
While the couple agreed with sentiments expressed in the chefs' statement, Basilone said Pritzker's order has placed his business and his workers in a "limbo."
He wished the governor would have mandated a complete closure of bars and restaurants. That way, he said, his employees would be guaranteed unemployment benefits.
"What we need is clear, decisive action instead of going halfway," he said. "We need to get our employees paid and obviously if we're mandated to be closed there's no ifs, ands or buts about it."
Keeping restaurants open for carryout service puts people at risk, Basilone said. He also worried about his own payroll.
"Let's just call it," he said. "Let's make it 14 days. Let's start tomorrow and let's get it over with already."
Many of the 50 restaurant leaders involved with Sunday's statement plan on doing take-out business, Vincent said.
"Beyond that, our hands are tied as far as some of the stuff we can do," he said. "We're not allowed to bring food over to the old folks' home. … I would implore people to be that, to take care of the elderly … and caregivers. They're doing God's work. We gotta take care of them."
Pritzker's unprecedented decision came as Illinois' number of positive COVID-19 cases jumped to 93 on Sunday, up 27 from Saturday.
The cases are now spread out over 13 counties, with the majority still in Cook County. There have been no deaths related to the disease in Illinois, but more than 5,762 people have died worldwide, including 368 people in Italy in one day.
Nearly 600,000 people work in Illinois' restaurant, comprising about 10 percent of the state's workforce, according to the National Restaurant Association.
The Illinois Department of Employment Security is offering relief for workers who have lost their jobs as a direct result of the Coronavirus outbreak. Click here for information on COVID-19 Unemployment Benefits
The United States Bartender Guild's National Charity Foundation is offering emergency grants for bartenders. One need not be a USBG member to apply.
Ways you can help
Restaurants are still open for carry-out and curbside pick-up, which means you can help by ordering food. You can also help by purchasing gift cards at bars and restaurants, Toia said.
On Sunday, a couple purchased five $50 gift cards from Café Tacuba in Lincoln Square — a big help, owner Melissa Kapetanovic said.
"I just want to really persuade people to please continue shopping local," she said. "We depend on the public, we wouldn't be able to survive it this happens for too long. We really need your help."
A handful of Chicago restaurants and bars made the decision to close before Pritzker's Sunday announcement. In doing so, the businesses launched online fundraisers to help their staff.
Here are a few:
Sleeping Village Employee Fund — Money will benefit employees of Sleeping Village, 3734 W. Belmont Ave.
Hideout Virtual Tavern — Money will benefit employees of The Hideout, 1354 W. Wabansia Ave.
Cole's Bar Employee Relief Fund — Money will benefit employees of Cole's Bar, 2338 N. Milwaukee Ave.
Tonic Room Tip Jar — Money will benefit employees of Tonic Room, 2447 N. Halsted St.
Empty Bottle + Bite Café Staff Relief — Money will benefit employees of Empty Bottle, 1035 N. Western Ave., and Bite Café, 1039 N. Western Ave.
Reno 911 — Money will benefit employees of Reno, 2607 N. Milwaukee Ave.
Logan Arcade Staff Relief Fund — Money will benefit employees of Logan Arcade, 2410 W. Fullerton Ave.
Know of any fundraising efforts for Chicago bar and restaurant workers? Let us know: newsroom@blockclubchi.org.
Those with questions and concerns about coronavirus can call the Illinois Department of Public Health at 800-889-3931.
Block Club Chicago's coronavirus coverage is free for all readers. Block Club is an independent, 501(c)(3), journalist-run newsroom.
Subscribe to Block Club Chicago. Every dime we make funds reporting from Chicago's neighborhoods.
Already subscribe? Click here to support Block Club with a tax-deductible donation.