O'HARE AIRPORT — Travelers landing at Chicago's O'Hare International Airport on Saturday experienced up to seven-hour waits to clear U.S. Customs and Centers for Disease Control screenings as the government rushed to implement restrictions on travel to help stem the spread of coronavirus. 
The scene was similar at other airports across the country as travelers from Europe were funneled to 13 designated airports, including O'Hare, the world's busiest.
Hoping to prevent similar bottlenecks on Sunday — when even more flights are expected at O'Hare — and the days to come, Gov. JB Pritzker and Mayor Lori Lightfoot pressed federal agencies to send more personnel to the airport.
Pritzker said Vice President Mike Pence and the secretary of Homeland Security called to acknowledge mistakes were made and they'd double Customs and Border Patrol staff at O'Hare Airport.
And Lightfoot announced Fire Department EMTs have been "deputized" to serve as screeners at the airport. That means there will be more people able to check out those arriving — doing tests like checking temperatures — so the wait isn't as long and crowds don't build.
Lightfoot is also pushing for officials to keep people on planes so they're not crowding the airport.
The changes came just a day after Pritzker received attention for tweeting at Pence and President Donald Trump, telling them "the crowds & lines at O'Hare are unacceptable & need to be addressed immediately. He fired off another that said, "The federal government needs to get its s@#t together. NOW."
Pritzker acknowledged his viral remarks during a Sunday briefing, saying he was frustrated he learned of the problems at O'Hare through Twitter rather than from federal officials.
"I don't always get heated on Twitter … but when I saw hundreds of people crammed together for many hours at O'Hare in exactly the conditions I have been warning about for days, I was furious," Pritzker said. "My anger had everything to do with protecting the health and safety" of Illinoisans.
It took the Reeb family from Naperville nearly six hours to get through what they described as a chaotic, crowded scene at times.
"We had to go through Customs twice and then be interviewed and then have our temperatures taken by the CDC," Robert Reeb said.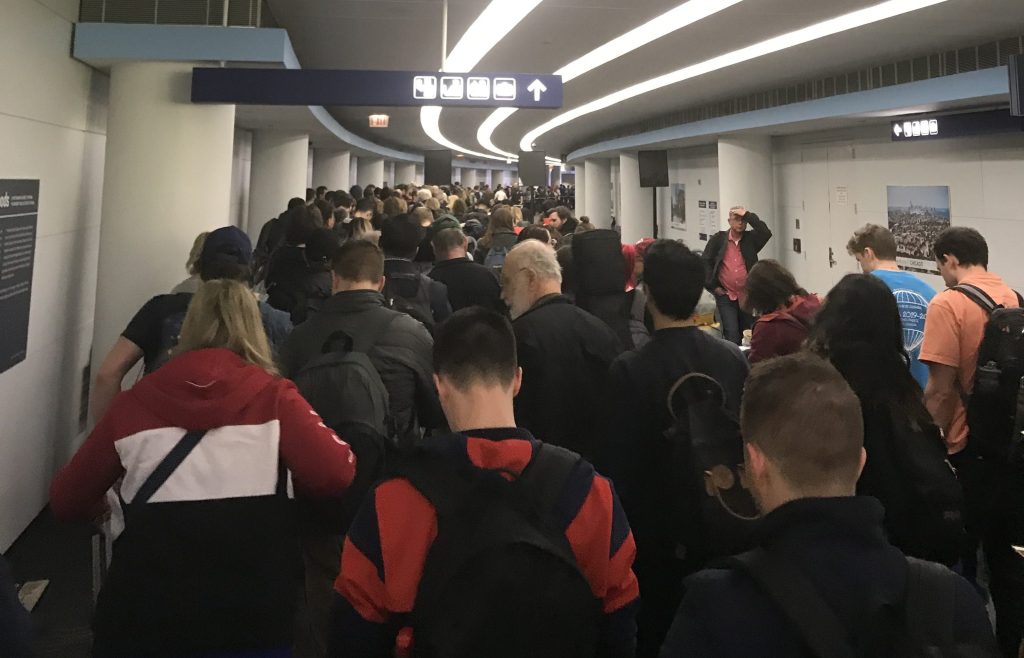 Reeb was returning from a family vacation to Lisbon, Portugal, with his wife, Marcy, and daughter, Caroline, a senior at Illinois Wesleyan University in Bloomington.
"They just mixed everybody from everywhere up and had us breathing on each other for hours. If we weren't sick before we may well be now," he said. 
Reeb added that while airport workers and Chicago Police gave them water and snacks and were courteous, they were not as informative as he would have liked. And the family was not allowed to get out of line to use the restroom. 
"They seemed just as dazed and confused as us. They didn't tell us how long it would take or what steps we would have to get through," he said. "It was pretty ridiculous."
Indeed, the new restrictions seemed to take O'Hare by surprise. In a tweet, airport officials said they had urged the government to add staff.
"Thank you for your patience during a sensitive and rapidly evolving situation. We have strongly encouraged our federal partners to increase staffing to meet demand," the tweet read.
On Sunday, the total of novel coronavirus cases in the state had risen to 93, which included people who have already recovered, the state announced.
RELATED: Coronavirus In Chicago: Governor Begs St. Patrick's Day Weekend Revelers To 'Please Go Home'
On Wednesday, President Donald Trump announced a travel ban from 26 European countries beginning 11:59 p.m. Friday. On Saturday, he added Ireland and the United Kingdom.
'Simply Not Acceptable'
During a Sunday morning news conference, Lightfoot said the situation at O'Hare was "simply not acceptable" and urged federal officials to listen to those on the ground in cities and states across the country. She said the city was working to get 40 Fire Department EMTs into O'Hare to help screen passengers.
Since the screeners just need to take temperatures, Fire Department EMTs are very qualified to do that, she said.
"We can and will be your partners if you bring us into the discussion," she said of the feds. "Rather than sending ICE into the streets, send screeners into our airports."
Lightfoot said the city has reached out to the FAA to ask that arrival times are staggered for flights coming in from impacted countries.
American citizens, green card holders and others are still allowed to return home to the United States, but they will be funneled to 13 airports around the country and be subjected to health screenings and quarantine orders.
People returning from Europe will be interviewed by a U.S. Customs officer and their travel history will be reviewed using a Department of Homeland Security database. They will be asked about their medical condition. If they don't show symptoms, they will be asked to quarantine in their homes for 14 days. If someone shows symptoms or says they are not feeling well, they could be subject to an additional screening by a medical professional at the airport and subject to a federal quarantine. 
On Saturday, those coming in from some countries outside of Europe were not subject to the intense screening and got through fast. 
"I breezed right through," said Virginia Mechnig, of Chicago, who returned from a vacation in Puerto Vallarta, Mexico. 
But Nick Aalberg, a 20-year-old University of Wisconsin junior, wasn't as lucky. Aalberg was in London for a study abroad program that was cut short because of the virus pandemic. While having a nervous cigarette outside O'Hare after a five-hour wait to get through screenings, he said he was worried about the danger of being in a large line for several hours.  
"I wish it was more organized. I haven't been in a crowd that big in a long time and now I'm thinking about it. It's scary," Aalberg said.
Aalberg, who lives in Minnesota, also missed his connection to Minneapolis because of the delay and said he couldn't get a flight home until the next day.
"Luckily my parents booked me a hotel but I know some people have to sleep here," Aalberg said.
Angela Tielking, whose daughter is a sophomore at the University of Evansville in Indiana, had her daughter's study abroad experience at Harlaxton College in Great Britain cut short. Tielking, who waited nearly six hours for her daughter to get through Customs, said the crowd at O'Hare and the fact that her daughter had to fly through two large cities made her nervous.
"This trip was the first time my daughter ever flew on a plane and she was in a safe location," Tielking said. "Now this situation is forcing her to fly from London to Chicago, two places with a ton of people, and that's dangerous. And this wait is not cool and all. We didn't know it was going to be this long and neither did my daughter."
In a tweet, Department of Homeland Security Acting Secretary Chad Wolf asked for patience "in these unprecedented times."
"It currently takes 60 seconds for medical professionals to screen each passenger. We will be increasing capacity but the health and safety of the American public is first & foremost," he wrote.
Block Club Chicago's coronavirus coverage is free for all readers. Block Club is an independent, 501(c)(3), journalist-run newsroom.
Subscribe to Block Club Chicago. Every dime we make funds reporting from Chicago's neighborhoods.
Already subscribe? Click here to support Block Club with a tax-deductible donation.