SOUTH SHORE — Neighbors say they didn't get a proper chance to vet the city's controversial plan to revamp an old South Shore school into a police and fire training center — but the city's moving forward with it anyway.
First proposed under former Mayor Rahm Emanuel, the push to transform the old South Shore High School into a training center has been stalled. But the plan has been resurrected under Mayor Lori Lightfoot, despite Ald. Michelle Harris (8th) hosting just two meetings on the project, one attended by few neighbors and with little notice.
The plan for the high school, 7627 S. Constance Ave., is troubling some, who say Lightfoot promised no schools would be repurposed without broad community input. Now it's being considered by a City Council committee Friday.
There was "no opportunity for the community to give real input" on the training center, said LaVont'e Stewart, a South Shore resident and executive director of Lost Boyz Inc., a South Shore nonprofit which uses baseball to keep kids from becoming victims of violence.
Eddie Read, chairman of Chicago Black United Communities, said plans for the center are "not consistent with the community of interest."
"Elected officials and people who are not embedded in the community are leading the agenda," he said.
Harris has hosted two meetings on the plan. One was held in April 2019, before Lightfoot took office.
The latest meeting was held last Friday night with little notice ahead of time. No notice was posted to the alderman's website or social media accounts, and flyers were only distributed along blocks of five streets nearest to the school, according to Harris' director of community engagement Alvin Rider.
In addition to the flyers, staffers called everyone on the sign-in sheet from the initial April 2019 meeting, Rider said.
About 30 people attended the meeting, according to a photo posted on Facebook by Harris. Approximately 50,400 people live in South Shore, according to 2017 estimates.
Harris' office doesn't "have the ability to do mass mailings for every issue," Rider said. He estimated it costs up to $8,000 to distribute mailings to the entire ward.
When asked why a notice wasn't posted online for free, Rider said it's "just the way we operate our office" to publicize community meetings only to the residents who would be most impacted.
"We just invited folks that are impacted around the [school property]," Rider said. The office "was not trying to hide anything or keep people out of the meeting."
But other recent and upcoming meetings, like weekly constituent nights and police beat meetings, are on a calendar on Harris' website. Those are recurring meetings, posted at once "for the entire year," Rider said.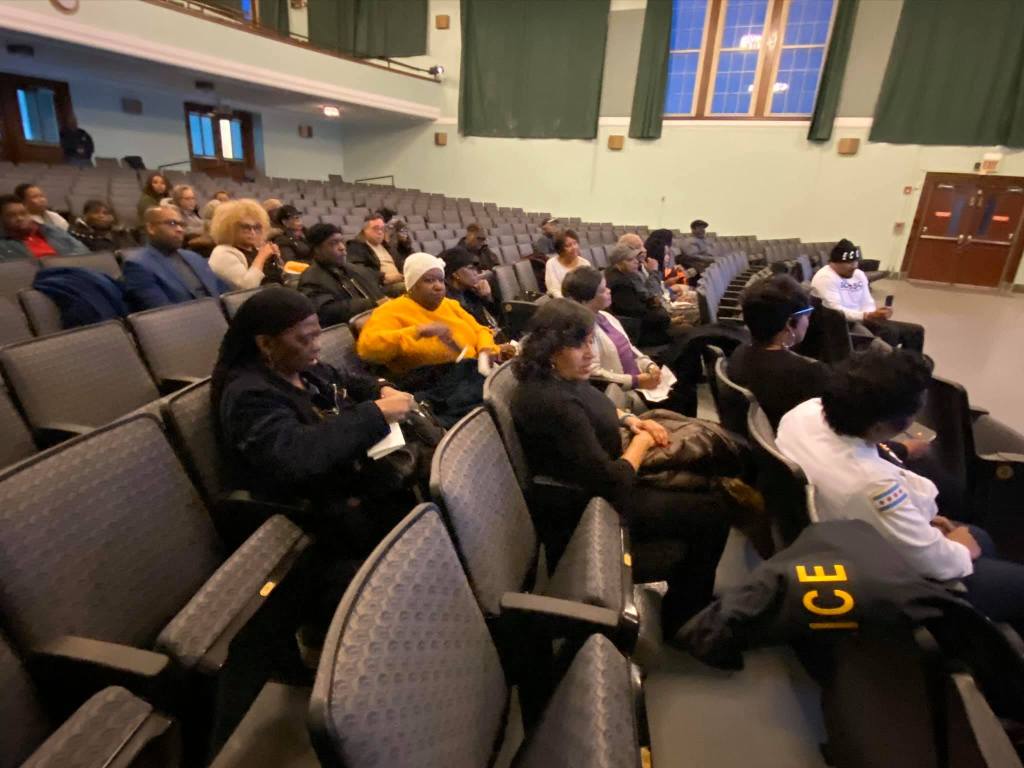 Emanuel submitted the proposal to turn the closed South Shore high school into a police and fire training center to City Council on March 13, 2019, nearly a month before the first public meeting.
That same month, then-Mayor-elect Lori Lightfoot faced backlash when she suggested that closed schools be considered as alternatives to the controversial $95 million police academy planned for the city's West Side.
Lightfoot later clarified her remarks — and said there will be no schools converted into anything without community input.
"Nothing will happen on my watch, and certainly not the repurposing of those 38 schools that remain on CPS's ledger, without going into the community and talking to people about how we can turn those schools into their assets," Lightfoot said on the Ben Joravsky show.
It's unclear if any resident input helped shape the plan since Emanuel introduced it in March 2019. Rider, the alderman's representative, referred questions about resident feedback to the mayor's office. A spokesperson for Lightfoot referred specific questions about the input process to Harris' office.
South Shore residents have been essential to "this inclusive and collaborative process," according to a statement from Lightfoot's office. "The city will work hand-in-hand with the South Shore community during the temporary use of this facility."
A city committee is set to decide Friday whether to allow the city to continue leasing the former school through September 2028. The proposal will be considered at the Committee on Housing and Real Estate at 1 p.m. Friday.
The lease was signed in October 2018 and requires City Council approval to be extended past an initial 180-day period.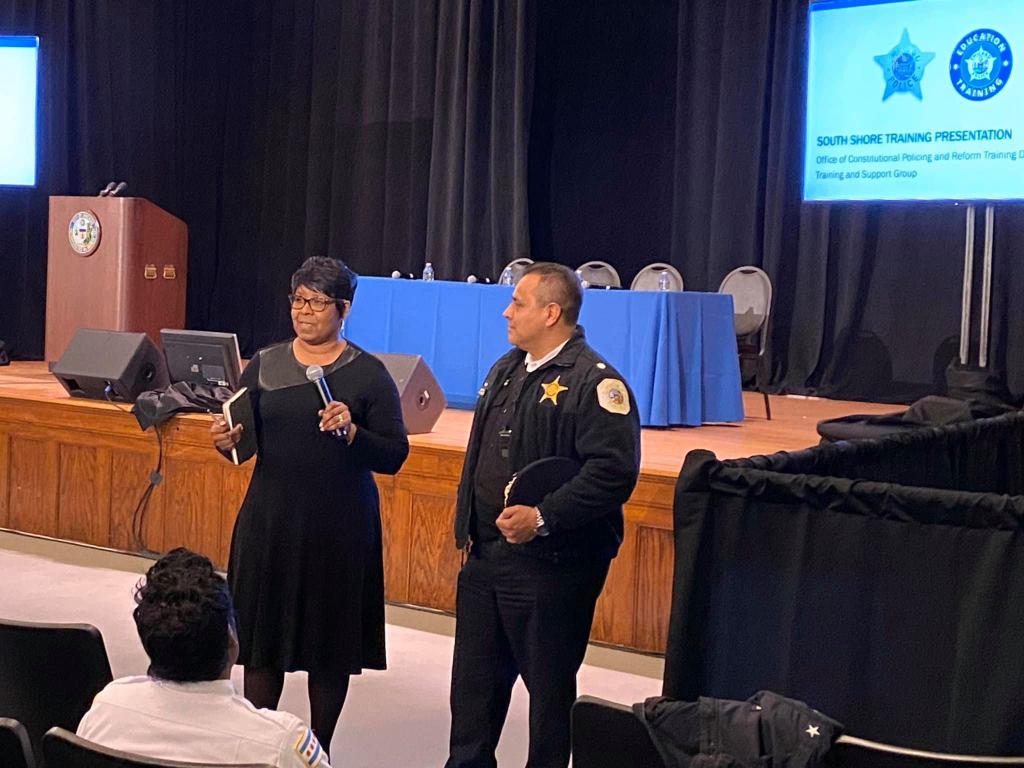 Ald.'s rep says he hasn't read lease
The plan being proposed to the housing committee differs widely from Rider's summary of site plans given earlier this week.
On Monday, Rider told Block Club the Chicago Police Department leased the building for "at least two years" to use as a "temporary" professional development center. He did not mention the fire department's involvement.
Rider said Thursday he has not read the proposal and noted Harris is not its sponsor.
The Department of Fleet and Facility Management signed the lease, not the police department, CPD spokesperson Anthony Guglielmi said.
A specific curriculum for the training center has not been completed yet, but it will be used for all officers on the force, according to Guglielmi. There are few restrictions on the types of training that could be conducted at the site.
The ordinance in committee only mandates the site be used as "a training center" and that police and fire departments follow the Board of Education's aquatic safety policy if they renovate the pool for scuba training.
The large site allows officers to carry out mock scenarios as they are trained on how to "de-escalate volatile situations," he said.
The police department can't have "too many training facilities," Guglielmi said. Its Near West Side police academy is "at capacity," and a federal consent decree issued in the wake of Laquan McDonald's murder requires ongoing training for its force of more than 13,000 officers.
'Officer Friendly never lived in my neighborhood'
Stewart's nonprofit for young boys and girls makes heavy use of Rosenblum Park, across the street from the old school, in its "sports-based" approach to preventing violence in the neighborhood.
His main issue with the training center isn't that police may have a heavier presence in the area, Stewart said — it's that neighbors didn't get a chance to properly guide the plan.
"If you're talking about training peace officers on how to adequately respond to communities, why not have those communities in the room assisting them?" Stewart said.
The city must stick to its plan of using the South Shore site to continuously train all officers on best practices — not just those with a long history of complaints, neighbor Jalil Anderson said.
Anderson lives within walking distance of the old high school when he's not studying criminal justice at Harris-Stowe State University in St. Louis. He said he wants to become a police officer.
If Anderson becomes an officer in Chicago, a South Shore training facility would make it "easier for me to go right up the street, go train and then come back home," he said.
Officers must build relationships with locals if they'll have a larger presence in South Shore, Read said.
"I'm an old-school brother," Read said. "I don't have good experiences with the police. … Officer Friendly never lived in my neighborhood."
Read said the building could be repurposed for another use, becoming an asset to the neighborhood.
"We don't have many physical structures left in the black community where we can control. This one is perfect," he said.
Harris' office is exploring "allowing a vendor from the community to go in the school and do coffee, tea and donuts," according to Rider.
Residents will be able to utilize the building's auditorium for community meetings and recreational and performance activities, according to the mayor's office.
The South Shore High School building has been vacant since 2014, when school operations were moved to the newer South Shore International College Preparatory High School, 1955 E. 75th St.
Do stories like this matter to you? Subscribe to Block Club Chicago. Every dime we make funds reporting from Chicago's neighborhoods.
Already subscribe? Click here to support Block Club with a tax-deductible donation.
The "Lens On Lightfoot" project is a collaboration of seven Chicago newsrooms examining the first year of Mayor Lori Lightfoot's administration. Partners are the BGA, Block Club Chicago, Chalkbeat Chicago, The Chicago Reporter, The Daily Line, La Raza and The TRiiBE. It is managed by the Institute for Nonprofit News.